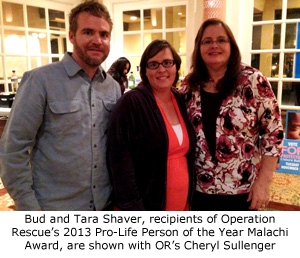 Albuquerque, NM – Pro-life missionaries Bud and Tara Shaver, of Project Defending Life in Albuquerque, New Mexico, have been named as recipients of the 2013 Pro-life Person of the Year Malachi Award in recognition of their outstanding work in bringing the matter of late-term abortions into the national spotlight.
After an internship with Operation Rescue, the Shavers moved to Albuquerque in 2010 to expose late-term abortions at Southwestern Women's Options, one of the few abortion clinics in the nation that openly conduct abortions throughout the full nine months of pregnancy.
Tara's ground-breaking research documented evidence of numerous life-threatening abortion emergencies and other abuses at that late-term abortion facility. She also uncovered that state taxpayers are forced to foot the bill for late-term procedures at the cost of thousands of dollars each.
Information gathered by the Shavers became the basis of a citizen's petition to amend the City of Albuquerque's charter to ban abortions after 20 weeks gestation, when babies are known to feel pain. That initiative was the first-ever attempt to ban an abortion procedure at the municipal level. Tara and Bud Shaver spearheaded a grass roots signature drive that garnered a record 27,000 in just 20 days to place the late-term abortion ban on the ballot, then established a Political Action Committee that campaigned in favor of it.
While the Albuquerque Pain Capable Unborn Child Protection Ordinance failed to pass during a November 19 city-wide vote, the Shavers, who served as national media spokespersons for the effort, contributed significantly to an increased awareness of late-term abortions in New Mexico an across the nation.
The Malachi Award is given by Operation Rescue every year to recognize individuals who sacrificially work to advance the cause of protecting the pre-born.
Previous recipients include Kortney Bythe Gordon, of Students for Life in America who was killed in a tragic car accident in 2011; Eileen Smith, who crusades against abortion after her daughter was killed by abortionist Rapin Osathanondh; Jim Pouillon, a pro-life activist who was gunned down during a peaceful protest in 2009; Lila Rose of Live Action Films for her documentation of Planned Parenthood abuses; Dr. Johnny Hunter of LEARN, who is exposing the devastating effects of abortion on the African-American community; Leslee Unruh, who spearheaded efforts to ban abortion in South Dakota; and Phill Kline, the former Kansas prosecutor whose abortion investigations led to the only criminal case ever filed against Planned Parenthood.