INCIDENCE OF ABORTION
Statistics below, unless otherwise stated, are from the Center for Disease Control's Abortion Surveillance Report issued on November 27, 2020, which reviewed 2018 abortion trends,
A total of 619,591 abortions were reported to CDC for 2018 (Reporting is voluntary and not 100%. It excludes certain areas of CA, MD and NH.)
Unlike their abortion numbers, which run 3 years behind, the CDC keeps accurate and current numbers on births. In 2020 was 3,605,201 births in America, down 4% from the number in 2019. Currently American birth rates fall below replacement level.
In 2018, there were 189 abortions per 1000 live births.
Nationwide, the number of abortions in the U.S. decreased by 24.9% from 2008 through 2018.
In 2018, the total number of abortions increased by 1.1% over 2017, after decreasing the previous year.
As of 2018, 18% of all pregnancies in the U.S. end in abortion.
The Guttmacher Institute is a abortion advocacy group that keeps abortion statistics, but their numbers are far from up to date. The Guttmacher Institute is currently reporting that in 2011, 46% of pregnancies in the U.S. were unintended.
In 2018, 42% of unintended pregnancies ended in abortion making unintended pregnancies a major contributing factor to abortion totals.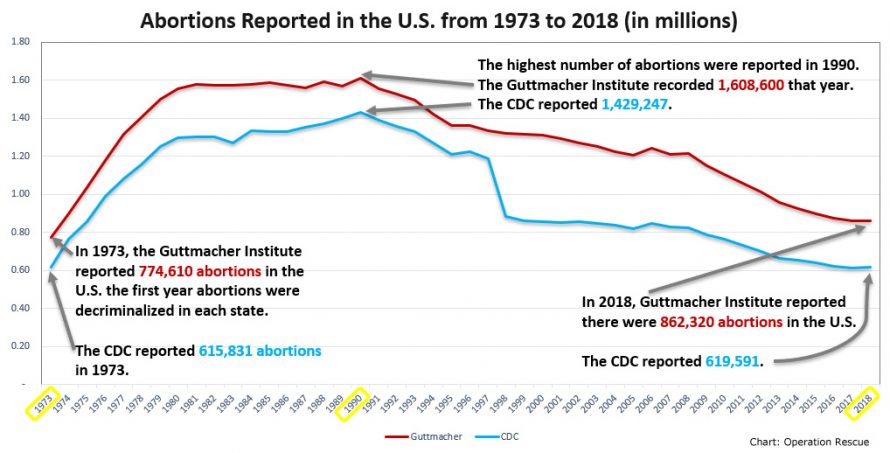 View abortion victim photos. (Warning: Some may find the images disturbing.)
In 2018, about 11.3% of all U.S. women aged 15-44 had an abortion.
In 2018, women in their 20s accounted for more than half of abortions (57.7%).
That same year, adolescents aged 18–19 years accounted for the majority (69.7%) of all adolescent abortions.
Of the all women obtaining abortions, 23.9% of them have had at least one previous abortion.
By age 45, one third of American women will have had at least one abortion, although this figure is now in dispute and may be much lower.
92.2% of all abortions took place at or below 13 weeks of pregnancy.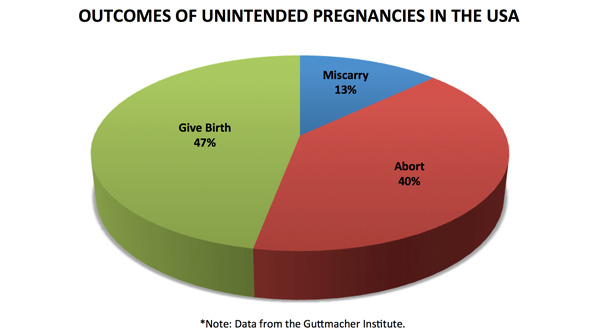 WHY WOMEN GET ABORTIONS
• Women who have never been married account for one-third of abortions in America.
• Less than 1% of all abortions take place because of rape and/or incest.
Women give an average of 3.7 reasons why they are seeking an abortion including the following:
21% Inadequate finances
21% Not ready for responsibility
16% Woman's life would be changed too much
12% Problems with relationships, unmarried
11% Too young and/or immature
8% Children are grown; she has all she wants
3% Baby has possible health problems
<1% Pregnancy caused by rape/incest
4% Other
[Source: https://www.hli.org/resources/why-women-abort/]
ABORTION BY GESTATIONAL AGE
Of all abortions, 61% are surgical procedures while 39% are chemical abortions. The use of abortion-inducing drugs has steadily increased since it was approved by the U.S. Food and Drug Administration in 2001.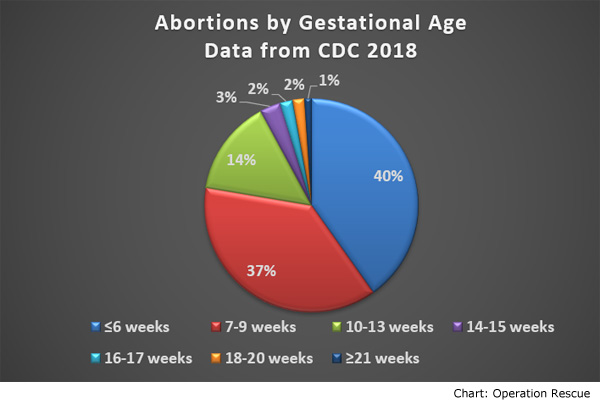 Read more about late-term abortions.
ABORTION BY TYPE OF PROCEDURE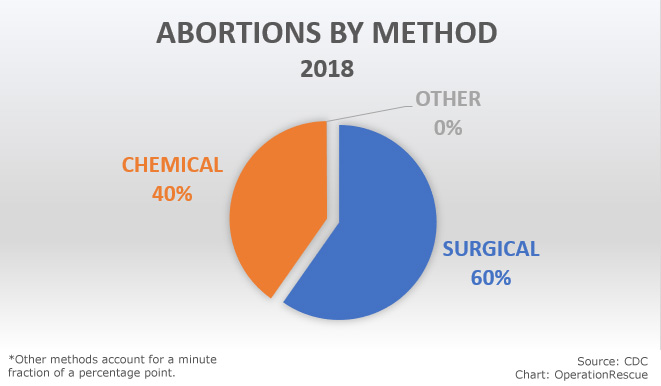 ABORTION BY MATERNAL AGE
The majority of abortions, 57.7%, take place on 20-year-old women.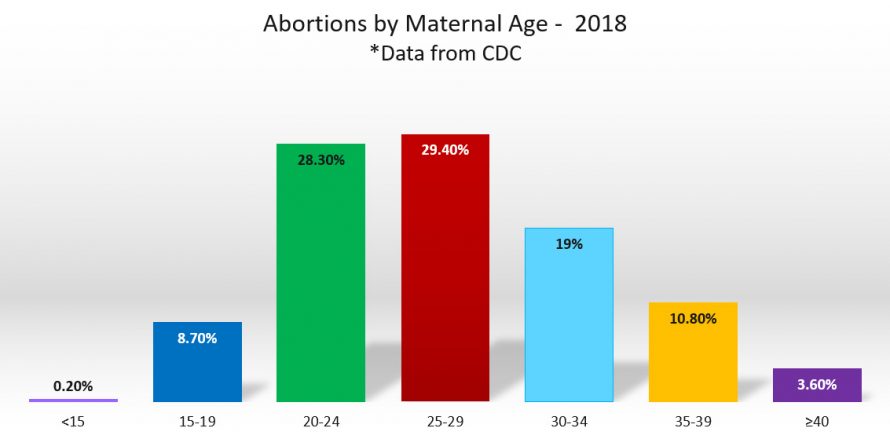 View an Archive of Documented Abortion Patient Death Reports by Operation Rescue
ABORTION BY RACE
• Blacks comprise only 13% of the population of America but account for 37% of all abortions.

• Black women are five times more likely to abort than white women.

• 69% of pregnancies among Blacks are unintended, while that number is 54% among Hispanics and 40% of pregnancies among Whites.

• Planned Parenthood, the largest seller of abortions in the United States, has located 80% of its abortion clinics in minority neighborhoods, disproportionally targeting minorities for abortion.

Read Report: "Racial Profiling and Population Control," by Mark Crutcher, Life Dymanics.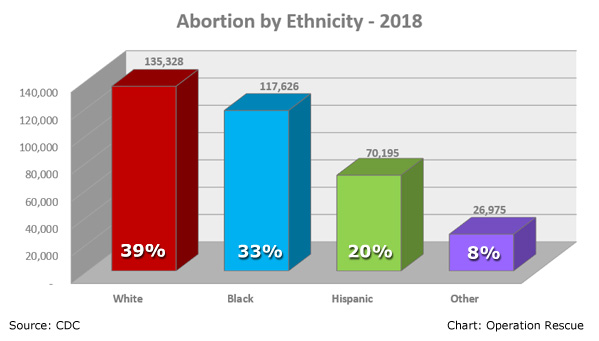 ABORTION BY RELIGION
ABORTION BY MARITAL STATUS
The CDC reported that in 2018, unmarried women were much more likely to have abortions than married women.
ABORTION BY ANNUAL INCOME
ABORTION BY EDUCATION LEVEL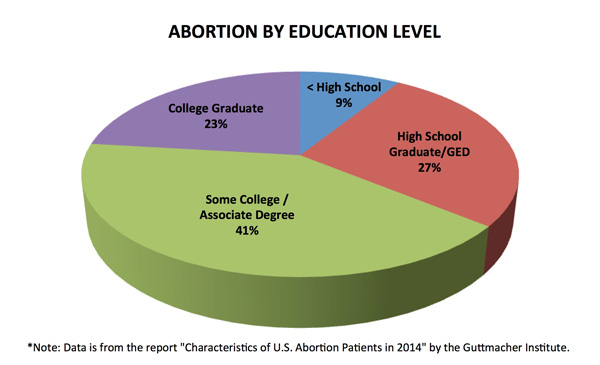 ABORTION BY NUMBER OF PREVIOUS BIRTHS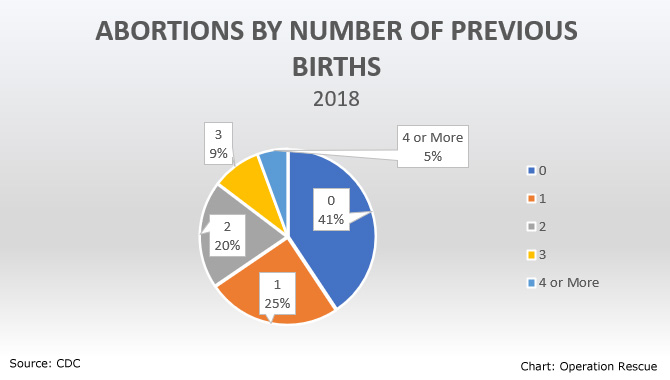 ABORTION FACILITIES
The following data is based on an annual report of all abortion facilities in the U.S. conducted by Operation Rescue in November-December, 2020. [Read the full report: Part 1, Part 2]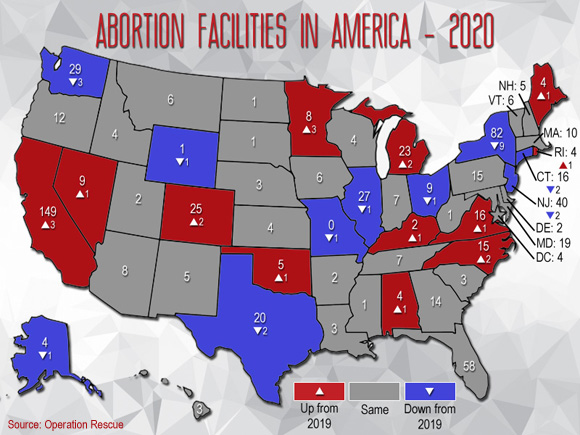 On January 1, 2021, there were706 active abortion facilities in the U.S.
Since Operation Rescue began tracking the number of abortion facilities in 2009, surgical abortion facilities have decreased in number by 255.
Since 1991, there has been an incredible 79 percent drop in the number of surgical abortion facilities nationwide.
There was a net loss of four U.S. abortion clinics overall in 2020.
The number of Planned Parenthood abortion facilities decreased in 2020.
2020 was the first year that Operation Rescue tracked the number of facilities that distributed abortion drugs via telemedicine. The survey found that 69 locations, representing 9.78 percent of all abortion facilities, now operate telemedicine abortion programs.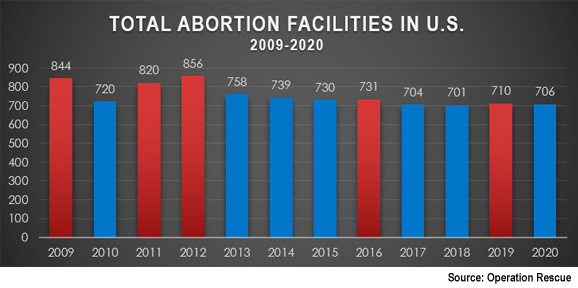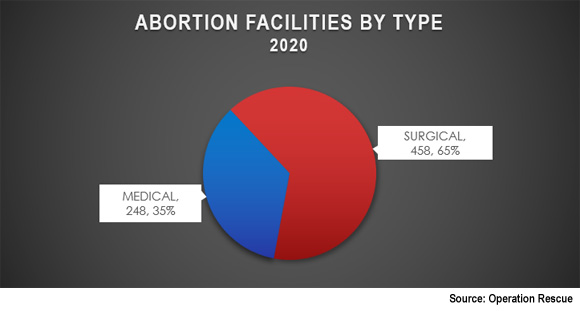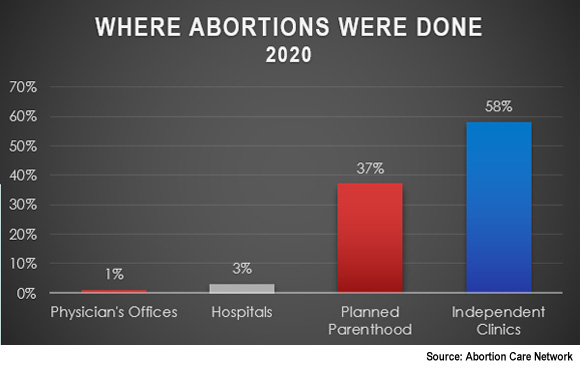 Abortion Pills by Telemedicine, Mail
In 2020, the China Virus pandemic affected the way abortions in the U.S. were done, especially in the area of telemedicine.
While previously, telemedicine programs were restricted to a handful of abortion facilities prior to the pandemic, by December 2020, Operation Rescue documented 69 facilities that were using telemedicine to dispense abortion-inducing drugs.
However, that expansion was limited to existing facilities, for the most part, that required women to visit a facility to pick up the abortion drugs. In fact, facilities that added telemedicine abortions had a minimal effect on the number of abortion facilities nationwide. There was only an increase of two abortion pill businesses nationwide over 2019 numbers.
Due to the China Virus, the U.S. Food and Drug Administration relaxed a 2000 law that required women to visit a clinic, doctor's office, or hospital before they could receive the two-drug abortion cocktail. A federal judge upheld what was supposed to be a temporary rule change in July 2020.
The Trump Administration has sought to have that law reinstated, and filed an appeal to the U.S. Supreme Court on December 15, 2020. On January 12, 2021, the U.S. Supreme Court sided with the Trump Administration and allowed the FDA regulation to be reinstated that required women to pick up abortion pills in person.
On April 12, 2021, the Biden Administration announced that it was again lifting the in-person requirement citing the alleged China Virus threat as a reason for doing so. Since then, several abortion "pills by post" businesses have cropped up, one of which even advertises "Abortions by Mail on a Massive Scale." These businesses have no brick-and-mortar offices. They operate exclusively on line, interview patients over a video conferencing connection, then deliver the abortion drugs through the U.S. mail.
ABORTION COSTS
In 2020, the national average cost of a first trimester abortion in 2020 increased nine dollars to $612.
The cost of an abortion varied by type of abortion and by type of facility.
The average cost of a surgical abortion was $621, up just one dollar over the previous year.
Abortion drugs obtained at surgical abortion facilities nationwide averaged $598 – an increase of $14 over 2019 prices.
Abortion drugs obtained at abortion pill clinics were the most expensive option at $622. This category had the largest price hike – up $18 over the previous year.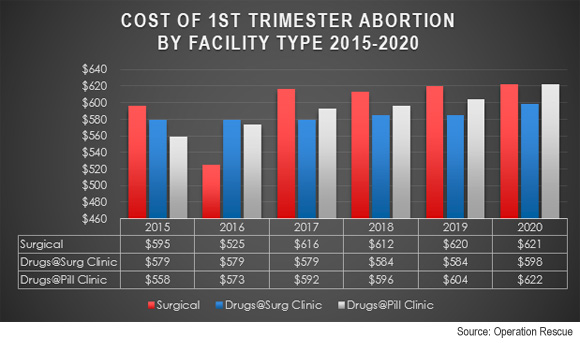 The fact that abortion drugs obtained at non-surgical abortion facilities are more expensive than the same drugs dispensed by a surgical abortion facility is an interesting one, especially since it is less expensive to operate an abortion pill clinic. That is because they do not have to be equipped to conduct surgeries and need no surgically trained staff that might require higher salaries.


ABORTION WAIT TIMES
The national average time a woman must wait for an abortion is currently 8.4 days. This time is measured from the day a woman picks up the phone to make an appointment to the day of her actual abortion procedure. It includes a first appointment and state-mandated reflection times of 24-72 hours.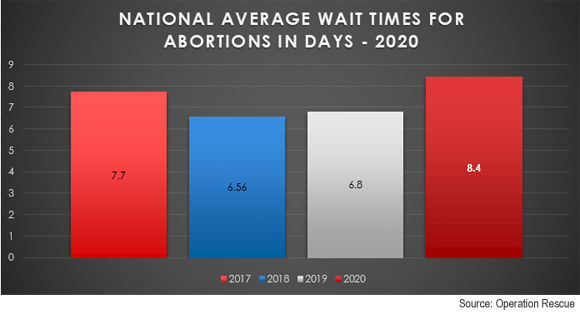 NEW TREND WARNING
Abortion Pill By Mail Study Has Population Control Motive
PUBLIC OPINION ABOUT ABORTION
On June 9, 2021, a new Gallup Poll was released that gaged the American Public's sentiment on abortion. The following data is the result of that poll. [Read the Gallup Release on this poll.]
HOW AMERICANS SELF-IDENTIFY ON ABORTION
Since Gallup began polling on abortion attitudes in 1996, there has been some progress in pro-life support. Since about 2008, the country has been fairly evenly divided on abortion with both the pro-life and pro-choice sides swapping the lead every few years.
HOW AMERICANS VIEW THE MORALITY OF ABORTION
For the first time, more Americans indicated on the Gallup Poll that they believe abortion is "morally acceptable." That may be a response to the vilification and censorship of Conservatives, Christians, and Pro-Life supporters over the past politically-contentious year.
HOW AMERICANS VIEW THE LEGAL STATUS OF ABORTION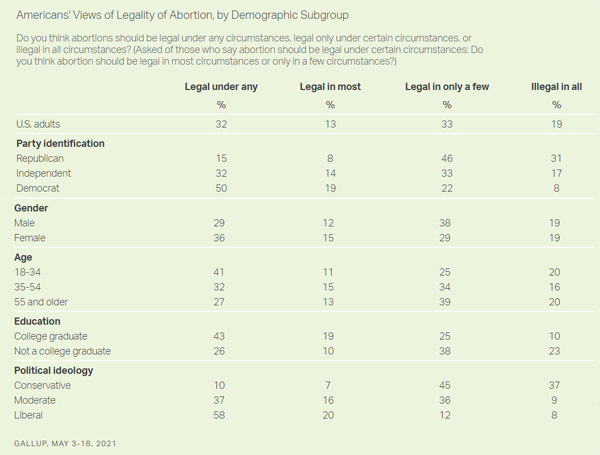 To learn more, please visit Operation Rescue's two other informational websites.

AbortionDocs.org is a searchable database of every abortion facility and known abortionists with nearly source 32,000 documents, including public records related to abortion injuries and emergencies, facility inspection reports, malpractice suits, news articles, criminal histories, and more! It is the largest collection of documents related to abortion on the Internet today.

Abortion911.com provides hundreds of reports about abortion-related medical emergencies and maternal deaths. It is proof that abortion is NOT safe. The heavily documented information at Abortion911.com and can be used by pro-life supporters to share on social media to "red pill" their friends about the true dangers of abortion.