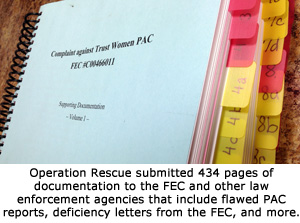 Wichita, KS – The Trust Women PAC run by Julie Burkhart, the owner of a Wichita, Kansas, abortion clinic, has received another letter from the Federal Elections Commission (FEC) noting errors in filings that mirror allegations in a complaint filed by Operation Rescue.
This is the third FEC deficiency letter sent to Trust Women PAC since Operation Rescue first filed a complaint alleging financial malfeasance in July 2013. (Read about the previous letters.)
Based on the numerous financial discrepancies that continue to plague Trust Women PAC, Operation Rescue has sent a letter to the FEC requesting an immediate audit of the unaffiliated political action committee.
During an investigation conducted earlier this year, Operation Rescue discovered that PAC money was being illegally funneled into the South Wind Women's Center to pay for daily operating expenses. South Wind Women's Center is a "for-profit" abortion clinic that Burkhart opened in April at the site of George Tiller's former late-term abortion clinic in Wichita.
In addition, Operation Rescue staff discovered that cash on hand at the end of one reporting period rarely matched the amount on hand at the beginning of the next period. This error, repeated on almost every report filed since July 2011, represents over $37,000 of dollars in PAC money that has simply disappeared.
The most recent FEC letter dated December 4, 2013, addressed discrepancies in Trust Women PAC's July Quarterly Report that show additional missing money:
The beginning cash balance of this report does not equal the ending balance of your Amended April Quarterly (1/1/13 -3/31/13) Report, received 8/5/13. Please correct this discrepancy and amend all subsequent reports(s) that may be affected by the correction. (2 U.S.C. § 434)(b)(1))
This and other issues addressed in the FEC missive involving discrepancies in cash on hand and unitemized contributions represents nearly $800 in missing funds in just the July Quarterly Report alone.
Burkhart's PAC has until January 8, 2014, to file an amended report correcting all the errors. Failure to comply could result in an audit and/or fines, according to the FEC letter.
"Because there are so many financial discrepancies in each report and so much missing money, we are calling on the FEC to conduct a full audit of the Trust Women PAC. Add to that the PAC's improper financial dealings with Burkhart's abortion clinic, and we recommend that a criminal investigation into financial malfeasance also take place immediately," said Cheryl Sullenger, Senior Policy Advisor for Operation Rescue, who filed the two complaints with the FEC.
In November, Operation Rescue filed an addendum to its original complaint based on the Trust Women PAC October Quarterly Report that indicated the South Wind Women's Center abortion clinic repaid a "loan" totaling $8,410.25 to the PAC. However, it is illegal for a business to give over $5,000 to a non-affiliated Political Action Committee in the same year for any reason.
"It appears Trust Women PAC may have committed legal breaches to cover up for violations we reported in our original complaint to the Federal Elections Commission. In trying to hide the fact that her PAC was improperly paying for her abortion clinic's daily operating expenses, she has only dug a deeper hole of legal problems," said Sullenger.
Related Documents:
FEC letter to Trust Women PAC dated Dec. 4, 2013
Trust Women PAC's Amended April Quarterly Report
Trust Women PAC's July Quarterly Report
Trust Women PAC's October Quarterly Report
Operation Rescue's Complaint Addendum dated October 23, 2013
Operation Rescue's Letter Requesting an Audit of Trust Women PAC
Background: Read OR's Special Investigative Report