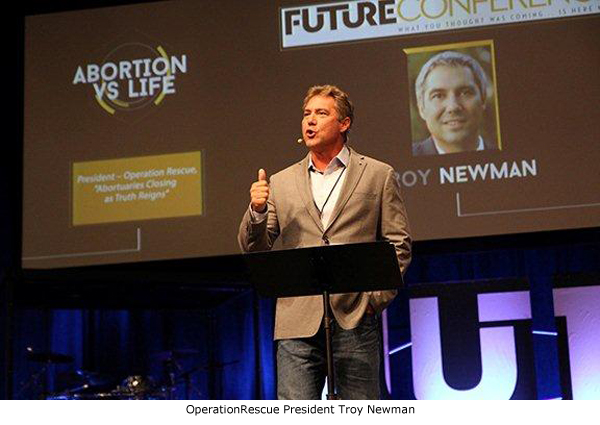 In recent years, under the leadership of Troy Newman, Operation Rescue® has become one of the leading voices of the pro-life activist movement in America. Its activities are on the cutting edge of the abortion issue, taking direct action to restore legal personhood to the pre-born and stop abortion in obedience to biblical mandates.
Operation Rescue® spokespersons* have decades of experience providing media interviews and support on abortion and other life issues, including human cloning and embryonic stem cell experimentation, euthanasia, and infanticide.
Interviews can be scheduled at the contact numbers below:
READ: Operation Rescue's Non-Violent History is a Matter of Public Record
Troy Newman, President (bio)
316-683-6790, ext. 111
Cheryl Sullenger, Senior Vice President (bio)
316-516-3034
Main Office
316-683-6790
PRESS RELEASES
To view Operation Rescue's latest Press Releases, please click here.
SCHEDULING
To schedule Mr. Newman or Mrs. Sullenger to speak at your church, meeting, or event, please call Operation Rescue at 316-683-6790 or Toll Free at 1-800-705-1175.
CAUTION ABOUT DISINFORMATION
Randall Terry is not associated with nor does he speak for Operation Rescue. Read statements about this.
lnformation about Operation Rescue and Troy Newman found on Wikipedia is inaccurate and should be ignored. It should also be noted that numerous independent blog sites found on the Internet have no accountability and should not be trusted as a source of accurate information about Operation Rescue. If anyone has any questions about us, please contact us directly.
*For clarification, Troy Newman and Cheryl Sullenger are the only authorized media spokespersons for Operation Rescue® at this time.