By Cheryl Sullenger

Washington, DC – This year was a banner year for abortion-related discipline. Several abortionists came to the attention of regulators due to complaints and publicity from Operation Rescue, which took their complaints to medical boards, health departments, and even to the Federal Election Commission and into court to shut down shoddy or illegal abortion businesses.
"We are especially excited when one of our complaints, or a situation that we helped uncover results in closed clinics and disciplined abortionists. That always means that innocent lives will be saved," said Troy Newman, President of Operation Rescue.
The Eastern Seaboard has been most active during 2013 in disciplining abortionists who endanger women and break the law.
Maryland led the nation in abortion-related discipline with actions against the licenses of five abortion providers and the closure of at least three abortion clinics – all affiliated with the notorious New Jersey abortionist Steven Chase Brigham.
Brigham, who Operation Rescue has worked for years to expose, has also experienced trouble with regulators in his home state of New Jersey, where a complaint has been filed by the Attorney General's office that is attempting to permanently revoke his last remaining medical license. Brigham is accused of illegally starting late-term abortions at his office in New Jersey, then transporting women to Maryland to complete the abortions, even though he has no medical license in that state. He also is accused of falsifying medical records to hide his abortion crimes and lying about his lack of malpractice insurance by providing a false certificate from a fraudulent insurance company in the Bahamas, which was previously closed for insurance fraud.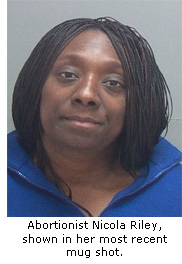 Meanwhile in Pennsylvania, the state closed Integrity Family Health after pro-life complaints that this abortion clinic was affiliated with Brigham, who was ordered not to have any part in abortion businesses in that state. Operation Rescue lodged a formal complaint against Brigham's Pennsylvania accomplice, Eric Kfir Yahav, with the Pennsylvania authorities requesting Board discipline.
Brigham's associate, Nicola Riley, was also disciplined in Maryland and her home state of Utah in 2013. She helped Brigham run an illegal bi-state abortion business that resulted in at least 50 illegal late-term abortions, 30% of which were done on babies beyond 20 weeks. Two of the babies aborted at Brigham's secret Maryland abortion clinic were 31 and 33 weeks.
Maryland revoked Riley's medical license for gross negligence and "fraudulent and deceptive" behavior after she botched a late-term abortion that brought attention to their illicit late-term abortion scheme. Maryland also found that Riley lied about a felony criminal conviction in order to gain licensure in that state, a charge that was discovered and reported by Operation Rescue. Later, Utah reprimanded Riley for unprofessional conduct for failing to call an ambulance for the woman injured during an abortion in Maryland.
In action also related to Brigham's shoddy abortion clinic operations, the licenses of three abortionists were suspended in Maryland after an inspection discovered that a woman, Maria Santiago, had died from a botched abortion at a Brigham-affiliated facility located in a residential condo complex. One of them, Michael Basco, faces possible license revocation.
Also in Maryland, Harold O. Alexander was ordered to stop all surgical abortions after it was discovered that he was using unqualified employees to administer sedation. This followed on the heels of a license suspension due in part to a complaint by Operation Rescue. Further investigation discovered that Alexander was illegally operating his Integrated OB/GYN Services abortion clinic without a license. Operation Rescue alerted authorities and that case is pending.

In Birmingham, Alabama, Diane Derzis' New Woman All Women abortion clinic was ordered to close after pro-life groups, including Operation Rescue, documented that the clinic was operating illegally in violation of a previous closure order. The documentation was turned over to the Alabama Department of Health, which sued to once again halt Derzis' illegal abortion operation. In October, a judge denied the clinic's motion to lift a previous closure order, shutting the clinic down for good. Life Legal Defense Foundation filed an Amici Curiae brief on behalf of Operation Rescue and CEC for Life that contributed to the ruling. This clinic had a history of botched abortions and 72-pages worth of health code violations.
Operation Rescue helped expose five medical emergencies that took place at a Wilmington, Delaware, Planned Parenthood and published a video taken by sidewalk counselor Rae Stabosz that showed her being attacked as she filmed one of those emergencies. That video when viral and was featured on Fox News before Youtube.com removed it. That publicity prompted two former nurses to come forward and blow the whistle on horrific conditions at the Wilmington and Dover Planned Parenthood abortion clinic. The abortionist, Timothy Liveright, who faced multiple negligence charges, entered into a consent agreement with the Delaware Board of Licensure and Discipline last month. The conditions of the agreement are set to be made public in January.

Robert L. Alexander, the Muskegon abortionist who was caught running a squalid, Gosnell-like abortion mill that was closed by the fire marshal late last year, now formally faces medical board discipline based on a complaint filed by Operation Rescue based on information provided by a confidential informant. Conditions at his abortion clinic were among the worst we have seen.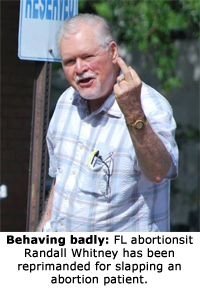 In Florida, James Pendergraft stood by earlier this year while the furnishings at his Orlando Women's Center were hauled away to pay a multi-million dollar court judgment against him while his associate, abortionist Randall Whitney was fined $7,500 and reprimanded by the Florida Medical Board after slapping a patient during an abortion as the result of an Operation Rescue complaint. Pendergraft was able to reopen his abortion clinic but still faces mountains of legal troubles.
An unusual case of disciplinary action came as the result of a Federal Election Commission complaint filed by Operation Rescue against Julie Burkhart, who operates South Wind Women's Center in Wichita, Kansas. Burkart forked over $3,000 in fines from her Trust Women PAC, which Operation Rescue discovered was improperly funding Burkhart's abortion operation. Burkhart remains under investigation for shoddy bookkeeping that shows over $37,000 in missing political action committee money.
In addition to the disciplinary actions taken this year, Operation Rescue staff members filed numerous complaints in 2013, which could lead to more clinic closures and disciplinary action in the future. One of the more high-profile cases that remain unresolved at this time includes an ongoing criminal investigation against Houston abortionist Douglas Karpen, who has been accused by former employees of murdering late-term babies born alive after illegal abortions. Operation Rescue worked with the women to obtain documentation of Karpen's actions, including photographs taken on clinic workers' cell phones of late-term aborted babies showing that their throats had been cut.
Operation Rescue works to research, document, report, and expose abortion abuses in order to save lives, spare women from exploitation at the hands of abortionists, and bring the abusers to justice. OR's work also helps the public understand the truth behind the so-called "safe and legal" abortion trade that regularly maims women and kills babies — often illegally — in dangerous abortion mills across the nation.
"We have yet to find an abortionist that completely complies with the law. This makes the abortion industry very dangerous. When we can document abuses, we consider it a public service to report these shady abortionists to the authorities," said Newman. "It's gratifying to know that our work has helped save lives and has protected women from shoddy or abusive abortion practices. It's an incentive to work even harder to end abortion altogether."
Source documents of abortion abuses are maintained at AbortionDocs.org, a searchable database that includes every abortion clinic and known abortionist in America.