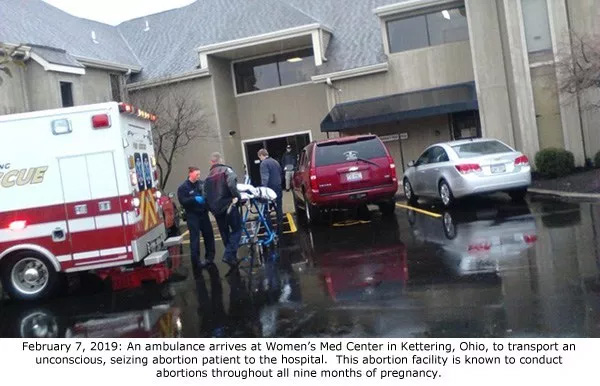 By Cheryl Sullenger
Dayton, OH – Operation Rescue is seeking help from pro-life supporters in a public campaign to force the resignation or removal of the current Ohio Department of Health Director, Amy Acton, who has prevented a very dangerous late-term abortion facility from losing its facility license through the use of a duplicitous paperwork loophole.
Acton, who was appointed by Gov. Mike DeWine in February, licensed the Women's Med Center of Dayton, a late-term abortion facility, under an assumed name to keep it open despite four years of litigation by the state to terminate its abortion license for dishonesty and failure to comply with licensing regulations.
This action was considered an underhanded way to protect a dangerous late-term abortion facility owned and operated by the wealthy and politically powerful late-term abortionist Martin Haskell.
In 2015, the ODH began the arduous process of terminating the facility license for Women's Med Center of Dayton, after having successfully revoked the license of an affiliated abortion facility in the Cincinnati suburb of Sharonville just a few months earlier.
In January 2014, an ODH spokeswoman commenting on Haskell's Sharonville clinic situation told the Cincinnati Enquirer, "There is a history of problems with this particular ambulatory surgery facility and operator. The agency no longer has confidence that this ambulatory surgery facility will take necessary steps to operate in accordance with regulations."
That same lack of confidence extended to Haskell's Dayton abortion clinic.
On October 29, 2019, the Ohio Supreme Court ended Haskell's state appeals by upholding the ODH's right to terminate Women's Med Center's abortion license. While that license was technically terminated, less than a week later, on November 5, Acton approved a license for that exact same facility under a contrived DBA, "Women's Med Dayton," which appears to have been created by Haskell — working in concert with Acton – to circumvent the license termination order.
Since then, Operation Rescue published two investigative reports that exposed the following:
"We are demanding that Acton resign or be removed from office over the duplicitous act of licensing the Women's Med Center abortion business under an assumed name," said Troy Newman, President of Operation Rescue. "Gov. DeWine needs to understand that Acton has betrayed her duty to protect the public and uphold the laws of Ohio. If Acton will not resign, we call on Gov. DeWine to fire her."
Please contact Amy Sterns Acton and demand her resignation.
Please contact Gov. Mike DeWine and demand he remove Acton as head of the Ohio Department of Health.
Gov. DeWine's Office phone: (614) 644-4357
E-mail: Web Form
Twitter: @MikeDeWine