READ: Operation Rescue's Non-Violent History is a Matter of Public Record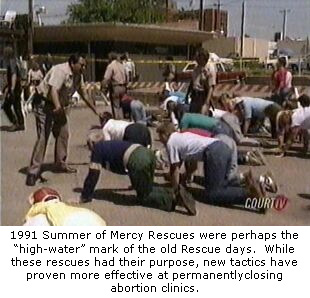 In 1986, Operation Rescue sprang on the scene and soon became one of the most outspoken groups opposing abortion in the United States. Operation Rescue led the largest movement involving peaceful civil disobedience in American history. During those early years, thousands of men and women willingly sat in front of abortion mill doors to prevent the killing of innocent children and paid the penalty in arrest and prosecution on trespassing charges.
At that time, many Operation Rescue organizations cropped up across the country, each autonomous in their leadership, including Operation Rescue of Los Angles and Operation Rescue of San Diego. These groups were independent from other Operation Rescue groups. In fact, Operation Rescue was more of a movement than an organization, especially in the early years.
From these beginnings, a number of California Operation Rescue organizations merged into one group, Operation Rescue of California, which later became Operation Rescue West and is now known simply as Operation Rescue. Troy Newman became the president in 1999, and is the legal trademark holder for the name Operation Rescue. He continues to lead this thriving organization today.


In 1993, the Federal Freedom of Access to Clinic Entrances Act (F.A.C.E) was passed placing severe fines and jail time on those blocking access to abortion mills nationwide. Operation Rescue showed its resilience by adapting to the new restrictions. In California, they developed new, effective tactics that have been adopted by other prolife organizations across the nation and have been used successfully to save lives, close clinics, and prompt abortionists to quit the abortion industry.
Perhaps the best example of Operation Rescue's success is San Diego, California. Prior to 1993, over 70 abortionists lived and killed in San Diego County. Rescuers, led by Troy Newman, launched a campaign to expose wrong-doing by abortionists in the community. Since then, over 40 abortionists have quit doing abortions, retired, or moved out of town, many as a direct result of OR's activism. In addition, over 20 abortion mills have closed in San Diego County. But San Diego is not the only success story. Abortionists all over California had their clinics closed, licenses revoked, and/or have left the child-killing business due to pressure from Operation Rescue's effective tactics based on Ephesians 5:11, "Have nothing to do with the unfruitful works of darkness, but rather expose them."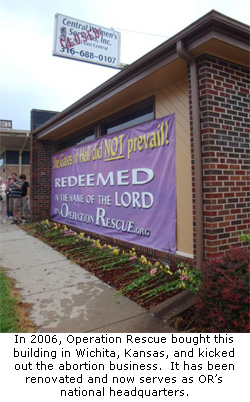 In 2002, Operation Rescue relocated its offices to Wichita, Kansas, where they worked to expose the horrific abortion practices the nation's most notorious late-term abortionist George Tiller.
In 2006, Operation Rescue bought the building occupied by the Central Women's Services abortion clinic, forcing it to close. OR documented the filthy and unsafe conditions under which that abortion clinic had operated before completely renovating the structure. The building, once the site of an estimated 50,000 abortions, now serves as Operation Rescue's National Headquarters where Christians work each day to stop abortion.
In addition, Operation Rescue operates a fleet of 10 Truth Trucks that traverse the United States showing graphic images of aborted babies. This ministry has saved hundreds of babies from abortion and is helping to change the hearts and minds of Americans about abortion.
Operation Rescue continues to work across the nation using peaceful, legal means to uncover abortion clinic wrong-doing, expose it to the public, and bring the offending abortionist to justice.
Donate to Operation Rescue