Operation Rescue® is one of the leading pro-life Christian activist organizations in the U.S. Our goal is to use all legal tools available to us to expose abortion abuses, demand enforcement, save innocent lives, and build an Abortion-Free America.
Click here to donate.
Click here to contact.
READ: Operation Rescue's Non-Violent History is a Matter of Public Record

Troy Newman, President
Adopted at birth and raised in San Diego, Troy Newman has more than 27 years of experience and leadership in business and pro-life ministry with great success growing Christian organizations. Troy is an accomplished strategist with remarkable insight.
His vision, expertise, and leadership have brought about a dramatic reduction in the numbers of abortions and abortion providers nationally. His work has been featured in the Rolling Stone Magazine, GQ, USA Today, WND.com, Wall Street Journal, the LA Times, NYT, and a host of other print media. Troy is a sought after spokesperson for the pro-life cause who is regularly featured on radio programs and television news broadcasts. In addition, his one-minute audio commentaries are aired daily across the Bott Radio Network. Troy's unique insights have been published in nearly every newspaper in the United States.
Troy serves on boards for a number of pro-life groups and was a founding board member for the Center for Medical Progress, the organization that has made headlines with its hard-hitting videos exposing Planned Parenthood's participation in the illegal trafficking of fetal remains.
Troy is a published author of four books: Their Blood Cries Out, Am I Now Your Enemy for Telling You the Truth, Refocusing the Pro-Life Movement for Victory, and his newest book published by WND.com entitled Abortion Free.
As president of Operation Rescue since 1999, Troy offers a rare blend of theological wisdom and organizational strengths. Through his peaceful, proactive efforts, Troy has forged exciting bottom-line results. His work has permanently closed hundreds of abortion mills, led dozens of abortionists leave the killing industry, spared countless babies from abortion, and is changing lives through the public offering of the Gospel of Jesus Christ. He is especially recognized for his growing success in developing and applying cutting-edge pro-life strategies.
Troy was the architect and innovator of the "Truth Truck" campaign and the "Show the Truth" Tours. Troy worked for eight years in Wichita, KS, to close the nation's largest late-term abortion clinic.
Troy Newman is able to speak on almost any Life or theological issue with clarity. Troy hosted a weekly radio show, Rescue Radio, for nearly 6 years and is an in-demand speaker for both pro-life and church events.
Prior to 1995, Troy worked as an Electronic Engineer for Loral Aerospace and Ford Aerospace. He graduated from Maranatha Bible College and attended Whitefield Theological Seminary.
Troy's other business interests include real estate development investments and rental properties. Troy's hobbies are hunting, ranching, and gardening, and he has two Black Belts in Martial Arts. Troy and his wife, Mellissa, homeschool their five children on a small hobby farm in Kansas.
Read: How Troy Newman Rescued Operation Rescue
a
Cheryl Sullenger, Senior Vice President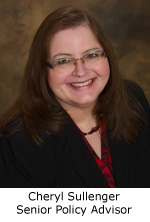 Cheryl Sullenger has been involved in the pro-life movement since 1984. She founded and directed the California Life Coalition in San Diego and worked with Troy Newman and Operation Rescue to help close over a dozen abortion clinics and influence over 40 abortionists to quit the abortion business. Her sidewalk counseling ministry has saved over 2,500 lives.
In a 1987 act she now regrets, Sullenger was charged and pled guilty to conspiracy to damage an abortion clinic. Even though the clinic was not damaged, Sullenger took responsibility for her actions, and served 2 years in Federal Prison. Since then, Sullenger has openly denounced violence as a means to stop abortion and has worked for over two decades as an advocate of peaceful activism as a means to save babies and stop abortion.
Later, Sullenger served for seven years as an elementary school teacher at a Christian school, and was an elected member of the San Diego County Republican Central Committee.
In 2003, Sullenger relocated to Wichita, Kansas, where she serves as Senior Vice President of Operation Rescue. Sullenger conducted extensive research on abortionists around the nation. Her research and documentation has helped bring attention to the seedy underbelly of the abortion industry and has been instrumental in closing abortion clinics, launching investigations, and bringing disciplinary action and criminal prosecutions against abortionists around the country.
Sullenger is an accomplished writer and published author. She co-authored four books with Newman: Their Blood Cries Out, Am I Now Your Enemy for Telling You the Truth, Refocusing the Pro-Life Movement for Victory, Abortion Free, and most recently authored The Trial of Kermit Gosnell. She has also written a number of other educational publications and posts breaking news reports almost daily on OperationRescue.org, which are often reprinted by several national pro-life and secular news sources.
Sullenger has a wide range of interests outside her work. She is an artist and musician who is an avid fan of IndyCar Racing. She and her husband, Randall, have been married since 1979, have two married daughters, and nine beautiful grandchildren.
a
a
CAUTION ABOUT DISINFORMATION
Operation Rescue was among the first to denounce the murder of late-term abortionist George Tiller in 2009. All accusations, implications, or inferences that there was any involvement by Operation Rescue in the death of George Tiller is completely false. Operation Rescue and its staff were not involved in any way. Operation Rescue explicitly denounces violence in any form as a means of ending abortion. [Read our press statement regarding the death of George Tiller]
Randall Terry is not associated with nor does he speak for Operation Rescue. Read statements about this.
lnformation about Operation Rescue and Troy Newman found on Wikipedia is inaccurate and should be ignored. It should also be noted that numerous independent blog sites found on the Internet have no accountability and should not be trusted as a source of accurate information about Operation Rescue. If anyone has any questions about us, please contact us directly.