New videos and photos of the Summer of Mercy 2.0 abortion protests are now available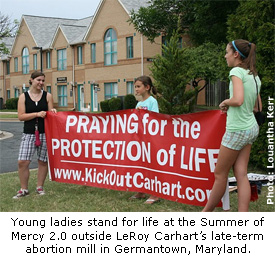 Germantown, Maryland – Participants in the Summer of Mercy 2.0 will form a human "Cross 4 Life" near LeRoy Carhart's late-term abortion clinic in Germantown, Maryland, on Sunday, August 7, at 2:00 PM, to draw attention to the tragedy of abortion and the redemptive power of Christ.
Participants will wear red t-shirts and line the streets intersecting Wisteria & Executive Park Circle where the late-term abortion clinic is located. There are plans to photograph the human cross from the air.
"If you haven't made it to Germantown yet for the Summer of Mercy, you will certainly want to be part of this exciting event," said Operation Rescue President Troy Newman. "The symbolism is powerful. The red shirts speak of the shedding of innocent blood, but also of the redemptive power of Christ's sacrifice, which can forgive any sin and bring new life and healing to the repentant. The Cross 4 Life will be a compelling testimony to the Germantown Community and to the nation."
The speaker for Sunday's Rally will be the nationally-known leader of 40 Days for Life, David Bereit.
Saturday's Rally will feature Pastor Josh Harris, Sr Pastor Covenant Life Church.
Those attending the Summer of Mercy 2.0 tonight will hear from special speaker Kelly Stauffer, Silent No More Awareness and former Tiller Patient who shared her testimony about her horrific late-term abortion ordeal on The O'Reilly Factor.
New video and photos are now available from the Summer of Mercy 2.0.
Visit Louantha Kerr's photo gallery from the SOM's outreach to Washington, D.C., which included prayer for an end to abortion at the White House.
Video is now available online of several SOM event speakers, including Fr. Frank Pavone, Troy Newman, Joe Scheidler, and Michael Martelli. You will not want to miss these inspirational and encouraging messages!
Also available is the testimony from Keisha, a woman who was scheduled for a late-term abortion but changed her mind due to pro-life sidewalk counselors. Keisha's testimony directly exposed the lie Carhart has been promoting in the news media that he only does late-term abortions in cases of severe fetal anomaly. On July 22, 2011, Keisha gave birth to a healthy baby daughter named Kayden. In fact, sidewalk counseling organizer Dr. Grace Morrison, who initially reached out to Keisha, says that of the 25 women she has personally spoken to who were scheduled for late-term abortions, only one was carrying a baby with a negative pre-natal diagnosis. Shockingly, Carhart responded by attacking Keisha in the news by calling her a "plant" and accusing her of lying. View Keisha's testimony below.
For more visit SummerofMercy.com.

Keisha and "Baby Kayden" – 7min from Michael Martelli on Vimeo.
Troy Newman – Summer of Mercy from Michael Martelli on Vimeo.