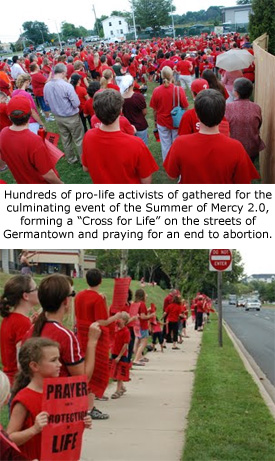 Germantown, MD – Over 600 pro-life activists wearing red T-shirts converged on the corner of Wisteria and Executive Park Circle in Germantown Sunday to form a "Cross for Life" near LeRoy Carhart's late-term abortion clinic for the culminating event of the Summer of Mercy 2.0.
Addressing a "sea of red," David Bereit of 40 Days for Life encouraged the crowd, which then spread out down the streets of Germantown to hold vigil for the pre-born. In addition to wearing red, participants held red signs that read "Prayer for the Protection of Life."
"Folks from all walks of life and all ages turned out to pray for an end to abortion in Germantown and the nation, and to testify of the redemptive power of Christ," said Operation Rescue President Troy Newman, one of the event organizers. "It was an awesome witness to the community."
For the nine days of the Summer of Mercy event, no abortions were done at Germantown Reproductive Health Services, the late-term abortion clinic where Carhart works.
He is currently under investigation in Maryland for misrepresenting facts on his Maryland medical license application. He is also under criminal investigation in his home state of Nebraska, where former employees filed affidavits about illegal and unsafe practices they witnessed while in Carhart's employment.
Carhart slipped into town Sunday evening under the cover of darkness and quietly began abortions in the middle of the night and continued into Monday morning. Eleven abortions were known to be on his schedule as pro-life activists prayed and offered practical help to abortion-bound women.
"The people of Maryland are now activated and committed to this fight over the long haul," said Newman. "For nine days no babies died in Germantown because men and women of conscience rose up to stand publicly against the shedding of innocent blood. We have faith that the prayers for an end to abortion lifted during the Summer of Mercy 2.0 will soon be answered. While this event is now over, the efforts to halt Carhart's grisly late-term abortion business are just beginning."
Full report and additional photos at PrayforCarhart.com.