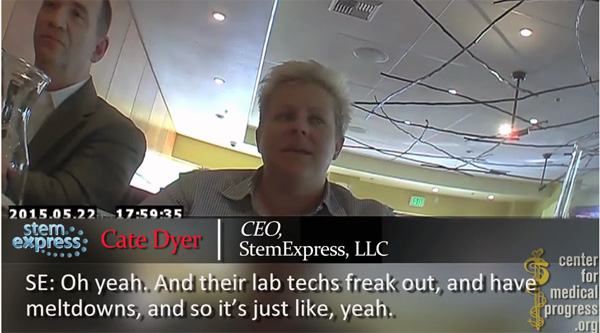 By Cheryl Sullenger
Washington, DC – In a big move announced yesterday, the U.S. House Select Panel on Infant Lives will vote Wednesday on contempt charges against StemExpress and its owner, Cate Dyer.
Dyer and her organ procurement company have repeatedly stonewalled subpoenas issued by the Select Panel for financial information that would prove not only that Planned Parenthood profited from the sale of fresh aborted baby body parts to Stem Express, but also how much it profited.
The sale of aborted baby remains for profit is a violation of Federal Law.
The Select Panel was created to investigate evidence that surfaced last year through a series of undercover videos produced by the Center for Medical Progress. The videos showed Planned Parenthood executives and abortionists bargaining for the sale of aborted baby remains for profit to a number of organ procurement companies and research laboratories
"This is the piece of the puzzle we hoped the Select Panel would uncover," said Operation Rescue President Troy Newman, who served as a founding board member for the Center for Medical Progress. "As with many white collar crimes, the financial data is the key piece of evidence. The fact that Dyer is risking contempt charges to keep this information out of the Select Panel's hands indicates it must be strongly incriminating to her, her company, and her business partners at Planned Parenthood."
Newman is named in two Federal lawsuits filed by Planned Parenthood and the National Abortion Federation, which are seeking to block the release of additional videos and evidence and financially ruin those involved in the undercover journalistic study that revealed their obvious ghoulish behavior toward aborted baby remains and their alleged criminal conduct.
The Select Panel also announced that in a separate matter, it will vote to release a May 11, 2016, deposition taken as part of the Panel's investigation in to the University of New Mexico (UNM).
On June 23, 2016, the Select Panel sent a letter to Attorney General Hector H. Balderas, Jr. recommending criminal charges and further investigation into UNM and the largest late-term abortion facility in the country, Southwestern Women's Options, both located in Albuquerque, New Mexico.
During their investigation, the Select Panel uncovered evidence that UNM obtained aborted baby remains from Southwestern Women's Options, which were then used for experimentation by UNM or sold to others for experimentation in violation of state and federal law.
In return, Southwestern Women's Options abortionists received numerous employee benefits at UNM that provided professional and financial gain.
Nearly three months later, Attorney General Balderas has yet to charge UNM and Southwestern Women's Options.
In August, Dr. Paul Roth, chancellor of the University of New Mexico Health Sciences Center and dean of the School of Medicine, who oversaw the aborted baby tissue harvesting scheme, admitted on video that staff from the University of New Mexico used brains of aborted babies for dissection by high school students at a summer camp.
This admission essentially justified the Select Panel's decision to seek criminal charges against UNM and SWO.
The Select Panel will meet Wednesday, September 21, 2016, at 2:00 p.m. ET in HVC-210 at the United States Capitol. A live stream of the meeting and links to the documents will be available at this link.
Operation Rescue will also post the documents when they are available.