PRESS RELEASE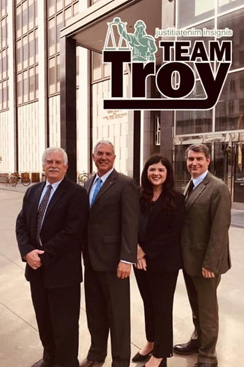 San Francisco, CA – After months of legal arguments, a final judgement has been released in the Planned Parenthood Federation of America, et al v. Center for Medical Progress, et al, baby parts case. In November, a jury found pro-life defendants liable for violations of RICO, and a host of other laws.
Attorneys with the American Center for Law and Justice (ACLJ), who represent pro-life defendant Troy Newman, President of Operation Rescue, noted that Newman was found to be joint and severally liable for a judgment totaling $1,555,084, plus what is expected to be millions more in attorney fees. The exact figure will be determined at a later date.
Newman fully expects Planned Parenthood to attempt to collect on the judgment, but defiantly maintains his innocence. He hopes to clear his name through the appeals process.
The civil case brought by Planned Parenthood centers around an three-year undercover investigative project conducted by the Center for Medical Progress that revealed evidence that Planned Parenthood violated state and federal laws by trafficking for profit in tissues and organs harvested from the bodies babies aborted at Planned Parenthood facilities.
A series of undercover recordings were released in the summer of 2015 that revealed shocking conversations between the undercover pro-life journalists and Planned Parenthood executives, who haggled to obtain top dollar for each "specimen" supplied to middle-man organ procurement companies. One abortionist famously asked for a Lamborghini in exchange for fetal tissue.
Troy Newman, President of Operation Rescue, served as a founding board member of the Center for Medical Progress' board during the investigation. He, along with others associated with the CMP, including project lead David Daleiden, board member Albin Rhomberg, undercover investigator Sandra Merritt, and others, were sued by Planned Parenthood for exposing their illicit conduct.
"It is no longer in dispute that Planned Parenthood sold aborted baby parts for profit and that our video evidence was authentic. They admitted it during our trial," said Newman. "Now Planned Parenthood wants us pay a price so the world could find out the sordid truth of their illegal babies-for-cash scheme."
The pro-life defendants also face a second trial related to their baby parts exposé. A similar case filed against the pro-life journalists by the National Abortion Federation to prevent the release of additional undercover footage remains ongoing.
Planned Parenthood tried to sanitize the record of their wrongdoing by hiring the Democrat dirty tricks group Fusion GPS — best known for producing the phony Russian Dossier on Pres. Donald Trump — to manufacture a "forensic analysis" that falsely stated the CMP videos were altered. Planned Parenthood also hired a crisis management team from SKDKickerbocker, which now represents the troubled Presidential Campaign of Democrat candidate Joe Biden, to shut down media coverage of the videos and vilify those involved in exposing Planned Parenthood.
The results of an ongoing Department of Justice investigation into Planned Parenthood's crimes have yet to be released.
"I believe when the full truth is finally told – and it wasn't at our trial – we will all be exonerated, and it will be Planned Parenthood that will be held liable for their crimes in a court of law," said Newman. "I look forward to that day."