By Cheryl Sullenger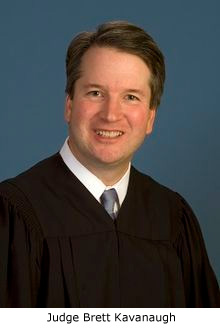 Washington, DC – Despite the new vicious attacks on President Donald Trump's Supreme Court nominee, Judge Brett Kavanaugh, Operation Rescue stands strongly in support of his confirmation.
"President Trump is standing behind Judge Kavanaugh and that is good enough for me," said Troy Newman, President of Operation Rescue. "We must not allow these gutter-level unsubstantiated accusations to derail this nominee. Democrats are desperate to destroy him because they fear he will shift the balance of the court and eventually help overturn Roe v. Wade. Make no mistake – these people are more than willing to resort to lying, cheating, and destroying anyone who gets in the way of abortion on demand."
Kavanaugh was first accused of sexually assaulting Christine Blasey Ford at a party in high school. However, every person she said was at that party had publicly stated that they had no memory of such a party and certainly no memory of the attack.
Remarkably, 65 women who know the nominee came forward almost immediately in support of Kavanaugh and affirming that they have never seen him act inappropriately toward women.
Ford was set to appear at a hearing on Thursday, but with her story now falling apart, a new accusation has surfaced just yesterday.
An attorney, referred to by Fox News host Tucker Carlson as the "Creepy Porn Lawyer," has come forward with claims he represents one or more new accusers. Michael Avenatti, who represented porn star Stormy Daniels, now says he represents a woman "with credible information regarding Judge Kavanaugh and Mark Judge."
Judge was one of the men accused by Ford of having been present during her alleged attack.
A hearing for Ford was set for Thursday but now, breaking news makes that uncertain.
Even now, polls of dubious accuracy are attempting to persuade Americans to give up their support for Judge Kavanaugh.
"We must stand behind Judge Kavanaugh and continue to contact our Senators to urge his confirmation," said Newman. "In America, a person is presumed innocent until proven guilty. There has been not one iota of proof presented. Pro-abortion Democrats demand that we believe these women and destroy Judge Kavanaugh's life based only on their spurious unsupported accusations. That is not the American way. We refuse to give in to this aggressive bullying by the left and we stand proudly stand with Judge Kavanaugh."
There is concern that if the democrats are successful in forcing Judge Kavanaugh to withdraw, this tactic will be forever used to intimidate, derail and destroy all good people who are willing to serve, not just on the Supreme Court, but anywhere in government.
Operation Rescue urges the following actions:
1. Pray for protection and strength for Judge Kavanaugh and his family.
2. Pray for the Trump Administration and Senator Chuck Grassley, who chairs the Judiciary Committee. They are fighting against this and many other evil schemes and need our prayers, trust and support.
3. Contact your Senators now and urge them to confirm Judge Kavanaugh as the next Supreme Court Justice, where we know he will serve with dignity and distinction. Contact Senators Here.