By Cheryl Sullenger
Toledo, OH — Please excuse me if I sound impatient. After all, the lives and health of women and their babies are at risk – and have been at one particular abortion facility for over three years, with no end in sight.
Back in March of 2013, a hearing was held by the Ohio Department of Health seeking to terminate the facility license of a Toledo abortion facility, Capital Care Network (now known as the Toledo Women's Center) for failing to meet licensing requirements.
In order to qualify for a license as an ambulatory surgical facility, Ohio law stipulates that the facility must have transfer agreements with hospitals to ensure prompt hospital care for patients in the event of an emergency.
That's been the law in Ohio since 1996. It was even upheld by a Federal Court ten years ago.
This law is different from the provision struck down in June by the U.S. Supreme Court in Whole Women's Health v. Hellerstedt where each abortionist was required to maintain local hospital privileges. The Ohio transfer agreement condition is a lower standard that is easier to meet.
In 2013, the regulation was codified. This time it included language that ensured that the transfer agreements were with "local" hospitals, a clarification that makes perfect sense. When one needs emergency medical care, a nearby hospital is preferable to one, say, in another state.
But the Capital Care Network (CCN) in Toledo didn't see it that way. When the University of Toledo Hospital made the decision not to renew its transfer agreement with the abortion business when it expired on July 31, 2013, no hospital anywhere in the vicinity of Toledo, Ohio, wanted anything to do with CCN.
On August 3, 2013, the Department of Health proposed to revoke the ambulatory surgical facility license of CCN in Toledo.
But the facility did not immediately shut down, as one might expect. Instead, it continued to operate for almost five months without any hospital transfer agreement at all.
On January 16, 2014, the CCN entered into a transfer agreement with the only hospital that would have it, the University of Michigan Health System in Ann Arbor, Michigan. However, that hospital was in another state 52 miles away!
That agreement was rejected by the Department of Health for being in violation of the requirement for hospitals to be "local" to the location of the abortion facility. Ann Arbor, Michigan, could in no way be considered local to Toledo, Ohio, and was far beyond the 30 minute travel time that the Department ruled was the farthest a facility could be located to ensure the health of patients was protected.
Instead of shutting down, CCN requested a hearing, which was held a year later. All the while, the abortion facility that was in clear violation of a law meant to protect patient lives and safety remained open for business.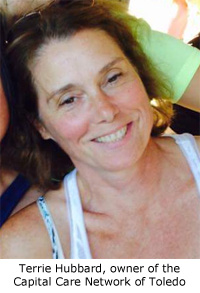 At the hearing, the clinic owner/director, Terrie Hubbard, parsed the meaning of the word "local" and ludicrously proposed that she could comply with the 30 minute driving time by calling for a helicopter located outside Columbus to fly to Toledo, pick up her critically injured patients then fly them off to Michigan.
However, she also admitted that she had no arrangement in place for the helicopter service. It was doubtful if one could ever be made.
On July 29, 2014, nearly a year after CCN fell out of compliance with licensing requirements, an adjudication order was issued that ordered the facility to shut down.
But it never did. Instead, it filed suit to block the Ohio Department of Health from closing the dangerously-operating abortion facility.
The Lucas County Court of Common Pleas heard the case nearly a year after that and issued a decision on June 19, 2015, inexplicably favoring the abortion facility. It ruled that the law posed an "undue burden."
The Attorney General's office appealed.
It took yet another year for the Appeals Court to hear the case and render a decision. On July 29, 2016, nearly three years after CCN should have closed, the Appeals Court allowed the abortion facility to continue operating even though it could not comply with the law.
Earlier this week, Attorney General Mike DeWine filed notice with the Ohio Supreme Court to hear his final appeal on the CCN case.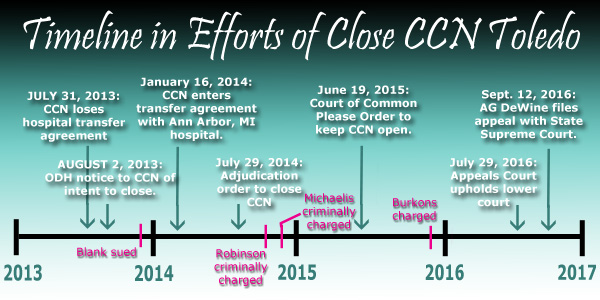 One has to give him credit for trying, but the reality is that this case will likely not be decided for at least another year. By then, at least four years – perhaps more – will have passed since the Department of Health first attempted to enforce the hospital transfer agreement law.
Each day, CCN's abortion customers literally play the equivalent of "Russian Roulette" with their lives. In the event of an emergency when minutes could mean the difference between life or death, they face the prospect of being sent to a hospital emergency room that is an hour away, or perhaps risk being dumped at an emergency room that has to waste precious time determining the extent of a patient's injuries without the benefit of good communication with those that injured her.
The system that is keeping CCN dangerously open is simply inadequate to protect the public. It shouldn't take years to shut down an abortion business that refuses to comply with the law. Abortion clinics are given one opportunity after another to delay by a system that cannot function without taking years and years to do it. This is placing women in unacceptable jeopardy.
Even when it comes to licensing inspections, CCN hasn't been fully surveyed since 2011 – over five years ago. Who knows if the many gross deficiencies discovered at that time have ever been corrected? Certainly not the Department of Health.
But don't think for one minute that CCN's only problem is its out-of-state hospital transfer agreement. Its hired abortionists are a true "rogue's gallery."
• Raymond Robinson: His Ohio medical license was suspended for six months in 1993 for prescribing over 5,000 doses of controlled substances to family members without performing physical examinations. In 2014, Robinson was criminally charged in Indiana for failing to report suspected cases of child sex abuse. Action against his medical license is pending in that state.
• Thomas Michaelis: He worked at CCN before his arrest on child pornography charges in 2014. Operation Rescue sought an investigation into whether sex abuses took place at CCN during his employment there given his record of sex crimes involving children dating back to 1991. To date, there is no record that such an investigation ever took place.
• Harley Blank: He was sued in 2013 for misdiagnosing an ectopic pregnancy, leaving a woman unable to ever bear another child.
• David Burkons: He was charged by the Medical Board on December 9, 2015, for illegally distributing controlled substances, failing to note prescriptions in medical records, and more. Despite the potentially devastating impact on patient's health, this case has yet to be resolved months later.
It is obvious that the disciplinary and licensing enforcement process needs to be dramatically reformed. It is ridiculous for cases where patient safety is at stake to take years upon years. But that's not just an Ohio problem. That is how the system functions – or in most cases, malfunctions – in nearly every state.
How tragic that the lives and health of women are held in such low regard that those who pose the most danger are knowingly allowed to continue to place women in continual risk while the disciplinary process grinds along at a glacial pace.
If strict time limits are not going to be put in place, licenses should be suspended pending the resolution of cases, because human lives should be valued over someone's job.
I'm a big believer in working peacefully through the system to end abortion. Through longsuffering patience, we have seen the licenses of abortionists revoked and abortion facilities closed. We have even seen some abortionists thankfully hauled off to jail because of our complaints. But the reality is that the regulatory system, and in some cases, the court system we depend upon for justice, needs a serious overhaul.
So yes, I'm impatient for the Capital Care Network of Toledo to be shut down by the state. I'm impatient for the abortionists that work there to be prohibited from hurting anyone else. I'm impatient to see the system actually work to protect lives of women and their babies rather than the industry that exploits them. We all should be. Maybe then we could see the reforms that are so desperately needed to protect human life.
Read Ohio's Memorandum in Support of Jurisdiction in Capital Care Network of Toledo v. State of Ohio Department of Health.