New Missouri law may help prevent Planned Parenthood from opening four more dangerous abortion facilities, and a new inspection report shows that would be a good thing.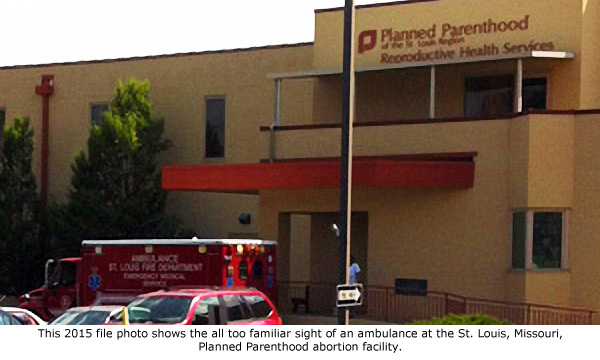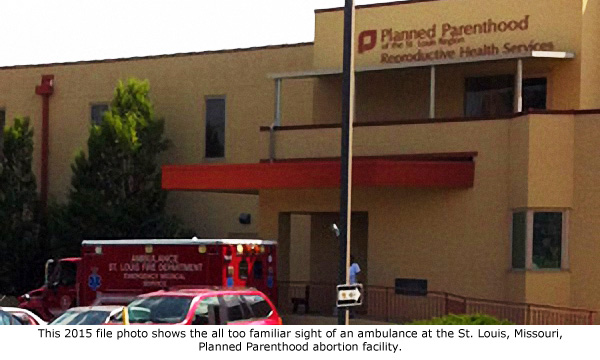 By Cheryl Sullenger
St. Louis, MO – The Missouri Senate took advantage of a special session to send a bold new bill, SB5, to pro-life Gov. Eric Greitens, that will ensure annual inspections of abortion facilities, and numerous other provisions designed to provide greater protections for women, more accountability for abortion businesses, and a better mechanism for enforcement of abortion laws. Gov. Greitens signed the measure into law Wednesday afternoon.
Missouri has only one abortion facility, the Reproductive Health Services Planned Parenthood in St. Louis. However, Planned Parenthood has announced plans to open four new abortion facilities in that state. The new law will likely put a damper on those efforts.
Now, a new inspection report just released to Operation Rescue by the Missouri Department of Health and Senior Services (DHSS) shows the dire need for this legislation.
The inspection report reveals egregious deficiencies recorded at Reproductive Health Services Planned Parenthood in St. Louis, Missouri, during a failed health and safety inspection conducted on May 25, 2017.
It also revealed an arrogance on the part of Planned Parenthood abortionists and staff that challenged a state health official on long-standing infection control standards and willfully ignored a law that requires abortion facilities to report abortion complications.
"From what we see in the 183 pages of documents we received from the Department of Health and Senior Services, Planned Parenthood has been repeatedly cited for numerous violations. They only clean up their act for the inspectors, then it is back to their old ways as soon and the inspector is out the door."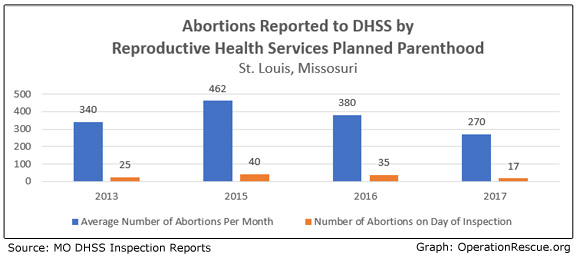 Newman noted that there was also evidence that the Department of Health was turning a blind eye to complaints and giving Planned Parenthood a pass on serious deficiencies that affect patient health.
Willful failure to report abortion complications
Reproductive Health Services Planned Parenthood was cited during the May 25 inspection for failure to report abortion complications within 45 days to the Department of Health and Senior Services as required by Missouri law.
The inspector reviewed the facility's complication log and noted that several women sought post-abortion care for reportable complications such as hemorrhage, infection, uterine perforation, cervical lacerations, and retained aborted baby remains.
Planned Parenthood never reported complications even though they were aware for months that the law existed. Planned Parenthood's Director of Quality told the inspector the facility wanted a "clearer definition of complication" before they would comply with the law.
The bill just approved by the legislature would give authority to the Attorney General's office to bring suit against abortion facilities when local authorities fail to act.
Hand washing: Is that a new standard?

In another egregious violation that resulted in multiple recent citations, two abortionists and several staff members were observed by a state health inspector failing to wash their hands between glove changes. The inspection report indicated that glove usage was not a replacement for hand hygiene.
After abortionists would perform such tasks as vaginal exams, cervical blocks, and laminaria removal, and never wash their hands between glove changes. Some staff members were seen handling their cell phones, rubbing their noses, putting gloved hands on hips or in pockets – all of which contaminate the gloves – then either did not change the gloves or failed to conduct proper hand hygiene between glove changes.
Almost remarkably, the Medical Director and abortionist David L. Eisenberg, "questioned if hand hygiene between glove changes was a new standard" and inquired whose standard it was.
Properly washing hands between glove changes was noted to be a nationally recognize standard from the Centers for Disease Control.
His response indicated that his unsanitary practice of not washing his hands was longstanding and could have affected the health of every women seen by Planned Parenthood.
Unsanitary facility and practices
Reproductive Health Services Planned Parenthood was also cited for improperly removing dirty surgical instruments from procedure room partially wrapped in a disposable pad instead of transporting the soiled instruments in a covered, leak-proof container labeled with a bio-hazard label.
It also violated other infection control protocols by failing to properly use germicidal wipes to clean up blood on abortion table, and failure to maintain a sanitary environment free from holes or rust that harbors diseases and transmits infections.
In an example of how certain deficiencies were left uncorrected for years, the abortion facility was cited in May for tape residue on the oxygen tanks. Such residue harbors bacteria and cannot be sanitized. However, Planned Parenthood was also cited for tape residue on the oxygen tanks during a licensing survey on January 31, 2013.
It appears the same tape residue was never cleaned despite multiple citations over a four-year period!
DHSS turns a blind eye
There is evidence that the Missouri Department of Health and Senior Services was turning a blind eye to violations, and especially complaints filed against Planned Parenthood.
Deficiency and Investigation Reports for St. Louis Planned Parenthood – Table by Cheryl Sullenger on Scribd

The documents received by Operation Rescue included 21 complaint or allegation investigations between 2011 and 2017. Every one of those complaints were found to be "unsubstantiated."
"It seems incredible that the DHSS could not substantiate a single complaint out of 21 in the past five years or so," said Newman. "Could all those complaints be lies, or does the DHSS have an unwritten policy of ignoring all complaints against Planned Parenthood? Pennsylvania has a similar policy and now we know what that gave us. It produced Kermit Gosnell, a serial murderer who operated a squalid abortion facility where women were infected and killed."
All but two investigations determined that there were no deficiencies, or that the Planned Parenthood abortion facility was in "substantial compliance" – an oddity since most of the investigations were off-site and never involved a visit to the abortion facility.
That one investigation where deficiencies were found was done in conjunction with a licensure survey on March 31, 2015, where 17 pages of violations – some repeat offences – were cited.
"SB5 is a desperately needed law that will prevent Planned Parenthood from exploiting women by cutting corners on facility sanitation, concealing serious abortion complications, and other violations that endanger women's health that Planned Parenthood has gotten away with for years," said Newman.
According to Bev Ehlen, Missouri State Director, Concerned Women for America, the new law will provide for all of the following:
• Creates a Class A Misdemeanor for abortion facility workers to order ambulances to run without lights and sirens or otherwise interfere with the normal operations of emergency responders. [See Operation Rescue's previous report and video on this provision];
• Overturns a St. Louis "abortion sanctuary" ordinance and prohibits other municipalities from passing similar ordinances;
• Prohibits forcing religious schools to hire pro-abortion teachers and staff;
• Prohibits forcing landlords to rent to abortion clinics;
• Prohibits requiring abortion coverage in health insurance plans;
• Prohibits seeking to harass and disrupt the work of pregnancy resource centers.
• Only physicians licensed to practice in the state of Missouri may perform or induce abortions in an abortion facility located in Missouri;
• Retains current 72-hour reflection period prior to an abortion, but adds requirement that abortion physician meet in person with the woman considering an abortion 72 hours prior to performing or inducing an abortion to discuss medical risks;
• Requires an abortion doctor seeking to administer medical abortions to obtain approval of a "complication plan" from the Missouri Department of Health for steps that will be taken when problems arise from administering such an abortion;
• Requires abortion facilities to maintain written protocols for managing a medical emergency and transferring patients to a hospital with a reasonable distance from the facility for further emergency care;
• Strengthens current law requirements regarding how fetal tissue from abortion is to be submitted by an abortion facility to a board eligible pathologist for examination. Also strengthens requirements for pathologists to make fetal tissue reports to the Missouri Department of Health and the abortion facility; (The intent is to verify that no fetal tissue from an abortion is being illegally sold or donated for experimentation.)
• Requires abortion facilities to develop written policies protecting employees who disclose information about possible health and safety violations of state or federal law;
• Requires Missouri Department of Health to make annual, on-site and unannounced inspections of abortion facilities;
• Grants the Missouri Attorney General the authority to bring suit against an abortion facility for violation of abortion laws even when local prosecutor fails to act.
The law is due to go into effect in late October.
Read the May 25, 2017, Inspection Report
Read Operation Rescue's Special Report detailing previous inspection reports from Planned Parenthood in St. Louis dating back to 2009 that prove this facility isn't clean or safe.