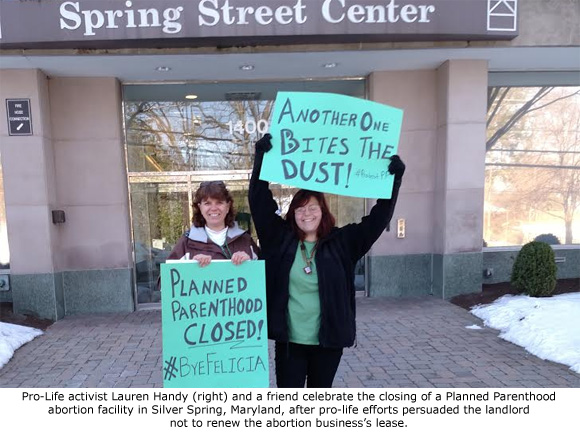 By Cheryl Sullenger
Silver Spring, Maryland – The Planned Parenthood abortion facility in Silver Spring, Maryland, permanently closed on St. Patrick's Day, March 17, 2017, after the property's management team realized that abortion is bad for business. Pro-life activists, led by Lauren Handy, persuaded the property management company not to renew Planned Parenthood's lease using a narrowly-targeted educational campaign. Planned Parenthood had occupied the same office, located at 1400 Spring St. in Silver Spring, Maryland, for over 20 years, conducting surgical abortions.
"The men and women who ministered at that Planned Parenthood for two decades deserve a lot of credit for their perseverance and tenacity," said Troy Newman, President of Operation Rescue. "This closing is a real victory for women and their babies, as well as for the pro-life activists that labored and prayed there."
This closing comes just days after Planned Parenthood in Easton, Pennsylvania, announced it would shut down on March 30.
However, in Texas, as a result of the U. S. Supreme Court striking down that state's abortion safety law, HB2, last June in Whole Women's Health v. Hellerstedt, abortion facilities are slowing beginning to reopen. This is perhaps the only state that is bucking the nation trend of abortion clinic closures that has been ongoing since the early 1990s.
Northpark Medical Group in Dallas, Texas, reopened on March 9, 2017. Local pro-life activists told Operation Rescue that owner and abortionist Douglas Karpen was seen entering the facility on its first abortion day. The facility had closed 2013, because its abortionists – including Karpen — all failed to qualify for local hospital privileges as required.
Karpen, who is based in Houston, was investigated by the House Select Investigative Panel on Infant Lives and referred to the U.S. Department of Justice and the Texas Attorney General for criminal prosecution for allegedly murdering late-term babies who were born alive in a manner similar to that used by the notorious convicted murderer Kermit Gosnell. It was these allegations — first brought by Operation Rescue in 2013 — that first tagged Karpen as the "Texas Gosnell," and contributed to the passage of HB2, which shuttered the Northpark abortion business and others that year. Those allegations were supported by the testimony of four former Karpen employees and photographic evidence. No action has yet been taken on those House criminal referrals.
Meanwhile, Whole Women's Health announced that they would reopen its Austin facility in April, now that it no longer is required to meet minimum safety standards.
"Twenty-one abortion facilities shut down in Texas as the result of HB2, and the vast majority of them will never reopen," said Newman. "For nearly four years those 21 abortion businesses were prohibited from killing babies, and as a result the abortion rate dramatically dropped in Texas, saving thousands of lives. Those closures will continue to spare lives through the coming years."
A recent national abortion facility survey conducted by Operation Rescue shows that abortion clinic closures continue to outpace the few openings.
"We are winning and will continue to win until abortion becomes no more than a tragic footnote in history," said Newman.