By Cheryl Sullenger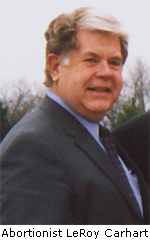 Bellevue, NE – A complaint filed by Operation Rescue against nationally known late-term abortionist LeRoy Carhart over a recent string of botched abortions has been placed with an investigator with the Nebraska Department of Health and Human Services (DHH).
"It was necessary to bring the Department's attention to the fact that Carhart has caused eight medical emergencies in the past several months, including the death of one patient in Maryland last year," said Troy Newman, President of Operation Rescue. "The Maryland authorities seem unconcerned with the pattern of injuries inflicted by Carhart's dubious abortion practices, but we were hoping Nebraska would be more receptive to protecting women from abortion abuses, and it appears that is now the case."
In addition, last month Carhart's only Registered Nurse, Lindsey Creekmore, had her nursing license suspended for two months for "a pattern of negligence" and unprofessional conduct in providing care for eleven abortion patients that "did not meet the acceptable standard of care for a registered nurse licensed in the State of Nebraska." She delegated tasks that required a nursing license to clinic workers who were unqualified to perform those duties. She also improperly drugged patients at Carhart's Bellevue abortion facility, according to disciplinary documents.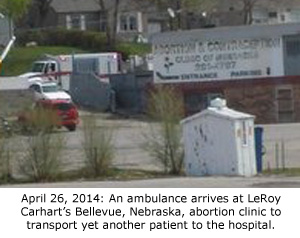 "Carhart is the one ultimately responsible for treatment his patients receive. If his nurse was routinely negligent in caring for patients, that should ultimately be Carhart's responsibility. Add to that his culpability for injuring one abortion patient after another and we believe that makes a strong case for license suspension or revication," said Newman. "We are hopeful that since Nebraska took steps to suspend Creekmore's nursing license, this investigation will finally result in discipline for Carhart as well for posing a grave danger to the public."
Recent medical emergencies that show a concerning pattern of abortion injuries at Carhart's abortion facilities in Nebraska and Maryland include:
• July 2, 2014, Germantown, MD: African-American abortion patient transported to hospital.
• April 26, 2014, Bellevue, NE: Patient, 37, suffered from abdominal pain after Carhart had an "issue with the procedure." (Video with 911 recording)
• March 4, 2014, Germantown, MD: Patient hemorrhaged after 2nd trimester abortion complications.
• November 30, 2013, Bellevue, NE: Patient suffered 2nd trimester abortion complications.
• November 26, 2013, Germantown, MD: Patient required emergency surgery. (Video with 911 recording)
• July 9, 2013, Germantown, MD: Patient hemorrhaged. (Video with 911 recording)
• February 7, 2013, Germantown, MD: Patient Jennifer Morbelli died of 3rd trimester abortion complications. (Autopsy Report)
• March 31, 2012, Bellevue, NE: Patient heard moaning and screaming during 911 call (Video with 911 recording.)