By Cheryl Sullenger
Walnut Creek, CA – As if another case in point is needed about Planned Parenthood lack of abortion safety, another young woman was transported by ambulance from the Planned Parenthood abortion facility in Walnut Creek, California.
The radio dispatch audio clip for this medical emergency notified the ambulance to respond "Code 3," which requires the ambulance to run with lights and sirens for a 22-year old woman with pain.
Photographs provided by a local 40 Days for Life volunteer show a young Hispanic woman on a gurney outside Planned Parenthood as she was pushed to a Contra Costa County ambulance for transport, presumably to a nearby hospital emergency room.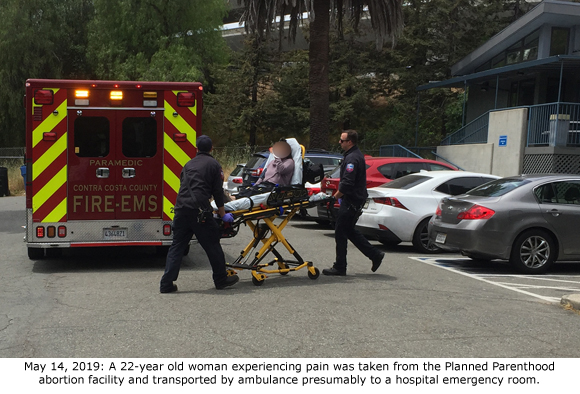 Operation Rescue confirmed that the Walnut Creek Planned Parenthood actually conducts abortions through 23 weeks 6 days of pregnancy, even though the website indicates that its limit is 13 weeks 6 days.
While it is unknown which abortionist was on duty at the time of the emergency, California state law allows non-physicians to conduct abortions.
"Planned Parenthood poses a menace to the public. We are seeing an increase in the number of women transported by ambulance to hospitals because Planned Parenthood is incapable of handling even the most common and expected abortion complications. This is a pretty much a daily occurrence nationally," said Troy Newman, President of Operation Rescue. "It's a fact that women have even died at Planned Parenthood abortion facilities due to their negligence and lack of basic concern for the women who go to them. This has become a hidden health crisis in our nation that must be addressed by every state before more women suffer and die."
So far in 2019, over well two dozen emergency transports have been reported to Operation Rescue from Planned Parenthood abortion facilities alone. These are based on eye-witness reports, and are likely just a small fraction of the actual abortion injuries that take place at Planned Parenthood.
Operation Rescue documented another medical emergency at the Walnut Creek Planned Parenthood that took place on October 6, 2017.
To learn more about hundreds of documented medical emergencies and patient deaths at abortion facilities around the nation, visit Abortion911.com.