Investigation reveals illegal record dumping was not isolated problem with Hodari clinics. List of injured abortion patients, including four abortion-related deaths, spans decades.
By Cheryl Sullenger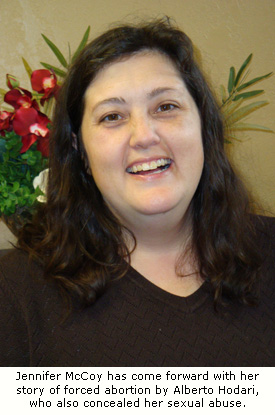 Detroit, MI – Outraged by what she considers a meaningless sentence and remarks by an attorney, that she says are insulting and untrue, a former patient of Womancare has come forward to tell of her horrific abortion experience with owner, abortionist Alberto Hodari.
Womancare, Inc., a Detroit area abortion clinic chain owned by Alberto Hodari, was given six months probation on one count of illegally disposing of abortion records last week. Eleven other counts have been dismissed. Womancare was charged after Citizen's for a Pro-Life Society discovered abortion records along with the remains of aborted babies that had been illegally dumped in the clinic's trash. The Health Department chose not to pursue charges for the illegal disposal of human remains.
After the sentencing, Hodari's attorney, Victor Norris, told the press that Hodari had "never had any licensing violations or criminal allegations."
"That's not true," said Jennifer McCoy. She should know. Her abortion at Hodari's hands nearly ruined her life.
She was 16-years old in 1988 when she discovered that she was pregnant, news that she welcomed since she believed that she was in love with her baby's father. She had no thought of abortion because she believed it was wrong.
However, the baby's father was one of her high school teachers who was about 40 years old, married and had a family of his own. Their relationship qualified as statutory rape.

Jennifer's mother found out about the relationship, but instead of reporting her daughter's sexual abuse to the authorities, she called the teacher and threatened to expose him if he did not help her persuade Jennifer to have an abortion.
Jennifer was taken by him to one of Hodari's clinics in Southgate under the pretense of receiving prenatal care. "I didn't even know what an abortion clinic was," she said.
Once at the clinic, she was asked to sign some papers. She signed all the parts related to medical care, but refused to sign anything that discussed abortion. "That's not why I'm here," she repeatedly told the clinic staff.
Jennifer was then given an ultrasound examination. She asked to see her baby, but her request was refused. "It really isn't necessary," she was told.
She was placed in an examination room, and after a long wait, Hodari entered the room. She told him that she was just there for an exam. She had been told by the clinic staff that she had to get an exam in order to determine how far along she was.
"He told me, 'If you change your mind, then we can do whatever else you decide you want to do,'" she said.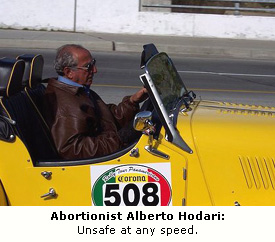 Hodari began the exam. "Then all of a sudden I was in excruciating pain," Jennifer recalled. "I tried to sit up, and I heard a machine turn on, like a vacuum, and I realized what was going on."
"I tried to get up from the table. I actually tried to sit up, and he pushed me back down on the table and told me if I moved I could die. It would be over in five minutes and I could go on with my life. I was scared to death at that point that what he said was true, and so all I could do is lay there and cry."
"And when it was over I remember being taken by a nurse into another room where I was crying violently, and I remember her saying, 'Did you do everything you thought you could?' I then remember throwing something at her because I could not believe that she would say something to me when there was nothing I could do from that point on."
Hodari had forced an abortion on this unsuspecting teenager, then handed her back into the hands of her rapist.
Jennifer left the clinic and headed straight to the Southgate Police Department, just up the street from the abortion mill, to file charges against Hodari for aborting her baby against her will.
A few weeks later, she went to court. Hodari's attorney produced papers from the abortion mill, and told the court that Jennifer's mother had signed the necessary consent forms for the abortion.
"He said since I was a minor, that it wasn't necessary for me to sign the paperwork, nor even know what they were going to do," she said. To her frustration, the case was dismissed.
Jennifer later confronted her mother about signing the paperwork behind her back, but her mother would never say if she did. "To this day I have doubts that she did that," said Jennifer. "She wasn't even there."
Through all of this, no one – including Hodari's abortion mill – ever reported Jennifer's sex abuse at the hands of her teacher, which continued for four years. Once the school discovered it, Jennifer's teacher was quietly asked to resign, and the matter was swept under the rug.
Because of the abortion, Jennifer had thoughts of suicide. Her relationship with her mother remained strained for years. Her life spun out of control.
Finally, Jennifer found forgiveness and healing through her renewed faith in Jesus Christ. She is now living in Wichita, Kansas, is married and the mother of ten children. She spends what extra time her large family allows trying to help women who are considering abortion to chose life for their babies. She wants to warn others of abortion's dangers.
"I know if he did this to me, he's done it to others," said Jennifer, who came forward so that people would learn the truth about Hodari and his disreputable abortion operation.
In fact, Hodari and his abortion mills have a long history of serious problems, including the documented abortion-related deaths of four women. He currently has open formal complaints against his medical license. (View his license)
Jennifer Nelson, a friend of Jennifer McCoy's, was one of the women who discovered the bodies of aborted babies and the women's medical records in Hodari's trash that led to his recent probation. She has documented Hodari's legal problems on a web site, voicesforwomen.org.
Nelson, along with other women, decided to create the web site listing the cases of injured women in response to what they consider a crisis in the abortion industry.
"We have found that sometimes, the very people who claim to have a woman's best interest at heart, have anything but," Nelson said. "After the deaths of Chivon Williams, Regina Johnson, and Tamia Russell, we united and decided that we can't wait any longer. The list must stop here!"
Details of the abortion deaths are shocking:

• Tamiia Russell was only 15 years old in January of 2004 when her 26 year old boyfriend paid Hodari $2,000 in cash to abort her baby at over 26 weeks gestation. She died less than 24 hours after obtaining an abortion at Womancare of Southfield/Lathrup Village. Her guardian was unaware she was pregnant, and had no knowledge of the abortion – until it was too late.
• Chivon Williams received a suction abortion by Hodari at an unknown clinic. An hour and forty minutes later, she was discharged even though she was complaining of pain in her stomach and chest. Soon after she arrived at her home, she "became unresponsive." At 5:17, on the same day as the abortion, she was pronounced dead.
• Regina Johnson received an abortion at a Hodari clinic, after which she suffered respiratory and cardiac arrest. Because the clinic staff failed to help her or call for an ambulance, she was deprived of oxygen for an extended time. She died a short time later.
• A 17-year old woman died after in October, 2007, after an abortion at Womancare of Downriver/Southgate. Her family had no idea she was pregnant.
Nelson's web site documents a whopping 49 lawsuits against Hodari and/or his abortion clinics. Descriptions of botched abortions read like the script of a horror movie. The following are just a small sampling:
• Hodari committed an abortion on a non-pregnant woman, perforating her uterus. She required surgery to repair the injury.
• One woman received a D&C abortion after which she suffered severe abdominal pain and nausea. Her repeated calls to the clinic were ignored. Two weeks later she was hospitalized where it was discovered that the abortion had perforated her uterus and small bowel. She required reconstructive surgery and remained hospitalized for two weeks.
• Hodari performed two "abortions" on a woman within one week's time, telling her that her abortion was "successful" on the second try. Eight days later, the woman landed in the hospital suffering from a life-threatening ectopic pregnancy that Hodari had failed to properly diagnose. Other cases also list Hodari's failure to diagnose ectopic pregnancies, placing women's lives in jeopardy.
• A woman received an abortion from Hodari in her 17th week of pregnancy. Her blood pressure dropped and her uterus was packed with hopes of slowing the bleeding. It took five hours for Hodari to answer his staff's calls for help. Then, instead of calling an ambulance, Hodari loaded her into his SUV for her emergency trip to the hospital where it was discovered that her injuries included a perforated uterus with right broad ligament dissection, and retroperitoneal hematoma. She required reconstructive surgery, removal of damaged fallopian tube and ovary, and blood transfusions.
• After a botched saline abortion, a 27 week baby boy weighing 1lb. 13oz, and measuring 13 ½ inches in length was born alive. Due to the toxic saline used in the attempted abortion, he suffered respiratory distress, sustained brain injury, and suffered other severe bodily injuries and burns.
Hodari appears to be so confident that he is above any prosecution or consequences for his actions that he has given interviews and speeches bragging about his appalling abortion practices.
In one interview, Hodari stated that he would continue to use a late-term abortion procedure that he considered dangerous, rather than run the risk of being charged with violating the Partial Birth Abortion Ban Act. He later shocked listeners at Wayne State University when he told them that he seldom washes his hands between patients to prevent skin chaffing even though he knew that it increased risks to his patients. He also told the same group that he believes abortionists have a "license to lie."
"How this man still has a medical license is beyond me. Hodari is a danger to the public and needs to be stopped," said Operation Rescue President Troy Newman. "In six months, Hodari will have to go before the court again for a final disposition of the illegal disposal of abortion records case. If Hodari's attorney told the judge that the clinic has never had any problems, the judge — and the public — needs to hear the truth."
Jennifer McCoy is doing her part to make sure that happens. On February 10, 2009, she sent Judge William Richards her personal story and those of other women who suffered at Hodari's hands. She prays it will help him understand just how dangerous Hodari really is.
"Thank God for courageous women like Jennifer McCoy who are willing to speak out in spite of their pain about this dreadful injustice," said Newman. "We pray that the truth comes out and that proper justice will be done before Hodari's body count gets any higher."
[If you or someone you know has been injured by Alberto Hodari, we urge you to call the chambers of Judge William Richards at (248)796-5830 and tell him your story.]