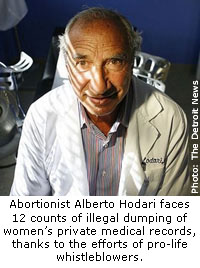 Detroit, MI – A District Court has issued a twelve-count warrant against WomanCare, a Detroit area abortion mill owned by Alberto Hodari, for illegal dumping of women's private medical records.
Dr. Monica Migliorino Miller, Director of Citizens for a Pro-life Society, had exposed Hodari's illegal dumping practices earlier this year when she published a video of his abortion mill trash that contained the records along with the remains of aborted babies. Dr. Miller reported the incident to the authorities.
Hodari will have to appear in court on behalf WomanCare. No arraignment date has been set.
Hodari is a troubled abortionist who has been sued 23 times in the past 20 years and was responsible for the botched second-trimester abortion death of a 15-year old girl in 2004.
He later shocked a college campus audience when he told them that he seldom washes his hands between patients to prevent skin chaffing even though he knew that it increased risks to his patients. He also told the same group that he believes abortionists have a "license to lie."
"Hodari joins an ever increasing list of abortionists who are facing criminal charges across the nation. This trend demonstrates that while abortionist believe and act as if they are above the law, states are beginning to see how dangerous these clinics are, and are beginning to crack down on them, with the help of pro-life whistleblowers," said Operation Rescue President Troy Newman. "Abortionists tend to be among the most troubled and dangerous people who prey on the vulnerabilities of women. Prosecuting them is a noble public service."
Other abortionists facing criminal prosecutions include Howard Pfupajena of California, who violently attacked a pro-life sidewalk counselor, Rapin Osathanondh of Massachusetts, who is charged with manslaughter for killing Laura Hope Smith during a botched abortion, and Bertha Bugarin of California, who faces 28 felonies for committing abortions without a medical license. Bugarin's associate, Laurence Riech was arrested and charged in February for continuing to do abortions even though his license was revoked after a second conviction of having sexually molested his patients. Two Florida abortion workers, Belkis Gonzales and Siomara Senises were both also charged with practicing medicine without licenses at a Miramar abortion mill. Late-term abortionist George R. Tiller of Kansas faces 19 charges of committing illegal late-term abortions.