With $37,000 in PAC money unaccounted for, Trust Women PAC disburses final account balance to Wichita abortion business.
By Cheryl Sullenger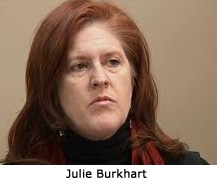 Wichita, Kansas – As a result of complaints filed by Operation Rescue, a Political Action Committee with financial ties to a Wichita abortion clinic, has filed a termination report with the Federal Elections Commission and ceased operations. The PAC was operated by Julie Burkhart, a former political operative of late-term abortionist George Tiller, who also runs South Wind Women's Center, an abortion facility in Wichita, Kansas.
Operation Rescue pursued a vast 434-page complaint against Trust Women PAC after analyzing FEC reports and discovered that the PAC was illegally partnering with Burkhart's South Wind Women's Center. Operation Rescue documented that the PAC had improperly funded daily operations of the "for profit" abortion business.
In addition, Operation Rescue discovered $37,000 in contributions for which there was no accounting. There was never a proper accounting for those missing funds.
In order to mitigate the impropriety after the FEC notified them of the error, Trust Women PAC re-catagorized over $7,000 of disbursements to South Wind Women's Center as a "loan," which was also an improper use of PAC money according to FEC regulations.
As a result of Operation Rescue's complaints against Trust Women PAC, it was forced to pay out over $3,000 in fines to the FEC.
In December, 2013, Operation Rescue officially requested an FEC audit of Burkhart's Trust Women PAC, which may have been the deciding factor in shutting down the PAC.
"As far as we can tell, Trust Women PAC never filed a correct contribution and disbursement report with the FEC since its inception in 2011," said Troy Newman of Operation Rescue. "Their recordkeeping was so bad that we had never seen anything like it. The ending balance from one reporting period almost never matched the beginning balance for the next period. There were errors and inconsistencies all over the place. But it was the illegal funding of South Wind and the missing $37,000 in PAC contributions that really motivated us to intervene with a complaint."
To add confusion to Burkhart's dubious financial dealings, she also runs a non-profit organization known as Trust Women Foundation, along with South Wind Women's Center. The balance of Trust Women PAC money was donated to Burkhart's Trust Women Foundation. Burkhart once operated George Tiller's PAC, ProKanDo, which disbanded in early 2009, months prior to Tiller's death.

Just as South Wind opened, Operation Rescue notified the Kansas State Board of Healing Arts that Burkhart, who lacks any medical training, was illegally hiring licensed physicians. Kansas law states that only other licensed medical professionals may hire licensees.
The sole abortionist remaining South Wind Women's Center after at least three others quit is Cheryl Chastine of Chicago, Illinois, who admits to struggles with mental health issues.
That forced Chastine to establish a shadow business, Wichita Women's Center, through which she could legally provide services for profit. Signs for South Wind and Chastine's Wichita Women's Center appear together on the facility's building.
"Our complaints successfully terminated one of South Wind's improper money streams. We know that they are not doing enough abortion business to stay afloat without outside funding. It is only a matter of time before Burkhart's seedy little abortion mill folds, just like her shady political action committee," said Newman.