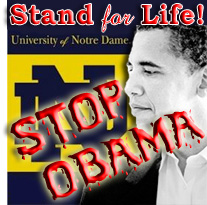 South Bend, IN – Operation Rescue is helping to organize a powerful pro-life response to the appearance of President Barack Obama at Notre Dame University on May 17, 2009. We are shocked that this stalwart Catholic institution is giving a platform to the most pro-abortion president in our nation's history.
We are working in partnership with other groups, including the Center for Bioethical Reform, to insure that the truth about Obama's radical support for abortion is told.
To support this critical effort, please click here.
Learn more about Obama's extremist support for abortion.