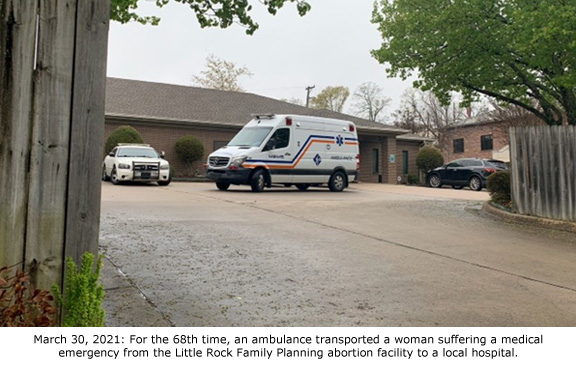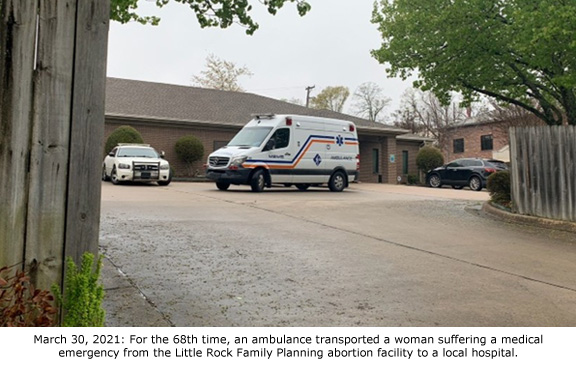 By Cheryl Sullenger
Little Rock, AR — A problem-plagued Arkansas abortion facility, Little Rock Family Planning has transported its 68th woman to the hospital after suffering a serious abortion complication.
Little Rock Family Planning is the only surgical abortion facility in Arkansas. It is affiliated with the National Abortion Federation, whose members include some of the most problematic abortion facilities in the nation.
A Computer Aided Dispatch (CAD) printout from the emergency on March 30, 2021, was so heavily redacted that only small bits of information about the woman's condition could be gleaned from it. However, it was enough to know that her condition was serious and required an ambulance equipped for Advance Life Support.
The woman was transported under an emergency Code 2. While the nature of the call and primary condition were redacted from the CAD.
According to a local pro-life activist who provided photos of the incident to Operation Rescue, abortionist Willie Parker was on duty at the time of the emergency.
Parker, who rotates between several abortion facilities in the South and Midwest, travels to Little Rock on a weekly basis to conduct abortions.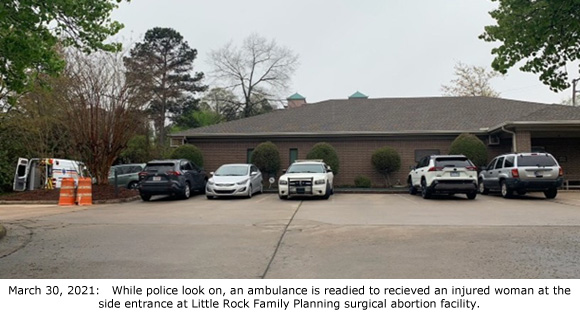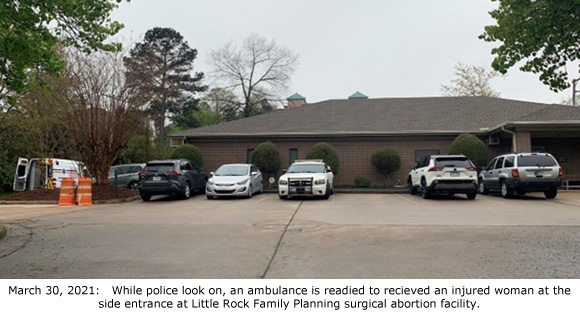 Parker was once the darling of the Abortion Cartel, but fell into scandal when a woman publicly accused him of sexual misconduct. He allegedly had a history of abusive behavior toward women with which he had professional relationships.
Little Rock Family Planning is owned and operated by abortionist Thomas Tvedten, who has a record of Medical Board discipline going back to 1982. Most recently Tvedten's Arkansas Medical License was suspended in 2020 for approving a minor girl for a medicinal marijuana card without parental knowledge. The Board allowed him to continue practicing after promising to stop certify minors for medical marijuana.
Tvedten hired Parker as a "temporary" Medical Director in 2019, after Arkansas passed a law that required those who conduct abortions to be board certified or board eligible as ObGyns.
"Little Rock Family Planning has been responsible for so much human tragedy. Babies have brutally died and women have suffered horrific injuries. Tvedten and Parker occupy the front row in the Rouge's Gallery of bad abortionists," said Operation Rescue President Troy Newman. "Our complaints against Tvedten have fallen on deaf ears. When will the Arkansas Medical Board finally say enough is enough?"