Operation Rescue is asking for the public to help keep the investigation honest.
[Click to watch news video from KAKE]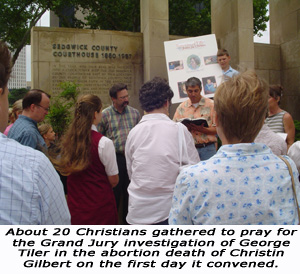 Wichita, KS — A grand jury convened on Monday for the first time to begin an investigation of late-term abortionist George R. Tiller in the death of Christin Gilbert.
A group of about 20 Christians gathered to pray for the grand jury proceedings outside the Sedgwick County Courthouse where Chief Administrative Judge of the 18th District Court Richard Ballinger is presiding over the secret proceedings. Reports indicated that a panel of 15 jurors was being selected during Monday's session.
Responses from the District Attorney's office to public inquiries about the case have troubled some of the members of the grassroots coalition that helped gather over 7,700 signatures to force the grand jury to convene. Operation Rescue was informed yesterday that the DA's office was not taking the grand jury investigation seriously due to the fact that the Kansas State Board of Healing Arts cleared Tiller of wrongdoing in Gilbert's death in November.


"The DA's office is missing the entire point of the citizen demand for an independent investigation," said Operation Rescue President Troy Newman. "We have strong reason to believe that the KSBHA investigation was tainted by political influence and cronyism. People who were financially and politically tied to Tiller are the ones who 'cleared' him. Those people cannot be trusted because they owe their jobs and political positions to Tiller's large financial campaign contributions."
"We know that District Attorney Nola Foulston is personal friends with George Tiller, and that should disqualify her from having anything to do with this grand jury. Foulston already refused to even look at this case when it was initially presented in 2005, so there is no reason for us to believe that she will act without bias now," said Newman.
"If the DA's office continues the whitewash of this case, it will only add to the appearance that a cover-up into Christin's death is active and underway," said Newman.
News reports continue to mischaracterize Gilbert's death. "We have heard outrageously false statements in the media such as the report yesterday that Christin died weeks after her abortion, and other reports that claimed she died of pneumonia or some other 'pre-existing' condition, "said Newman. "One has to wonder at the lack of integrity of reporters who would publish such obvious nonsense when the facts of the case are readily available for anyone to see."
Operation Rescue is asking the public to hold the judicial system accountable to conduct an honest investigation by doing two things:
1. Contact District Attorney Nola Foulston and ask her to remove herself from any decision-making regarding the Grand Jury proceedings in the investigation of George Tiller.
District Attorney Nola Foulston
535 N. Main, Wichita, KS 67203
Voice: 316-660-3600; Toll free: 800-432-6878
E-mail: da@sedgwick.gov
2. If anyone has any information that could assist the Grand Jury regarding sub-standard care or illegal activities by Tiller, Women's Health Care Services, or its staff in the case of Christin Gilbert or any other matter, please submit your information to the court in care of Judge Ballinger. The court has wide discretion to broaden the investigation.
Judge Richard Ballinger
535 N. Main, Room 7-2, Wichita, KS 67203
Voice: 316-660-5613
E-mail: rballing@dc18.org