By Cheryl Sullenger
The appearance of impropriety. Usually that is something men and women of character try to avoid. But at George Tiller's Women's Health Care Services, the appearance of impropriety has become a disturbingly recurrent theme.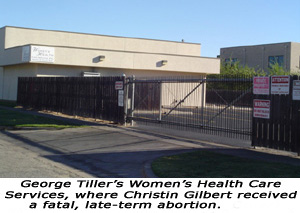 Today, a grand jury will convene to investigate allegations that late-term abortionist George R. Tiller broke Kansas law in the course of the third trimester abortion on 19- year Down Syndrome patient Christin Gilbert that led to her tragic death.
Questions surrounding Gilbert's mysterious abortion death have alone been enough to convene the grand jury. The Sedgwick County citizens have demanded to know why Tiller employee Marguerite Reed was so evasive in her call to 911. Why did she plead with the dispatchers, "Please! Please! Please! No lights and no sirens," when asking for an ambulance. Why did she place the emergency dispatcher on hold for 44 crucial seconds while Christin Gilbert lay dying inside Tiller's abortion mill?
The cloud of mystery and suspicious activity in Gilbert's death reaches from Wichita to Topeka.
What would prompt pro-abortion Gov. Kathleen Sebelius intervene in the Kansas State Board of Healing Arts investigation of Tiller in Gilbert's death of Gilbert, resulting in the premature conclusion by the KSBHA that Tiller was not responsible for her death in spite of the fact that they admitted that their investigation was incomplete, and that they had yet to determine Gilbert's cause of death.
Could the fact that Tiller donated tens of thousands of dollars to Sebelius' gubernatorial campaign, and the fact that the KSBHA are Sebelius appointees, have anything to do with the curious conclusions drawn by the KSBHA in the face of a glaring lack of evidence?
Why did Gilbert's autopsy take an unprecedented eight months to release, then contain no mention of George Tiller by name or the name of his clinic where the events leading to Gilbert's death took place?
The official autopsy report listed "complications to therapeutic abortion" as Gilbert's cause of death, yet KSBHA director Larry Buening told reporters that the autopsy report just an "opinion," one they gave little heed. Was Buening covering for Tiller, and in the process, insuring he kept his job?
The appearance of political corruption is troubling. But the look of impropriety does not stop there, and in fact seems to touch everything associated with Tiller and his abortion business.
In fact, the grand jury is being urged to look into more than Gilbert's untimely death. Tiller's abortion business is shrouded in a veil of secrecy and the appearance of impropriety that begs for a closer look.
It is illegal to tamper with emergency communications records and it is illegal to deny public requests for such public records under the Kansas Open Records Act (KORA). However, there are no records of ambulance runs to WHCS prior to Gilbert's death, even though photographic evidence exists of such visits. In addition, the public has been denied full transcripts and recordings of ambulance visits to WHCS after Gilbert's death. In February, 2005, county employees cornered an Operation Rescue member, threatened him for asking for 911 transcripts under KORA, and then escorted him from the courthouse. Why would the Sedgwick County Office of Emergency Communications risk breaking the law to deny the public access to these heretofore public records?
In an 18-month period from January, 2004, to June, 2005, ambulances appeared at WHCS an average of approximately every 2 months, but stopped suddenly once Operation Rescue began to publish evidence of these events. For the past eleven months there have been no ambulances at Tiller's infamous abortion mill. What is happening to the women suffering from botched abortions and other complications, which normally occur at a rate of one every two months? Is Tiller further endangering the health and lives of these women because calling the ambulance has made him look bad?
But the questions go further. Why has there never been a single report of child sexual abuse from Tiller or WHCS even though he has publicly admitted he has done abortions on girls as young as 9 years old?
When the Kansas Attorney General Phill Kline subpoenaed abortion records from Tiller in his investigation of the concealment of child rape and illegal late-term abortions, Tiller refused to cooperate. While under investigation by Kline's office and the KSBHA, Tiller hired two semi-sized shredding trucks and destroyed hundreds of documents. Could any other citizen get away with such brazen activity?
The entire state of Kansas has suffered a black-eye from the negative publicity surrounding Gilbert's abortion death and the suspected cover up of this and other wrong-doing. Now, the people have had enough.
It is the hope of over 6,000 voting citizens of Sedgwick County, Kansas, that the Grand Jury will conduct an honest and thorough investigation and answer these and other questions, and that the guilty will be brought to justice.