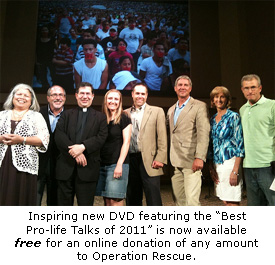 Wichita, Kansas – Some of the best pro-life talks of 2011 were given at the Summer of Mercy 2.0 event in Maryland last summer. Operation Rescue has produced an exciting DVD containing these powerful and inspirational messages. This DVD is now available free for an on-line donation of any amount to Operation Rescue.
Watch inspirational messages from:
Fr. Frank Pavone of Priests for Life
Fr. Marcel Guarinzo of Maryland Coalition for Life
Rev. Dr. Johnny Hunter of LEARN
Pastor John Harris of Covenant Life Church
Troy Newman of Operation Rescue
"You won't want to miss these amazing pro-life messages that will encourage, uplift and motivate you to press on in defense of life!" –Troy Newman, President, Operation Rescue

Click here to donate and get your free DVD today!