Suspected illegal late-term abortions subject of complaint.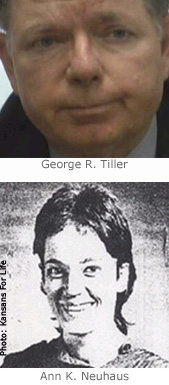 Wichita, KS — Additional information was filed with the Kansas State Board of Healing Arts (KSBHA) last week to support a complaint made in October, 2006, against abortionists George R. Tiller and Ann Kristin Neuhaus for committing illegal late-term abortions. An investigation is in progress.
Submitted to the KSBHA last week were seven documents, including the 30-count criminal complaint filed against Tiller by the State Attorney General's office last December alleging late-term abortions for reasons such as a single episode of depression. While that case was dismissed at the request of pro-abortion District Attorney Nola Foulston on jurisdictional grounds, the merits of that case have never been questioned.
"Our own investigations revealed that Tiller was likely doing illegal abortions. The former Attorney General came to that same conclusion," said Operation Rescue President Troy Newman.
Kansas law bans late-term abortions past 22 weeks gestation, a developmental milestone recognized as viability in Kansas Law. Narrow exceptions to the law are if the woman's life is in danger, or if the pregnancy will cause a substantial and irreversible impairment of a major bodily function. An opinion issued by former Attorney General Carla Stovall, an abortion supporter, allowed mental health risks to be included as a "major bodily function" under the law, but only if the risk was "substantial and irreversible."
Documents submitted in support of the complaint can be read by clicking here. (28.1 MB)
"We are asking for the revocation of Tiller's medical license in light of the seriousness of aborting viable babies that should be protected by law," said Operation Rescue spokesperson Cheryl Sullenger, who filed the complaint and supporting documentation.
In 2005, 19-year old Christin Gilbert died from a botched third-trimester abortion procured at Tiller's Wichita abortion mill. The KSBHA indicated that the "standard of practice" had not be violated, and refused to discipline Tiller. Suspicions arose at that time that political cover was given to Tiller in the Gilbert case because of his heavy campaign contributions to Gov. Kathleen Sebelius, who personally appoints the members of the KSBHA.
"We urge the KSBHA to set aside political motivations, and take an honest look at this complaint. Interview the witnesses. Subpoena the documents from the criminal case. Look at the facts. Tiller and his abortion business create a clear and present danger to viable pre-born babies and their mothers. Swift action must be taken to stop further loss of innocent life," said Sullenger.