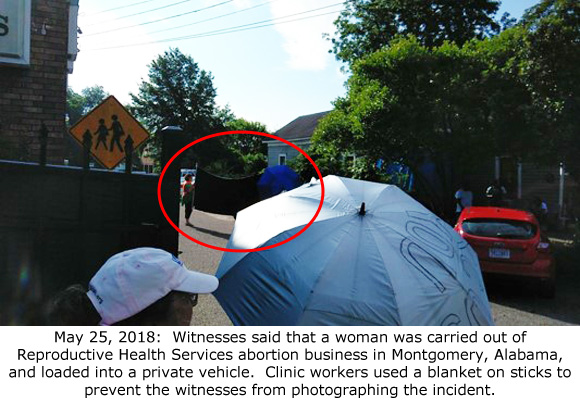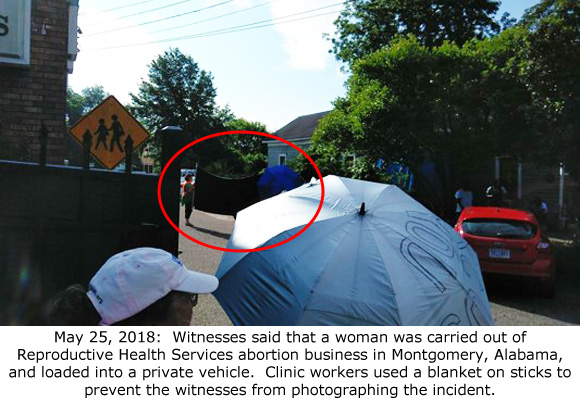 By Cheryl Sullenger
Montgomery, AL – It was an all-too-familiar sight at abortion facilities around the country. Pro-life activists snapped photos as an ambulance pulled into the parking lot of an abortion clinic. This time, it happened at Reproductive Health Services in Montgomery, Alabama, on May 25, 2018.
But this incident was anything but routine.
Before the ambulance could arrive, witnesses told Operation Rescue that they saw two clinic workers carrying a woman under her arms out of the abortion facility and into a private vehicle. She and her companion had left the area by the time the ambulance arrived – presumably in route to a hospital emergency room.
Photos of this disturbing scene show only two abortion clinic workers holding up a blanket to block pro-life photographers, who tried to document the event.
When the ambulance arrived a short time later, another clinic worker told the ambulance driver that they were no longer needed, so the ambulance left the scene without a passenger.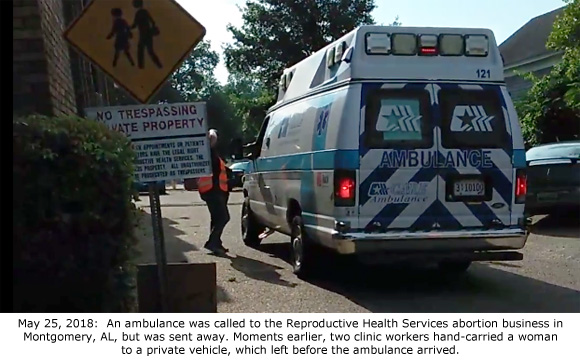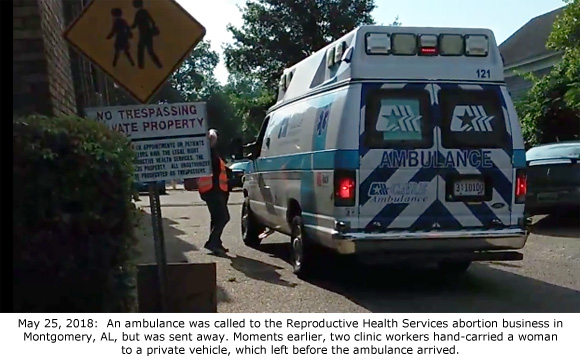 This unusual situation raised concerns about the woman who had to be carried to her car. Why couldn't the woman walk on her own? Did she suffer injuries during an abortion? Why didn't the clinic wait for the ambulance? Did she get proper medical treatment for her mysterious condition?
"We have lots of question and not very many answers," said Operation Rescue President Troy Newman. "We are still looking into this and hope the woman involved is ok and did not receive an abortion."
Reproductive Health Services made news last month when a recent inspection report noted a citation for failure to report suspected child sex abuse on a 13-year old girl who received an abortion, then returned to the abortion business within 15 months for a second abortion.
"There are all kind of signs that this abortion facility may be covering up for pedophile sex traffickers," said Newman. "Given their refusal to protect young girls from abuse, it is not a stretch to think they may be hiding a botched abortion as well."
Operation Rescue will post updates as more information becomes available.