By Cheryl Sullenger
New York, NY – As pro-life supporters looked on, a woman suffered a serious medical emergency on July 30, 2021, at the Manhattan Planned Parenthood, located at 26 Bleecker Street in New York City.
This is the 32nd known abortion-related emergency documented at this Planned Parenthood facility in just the past five years.
Photographs of a black woman as she was brought out of the Planned Parenthood facility on a gurney and loaded into a Mount Sinai Hospital ambulance were provided to Operation Rescue by Kathryn Jean Lopez, editor-at-large of National Review. Lopez has been joining the pro-life presence at the Manhattan Planned Parenthood and has referenced her often-heartbreaking experiences there in numerous columns.
"Even though ambulance visits to the Manhattan Planned Parenthood have become all too common, we cannot afford to become desensitized to the human tragedy each one of these abortion emergencies represent," said Operation Rescue President Troy Newman. "Each time an ambulance arrives at an abortion facility, it represents a dead child and a wounded, traumatized mother. The effects of these tragedies reverberate through families and eventually throughout all of society. These are avoidable tragedies that are essentially sanctioned by the City and State of New York."
According to Lopez, the ambulance arrived at the Manhattan Planned Parenthood shortly before 3:00 p.m. Her photos show the ambulance at the main entrance of the facility where EMTs emerged pushing a gurney carrying a woman appearing to be in pain, who was soon loaded into the ambulance for transport, presumably to the Mount Sinai Hospital emergency room.
Repeated attempts to obtain public 911 records related to medical emergencies at the Manhattan Planned Parenthood have been ignored or declined by city officials.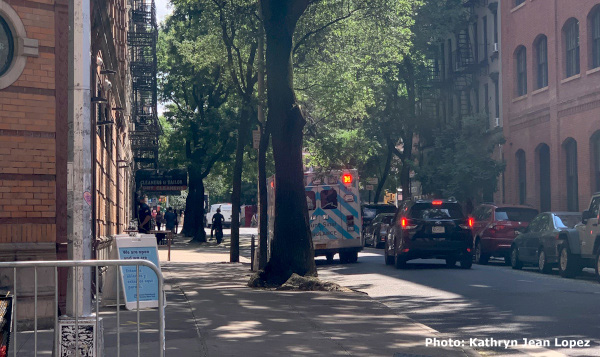 Until earlier this year, the Manhattan Planned Parenthood was known as the Margaret Sanger Center Planned Parenthood after the organization's founder, who famously embraced a racist eugenics ideology.
Planned Parenthood dropped Sanger's name from their flagship abortion center after over 300 employees signed and publicized a letter accusing New York Planned Parenthood CEO Laura McQuade of "systemic racism, pay inequity, and lack of upward mobility for Black staff," abusive behavior, and financial malfeasance. That scandal forced McQuade's resignation.
The Manhattan Planned Parenthood is a high-volume abortion facility that — despite the McQuade scandal — targets poor urban women of color. It is a well-known abortion training site for the Kenneth J. Ryan Residency Training Program in Abortion and Family Planning run by the Icahn School of Medicine at Mount Sinai Medical Center in New York.
The Ryan abortion training program is an affiliate of the Bixby Center for Global Reproductive Health based at the University of California San Francisco and is housed at the Zuckerberg San Francisco General Hospital.  The Bixby Center, which promotes abortion internationally, is heavily funded by known globalists who embrace a worldwide depopulation agenda such as the Bill and Melinda Gates Foundation and the Susan Thompson Buffett Foundation among many others.  It is also funded by several U.S. governmental organizations, including the National Institutes of Health, which uses federal tax money to advance abortion in the U.S. and abroad.