By Cheryl Sullenger
Houston, TX – There have been many heroes of Hurricane Harvey, who have sacrificed their time – and in some cases, their lives – to help the victims of the horrific storms and flooding in the Houston, Texas area.
Among them was one notable young family man, Briscoe Cain, who serves as a recently elected pro-life State Representative for District 128, which encompasses the eastern regions of Houston where flooding took a heavy toll.
When Harvey hit, Briscoe was quick to live out his pro-life ideals, which means saving and protecting not just the pre-born, but all who are in need.
Briscoe was among the many brave Texans who took to the flood waters in small boats to rescue those trapped in their homes. He was seen in the shelters looking out for those who, in many cases, lost everything.
Last Thursday, Briscoe's wife reported that her husband had been called up for duty by the Texas State Guard, where he worked long hours to get meals to those in need.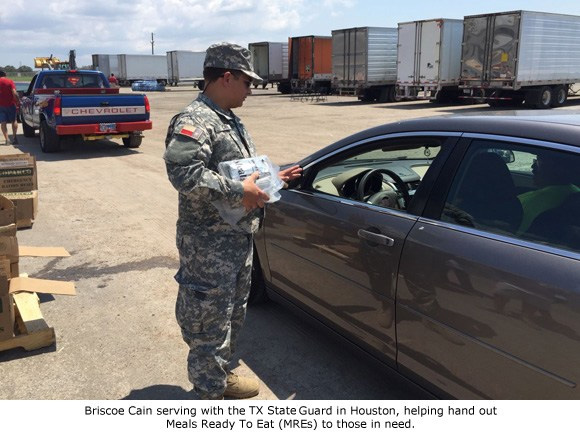 For Briscoe Cain, being pro-life is not just a political position; it is a way of life.
As a legislator, Briscoe helped pass pro-life legislation, including a ban on dreadful dismemberment abortions in Texas, that could literally save thousands of innocent lives.
Briscoe also serves as Operation Rescue's Texas attorney, and through his work with us, he uncovered Planned Parenthood invoices for the sale of aborted baby remains to the University of Texas. These bombshell documents showed that Planned Parenthood in Houston was profiting from selling aborted baby body parts despite the findings of a corrupt former District Attorney, Devon Anderson.
When pro-life journalist David Daleiden was wrongfully charged with crimes by Anderson's tainted grand jury, Briscoe Cain was there to assist Daleiden and his legal team, personally walking Daleiden through the court arraignment process. (Thankfully, those bogus criminal charges were dropped.)
"Whether it is in service to his country, his state, his district, or just those who are vulnerable or in need, Briscoe Cain has distinguished himself as a true pro-life hero," said Operation Rescue President Troy Newman. "We at Operation Rescue are tremendously proud of him."
[Photos: Facebook]
[Note: This article has been corrected to show that Mr. Cain serves in the Texas State Guard, no the National Guard.]