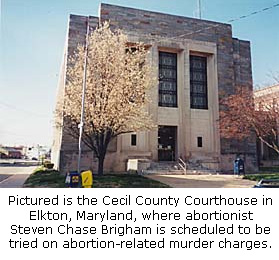 Elkton, Maryland – A notice was filed in the Cecil County Court today setting a trial date for abortionist Steven Chase Brigham, who has been charged with murder in the deaths of viable babies during illegal late-term abortions. As of now, Brigham is scheduled to stand trial on June 4-15, 2012.
Other hearing dates were also set. May 4, 2012, is a scheduled motions hearing with a Pre-Trial Conference to be held on May 25, 2012. It is possible that these dates may be delayed as the case proceeds.
Records do not yet show a trial date set for Brigham's co-defendant, Nicola Riley. Brigham has asked to be tried separately from her.
In the meantime, Riley's motion to dismiss the case has become public. Her attorneys argue that since late-term abortions are legal in Maryland, she is immune from prosecution.
Her motion quotes from Md. Code, Health-Gen. §20-209(d):
The physician is not liable for civil damages or subject to a criminal penalty for a decision to perform an abortion under this section made in good faith and in the physician's best medical judgment in accordance with accepted standards of medical practice.
However, the abortion on patient "D.B." that led to Riley's charges appears to have been an illegal one – or at least one not done "in good faith and in the physician's best medical judgment in accordance with accepted standards of medical practice."
The State of New Jersey suspended Brigham's medical license claiming his late-term abortion operation showed "flagrant disregard or the Board's regulations regarding termination of pregnancy and thus presents a clear and imminent danger to the public." Briefs filed by New Jersey Deputy Attorney General Jeri L. Wartifig in support of Brigham's suspension indicated that D.B.'s abortion and othesr done in Elkton violated the "standards of medical practice" in several ways. Those included the facts that Brigham was banned from starting abortions after 14 weeks in New Jersey, he dangerously transported women in full labor miles away to a facility in a state where he had no medical license and no emergency hospital arrangements, and that he was aware that Riley was unqualified to do the risky late-term "D & E" abortions he hired her to do.
While unqualified, Riley still conducted abortions under Brigham's supervision and advice even though she was well aware that Brigham did not have a license to practice in Maryland.
"It will be interesting to see how the Maryland State Prosecutors will try Brigham and Riley. It seems that there is plenty of evidence already in the record in New Jersey and with the Maryland Board of Physicians, to indicate the abortions that led to the murder charges were done illegally and outside the standard of medical practice to the extent that two states determined Brigham's bi-state late-term abortion scheme posed 'a clear and imminent danger to the public.' The law only seems to give immunity from prosecution to those who are acting within the standards of medical practice," said Troy Newman, President of Operation Rescue and Pro-Life Nation.
"This case raises the interesting question of why the law allows for the protection of viable babies on one hand and the killing of viable babies on the other based solely on how the mother feels about her pregnancy at any particular point in time. On one point the killer is prosecuted, on the other, he is immune. The coexistence of these two contradictory and incompatible legal doctrines must be reconciled, and maybe this will be the case to do it once and for all in favor of protecting innocent life."
Read Brigham Documents at AbortionDocs.org
Read Riley Documents at AbortionDocs.org