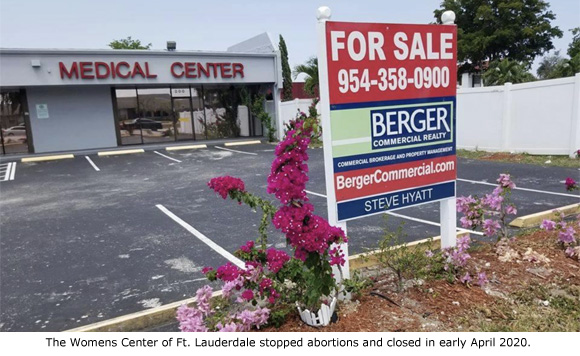 By Cheryl Sullenger
Orlando, FL – Three Florida abortion facilities with ties to the disgraced abortionist James Scott Pendergraft IV, have recently been placed up for sale.
The facilities include EPOC in Orlando, Women's Center of Ft. Lauderdale, and Women's Center of Hyde Park in Tampa.
Operation Rescue verified that the Tampa and Ft. Lauderdale facilities halted abortions and closed earlier this month.
The EPOC clinic, located at 609 Virginia Drive in Orlando, closed in 2018.  Several months later, it was leased to Green Relief, a medicinal marijuana business, which was owned by one of Pendergraft's former abortion clinic security guards.  The marijuana business initially used one of Pendergraft's long-time abortionists, Frank Rodriguez, as its medical director until he quit months after the business opened.  Green Relief shut down and moved out in 2019, leaving the building vacant.
"The James Pendergraft abortion empire is CRUMBLING!" reported Michele Herzog, Central Florida Branch Manager for Pro-Life Action Ministries. "God has and is hearing our prayers!"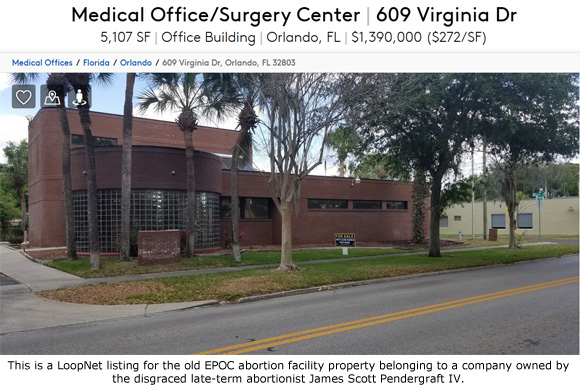 Pendergraft lost his Florida medical license in December 2018, after Operation Rescue reported his arrest and conviction in South Carolina for operating an illegal rolling abortion business out of his van, from which he also sold illegal drugs. Pendergraft was not licensed to practice in South Carolina.
Because of the license revocation, Pendergraft was forced to transfer ownership of his four abortion facilities, although he maintained ownership of the property and was suspected of continued involvement in the abortion businesses based on evidence compiled by Operation Rescue with the aid of local pro-life activists. Ownership was transferred to his former wife, Denise Williams.
Pendergraft's flagship abortion facility, the Orlando Women's Center, now known as the Center of Orlando for Women, is the last of Pendergraft's former abortion chain to remain open. It specializes in late-term abortions.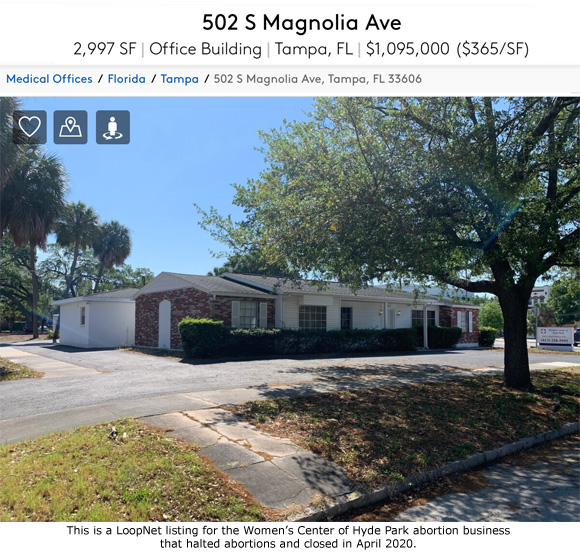 In 2011, a jury ordered Pendergraft to pay a stunning $36,737,660.16 in compensatory and punitive damages in a malpractice case brought by a woman who suffered a traumatic, Gosnell-like late-term abortion attempt at the Orlando Women's Center in 2001, in which her baby daughter survived, but suffered several serious disabilities.
Nineteen years later, attorneys are still trying to collect on that judgment.
It is possible that proceeds from the sale of the three former abortion facility properties will go to the plaintiff in order to with her daughter's medical bills.
Attorneys have aggressively attempted to collect from Pendergraft over the years. In June 2013, police raided Pendergraft's Orlando Women's Center and assisted in the seizure of all office furnishings and equipment to help satisfy the malpractice judgement. He reopened a few days later using what he said was "borrowed" equipment.
"We are grateful for the good news that two abortion facilities closed this month and that Pendergraft's profiting from the killing of innocent babies may soon be coming to an end," said Troy Newman, President of Operation Rescue. "We pray the Center of Orlando for Women will soon close for good as well."