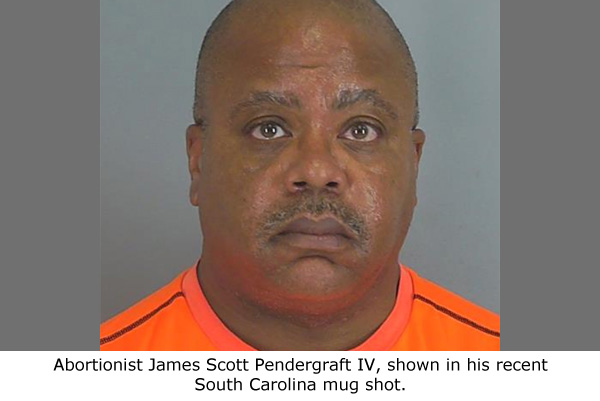 PRESS RELEASE
Orlando, FL – The Florida Board of Medicine met on Friday, December 7, 2018, and voted to revoke the medical license of notorious late-term abortionist James Scott Pendergraft, IV.
Cheryl Sullenger, Senior Vice President of Operation Rescue, filed the complaint that this disciplinary action was based upon, which notified the Board of Medicine that Pendergraft had been arrested for operating an illegal home abortion and drug distribution business out of the back of a van in South Carolina where he holds no license to practice medicine.
She attended the Board meeting held in Orlando, Florida, when the disciplinary action was announced. Pendergraft was not present at the meeting.
Pendergraft was arrested on October 5, 2015, in Spartanburg County by Sheriff's Deputies who were conducting a routine traffic stop. Deputies found illegal drugs, including Fentanyl, LSD, and marijuana in his vehicle along with bloody abortion instruments with tissue still attached used in illicit home abortions. Even though the authorities did not release his name, Sullenger was able to confirm Pendergraft as the one who had been arrested and jailed.
Pendergraft was convicted of ten drug offenses and is currently serving a five-year term of probation.
At the time, Pendergraft was serving his fifth license suspension in Florida where he operated a chain of abortion facilities. Some of those clinics have permanently closed. Ownership his other clinics have been transferred to his former wife, while yet others have been converted into medicinal marijuana clinics. Despite the transfer of business ownership on paper, pro-life activists tell Operation Rescue that Pendergraft is still seen regularly entering his so-called "former" abortion facilities during business hours and holds an interest in the medicinal marijuana businesses.
"This license revocation was years in the making and was the result of the work and prayers of countless pro-life activists on the ground outside Pendergraft's abortion facilities and in our office," said Troy Newman, President of Operation Rescue. "This is a victory for all of us, especially wor women and babies who will no long be placed at risk by James Pendergraft's dangerous practices."