By Cheryl Sullenger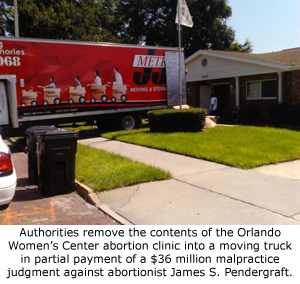 Orlando, FL – Police raided the Orlando Women's Center today and seized assets, including abortion equipment, in partial payment of a $37 million malpractice judgment levied against clinic owner abortionist James Scott Pedergraft IV.
Sidewalk counselor Michelle Herzog of Pro-life Action Ministries described to Operation Rescue a chaotic scene outside the abortion clinic with police, reporters, and other onlookers swarming about while movers loaded the content of Pendergraft's flagship abortion clinic into a large moving van pulled up to the clinic's front door.
Operation Rescue verified the closure. A receptionist at the abortion clinic was telling callers this morning that the clinic was "closed for maintenance" and did not know when, if ever, the clinic would reopen. She was referring callers to the EPOC abortion clinic, which recently underwent some property improvements.
"This day has been a long time in coming, and we hope that all of Pendergraft's abortion clinics will close and he will no longer be able to hurt innocent babies and their moms," said Troy Newman, President of Operation Rescue. "We know that Pendergraft will stop at nothing to kill babies, so we expect him to put up a fight."
In 2011, Pendergraft was hit with a whopping civil medical malpractice judgment of $36,737,660.16 in compensatory and punitive damages in a case involving a botched 20 week abortion that resulted in the live birth of a child physically damaged by Pendergraft's incompetent abortion process amid what was described as "third world conditions" with virtually no counseling. He has refused to pay a significant amount on the judgment. He claimed to reporters this morning that he had paid $100,000 so far on the huge judgment, but Operation Rescue was unable to confirm that he had paid anything.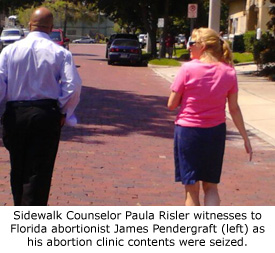 Sidewalk counselors, including Herzog and Paula Risler, noticed Pendergraft standing across the street watching his clinic's contents being hauled out the front door and began witnessing to him. Jumping on the unique opportunity, the women began to witness to him of his need for repentance and forgiveness. Herzog indicated that Pendergraft responded to them with arrogance.
Pendergraft is currently serving his fifth career medical license suspension for a number of abortion abuses.
Previously, Operation Rescue discovered during an undercover investigation that Pendergraft was working with disgraced abortionist Harold Alexander in Maryland to conduct an illicit late-term abortion practice that specialized in lethal fetal injections. Women had the option of completing the abortion at Pendergraft's "secret" Maryland location or simply receiving the injection to kill their babies then return to the place of their choosing to deliver their dead fetuses. Operation Rescue reported the dangerous late-term scheme to the Maryland Board of Physicians, which resulted in the license suspension of Alexander and assurances from the Board that Pendergraft's shady business had come to an end in that state.
"Pendergraft's troubles continue to compound as he tries to dodge his responsibility for hurting women while refusing to do the right thing and leave the abortion business. Please join me in praying for Pendergraft's repentance and a permanent close of all his five abortion clinics," said Newman.