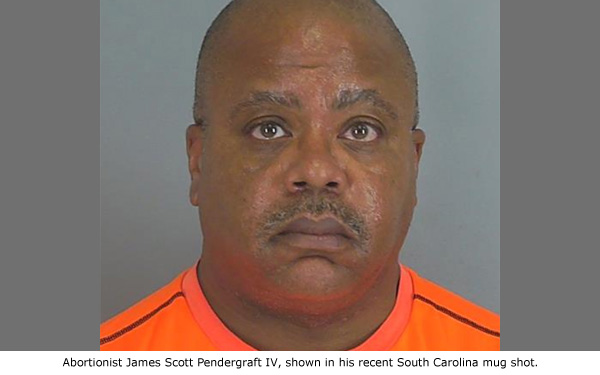 By Cheryl Sullenger
Tallahassee, FL – Operation Rescue has been informed by the Department of Health that a complaint it filed against abortionist James Scott Pendergraft IV has resulted in an Administrative Complaint that could result in the permanent revocation of his Florida medical license or other discipline.
The Administrative Complaint alleges that when Pendergraft pleaded guilty to ten felony charges of possession to distribute controlled substances in the State of South Carolina on October 16, 2017, he triggered a violation a Florida statute that states such a felony conviction is grounds for discipline in Florida.
Pendergraft was arrested on October 5, 2015, during a routine traffic stop near Spartanburg, South Carolina, after Sheriff's Deputies found in his possession surgical implements that were covered in blood and human tissue from abortions he had illegally performed throughout South Carolina. He was also in the possession of illegal narcotics, such as marijuana, LSD, and drugs used to sedate women for abortions. Pendergraft held no medical license in South Carolina.
He was initially charged with five counts of illegal possession with intent to distribute. A grand jury later added an additional five counts.
In a letter to Cheryl Sullenger dated April 24, 2018, which accompanied a copy of the Administrative Complaint, she was advised that a Probable Cause Panel of the Department of Health found that probable cause exists to believe Pendergraft violated Florida statutes and qualified for disciplinary action. This determination was made after it reviewed her complaint along with the investigative report and the recommendation prepared by the Department of Health.
Pendergraft has had his Florida medical license suspended at least five times. It is currently under indefinite suspension, but that hasn't stopped Pendergraft from profiting from his abortion businesses and illegal out-of-state abortion and drug operations.
Operation Rescue earlier reported that the Florida Department of Health has revoked the abortion facility licenses of four of Pendergraft's abortion businesses based on his felony convictions in South Carolina.
Of those four, Pendergraft continued to operate two facilities either illegally or under questionable legality. After Operation Rescue reported that the Fort Lauderdale Women's Center continued to do abortions illegally after its facility license was revoked and that a complaint was filed by Broward Right to Life, the facility finally shut down.
Now, ironically, Pendergraft has been converting some of his abortion facilities in marijuana distribution clinics — the very thing that earned him a felony conviction in South Carolina.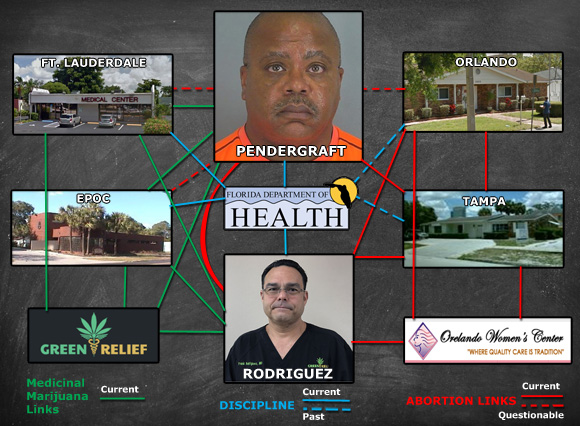 Michelle Herzog, an Orlando area pro-life activist, says that Pendergraft's Fort Lauderdale location and his former Orlando EPOC abortion facility, both still owned by Pendergraft, are being converted to medicinal marijuana clinics under the name "Green Relief." The website lists the physician at these marijuana clinics as Frank Rodriguez, who also currently serves as the primary abortionist at the Center of Orlando for Women and Women's Center of Hyde Park, located in Tampa – both "former" Pendergraft abortion clinics.

The strong connections between the abortion businesses and medicinal marijuana clinics points to the very real possibility that Pendergraft is still in practical control of both businesses, which would be a violation of Board order for him to divest himself from the abortion businesses.
"We don't want to see another license suspension for Pendergraft. He has proven that he has no respect for the law or the rules that apply to the practice of medicine in Florida. Repeated suspensions have done nothing to cause him to amend his ways. In fact, they have only made him more devious. This time, his license must be permanently revoked," said Troy Newman, President of Operation Rescue.
Pendergraft has a long and sordid history of violations and malpractice cases.
Operation Rescue has caught Pendergraft operating outside the law before. He was ordered to cease and desist his illegal late-term abortion racket that he once conducted in Maryland, where he was unlicensed. His accomplice, abortionist Harold O. Alexander, had medical license was temporarily suspended as a result and later permanently revoked.
Operation Rescue also published a video taken by Herzog showing Pendergraft sneaking in the back door of his now-closed EPOC abortion mill in Orlando. According to Herzog, the waiting room was full of abortion patients and there was no other doctor present at the facility, leading her to believe he was about to commit abortions while he was prohibited from doing so by the Florida Medical Board. Herzog called the police, but Pendergraft bolted out the back door and fled the scene before police could arrive.
In 2011, Pendergraft was ordered to pay a judgment of nearly $37 million in a malpractice case that involved a horrific medication abortion inflicted on a woman who was 22.3 weeks into her pregnancy. Medication abortions of the type she received are not recommended after 7-9 weeks of pregnancy. She birthed an extremely premature infant, who survived with serious physical and developmental issues. Pendergraft has dodged efforts by that family to collect on the judgment.
He has also dodged paying over $120,000 in fines owed to the Florida Board of Medicine.
"Pendergraft richly deserves license revocation and to have all of his abortion facilities closed. However, he should be continually watched. He has proven that he is willing to go to any lengths and break any law to profit from killing babies. He simply cannot be trusted," said Newman.
The disciplinary case will now move on to an administrative hearing where Pendergraft will be allowed a defense, or he could reach a consent agreement with the Medical Board.
Operation Rescue will continue to monitor the progress of Pendergraft's disciplinary case.
Read Pendergraft's Administrative Complaint dated 4/23/2018.