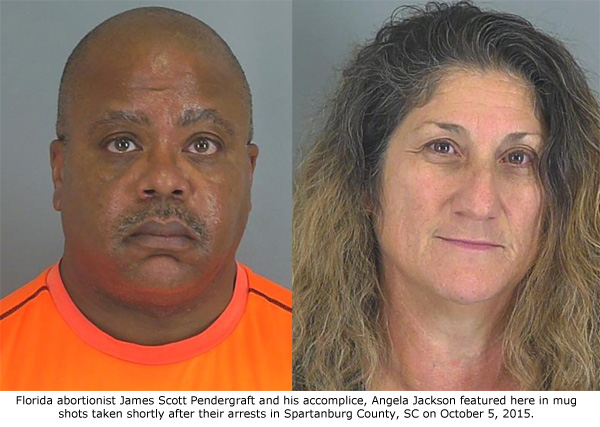 By Cheryl Sullenger
Spartanburg County, SC – Operation Rescue has learned that the traveling abortionist that was arrested in South Carolina as the result of a traffic stop is the notorious Florida abortionist James Scott Pendergraft IV.
At the time of his arrest on October 5, 2015, Pendergraft had in his possession surgical implements that were covered in blood and human tissue from abortions he had illegally performed throughout South Carolina. He was also in the possession of illegal narcotics.
His illegal abortion operation was described as a "mobile abortion clinic."
Pendergraft, 58, was charged with four drug-related offenses, but remains under criminal investigation for practicing medicine without a license.




Operation Rescue also learned that his accomplice, described by Spartanburg Co. Sheriff Chuck Wright as Pendergraft's "wife," is Angela Jackson, 55, of Cary North Carolina.
Jackson was charged with intent to sell marijuana out of the back of Pendergraft's vehicle.




Last Friday, Sheriff Wright announced the arrests, saying, "We got a guy and a girl early in the week that was a traveling abortionist. He traveled around the state of South Carolina without a medical license, with drugs and with medical tools, performing in-home abortions. So basically we got an illegal baby killer."
Pendergraft has no medical license in South Carolina. His Florida medical license remains under suspension, meaning he is not allowed to practice medicine at this time. Pendergraft continues to own and operate a chain of abortion clinics in Central Florida.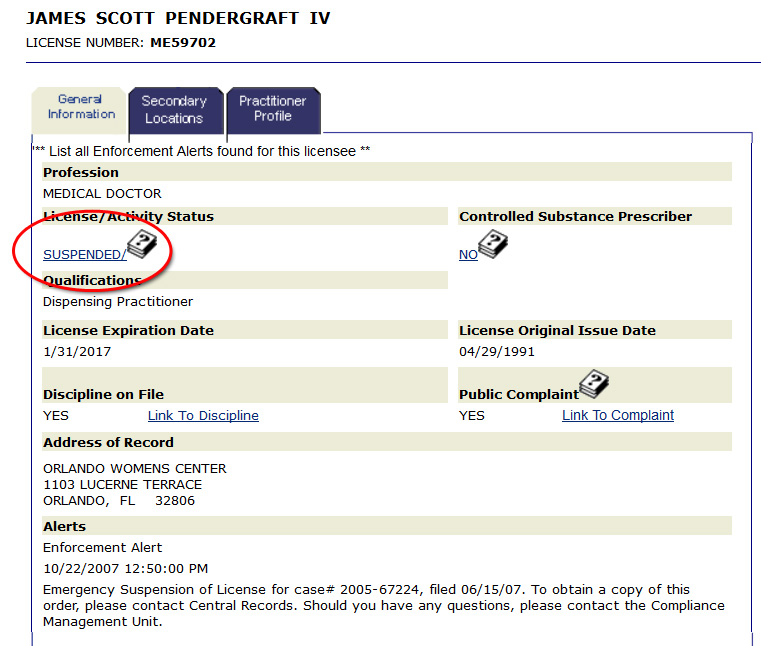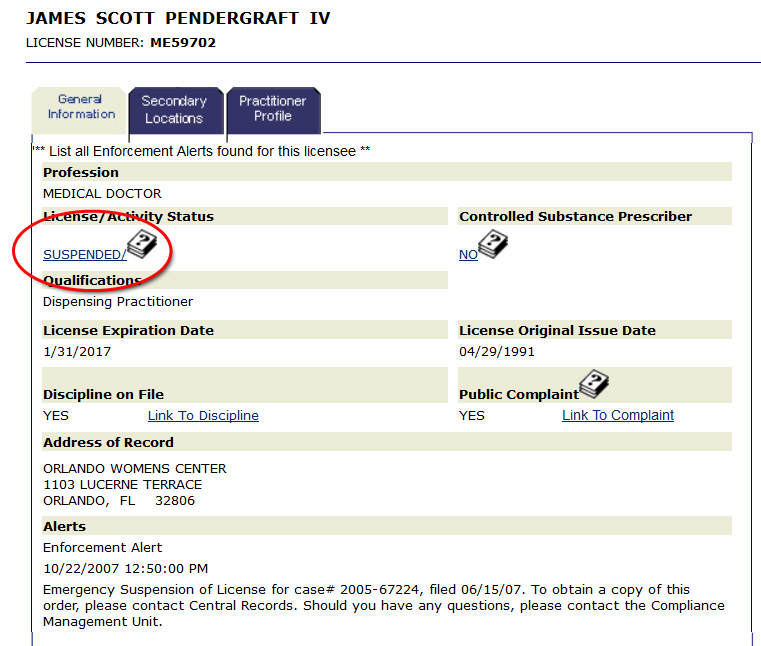 "Pendergraft is easily the worst abortionist practicing right now in the U.S. We will do everything possible to see that he is held accountable for his crimes, including notifying the Florida Medical Board of his arrest," said Troy Newman, President of Operation Rescue.
Operation Rescue has caught Pendergraft operating outside the law before. He was ordered to cease and desist his illegal late-term abortion racket that he once conducted in Maryland with the help of abortionist Harold O. Alexander. Alexander's medical license was temporarily suspended as a result.
Operation Rescue also published a video taken by Orlando pro-life activist Michele Herzog showing Pendergraft sneaking in the back door of his EPOC abortion mill in Orlando. According to Herzog, the waiting room was full of abortion patients and there was no other doctor present at the facility, leading her to believe he was about to commit abortions while he was prohibited from doing so by the Florida Medical Board. Herzog called the police, but Pendergraft bolted out the back door and fled the scene before police could arrive.
"It's time for authorities to stop coddling this criminal and put him behind bars where he belongs. If running an illegal rolling abortion mill out of his vehicle isn't enough to slap him in prison, then God help us all!" said Newman.
View Pendergraft's profile page at AbortionDocs.org