An Operation Rescue Special Report By Cheryl Sullenger
Orlando, FL – Court records obtained by Operation Rescue allege that Florida abortionist James Scott Pendergraft, IV has laundered assets to keep them from a family that won a malpractice judgment against him and his abortion business totaling nearly $37 million, $11,800,000 for which he is personally responsible.
"This document, along with our own research, has led us to believe that Pendergraft is still controlling and profiting from his old abortion businesses even though on paper it appears he divested himself from them," said Operation Rescue President Troy Newman.
The malpractice judgement is the result of a 2011 case filed in by a woman known as C.H. over a traumatic, Gosnell-like late-term abortion attempt at the Orlando Women's Center in 2001, in which her baby daughter survived, but suffered several serious disabilities.
According to previous reporting by Operation Rescue, C.H went to Pendergraft's Orlando Women's Center for what she thought was an abortion at 18-20 weeks of pregnancy. It turned out she was actually 22.3 weeks along. Without a physician present, unlicensed workers dosed C.H. with Mifepristone, an abortion drug not recommended for use after 10 weeks of pregnancy. They also administered huge amounts of Misoprostol, which induced severe and painful contractions.
While C.H. was in excruciating pain, clinic workers told her to walk off her labor in the parking lot, and if she didn't like that, she could leave.
C.H did in fact leave the clinic and was later rushed to a local hospital where she delivered by Caesarean Section a viable baby girl, J.F., with a sub-normal Apgar score of 3/3 and weight of 555 grams or 1 pound, 3 ½ ounces. J.F is now 18 years old and has suffered such effects from the failed abortion attempt a seizure disorder, physical and mental developmental delays and numerous other afflictions.
On July 21, 2011, a jury of six found that Pendergraft was liable for J.F.'s injuries. The family was awarded nearly $38 million, part of which was to be used to pay for J.F.'s years of expensive medical care.
Even though Pendergraft was actually incarcerated at the time of the attempted abortion on an extortion case, the court found that he was responsible for C.H.'s nightmare experiences because he set up set up the protocols that led to the injuries inflicted on C.H and her baby.
Attempts to collect
For years, C.H.'s lawyers have attempted to collect on the multi-million-dollar judgement.
Pendergraft apparently saw the hand-writing on the wall before the malpractice case was over and began a complex paper shuffle over ensuing years to make it appear that he no longer controlled any interest in real estate property or businesses. This was done to protect assets from seizure in payment of any prospective court judgment.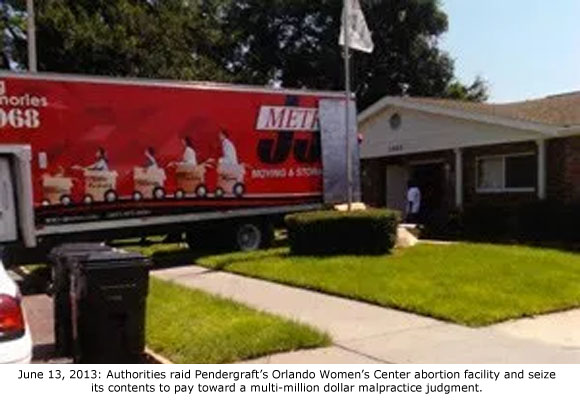 In 2013, police raided the Orlando Women's Center, located at 1103 Lucerne Terrace, and seized the contents of the abortion facility. Police allowed a moving van to pull up to the door where they began loading it with furnishings and equipment. The seized property was said to have been sold as a partial payment on the judgement.
Later, Pendergraft reopened the Orlando Women's Center with furnishings he claimed to have "borrowed" and did not own, making it immune from seizure.
Five Suspensions
To add to Pendergraft's financial woes, in 2012, he was cited for failing to pay over $121,000 in fines to the Florida Department of Health related to five suspensions of his medical license. To this day, there is no record that those fines have ever been paid.
Outside the law
Pendergraft has shown a pattern of operating outside the law. In 2012, an undercover investigation conducted by Operation Rescue found that he was operating an illegal late-term abortion racket at an unlicensed abortion facility in Maryland with the help of abortionist Harold O. Alexander. After Operation Rescue filed a complaint with the evidence of this dangerous scheme, Alexander's medical license was temporarily suspended and later revoked.
Pendergraft's minimum fee for the expensive late-term abortions was around $6,000 and was to be wired by patients directly to his personal Florida account with Bank of America, leaving a minimal paper trail.
While no disciplinary action was taken against Pendergraft, who was not licensed to practice in Maryland, the complaint filed by Operation Rescue shut down one of Pendergraft's illicit money streams created after the 2011 malpractice judgement was levied against him.
Rolling abortionist
In October 2015, Pendergraft was arrested in a traffic stop in South Carolina. Sheriff's Deputies discovered evidence that he was selling illegal drugs and operating an illegal rolling abortion operation out of his van. He had never been licensed to practice in South Carolina.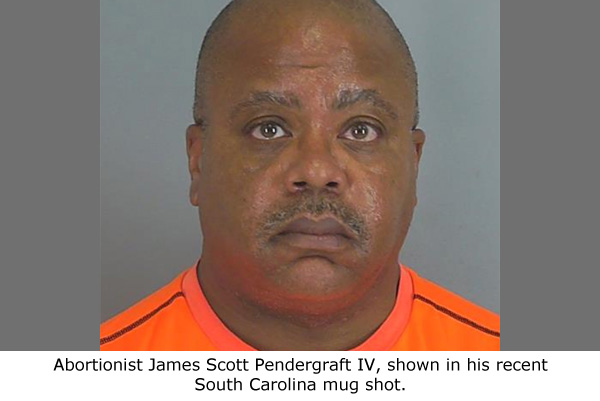 Pendergraft was desperate for money and found that selling drugs and conducting illegal abortions generated cash income that could not be seized.
Pendergraft pleaded guilty to felony drug charges in South Carolina in 2017. Those guilty pleas served as the basis for an Operation Rescue complaint against Pendergraft that resulted in the permanent revocation of his medical license in December 2018.
"This shows how far Pendergraft will stoop. His illegal abortion and drug dealing scheme in South Carolina placed the lives of everyone he dealt with at risk. He is a dangerous man that will go to any lengths for the sake of money – especially money that cannot be tracked," said Operation Rescue President Troy Newman.
Because he is no longer licensed to practice medicine, he is prohibited from legally owning or operating any medical facility.
Clinic licenses revoked
Based on Pendergraft's South Carolina arrest, the Florida Agency for Health Care Administration revoked the facility licenses of four of Pendergraft's abortion clinics on March 27, 2018. Those facilities included the Orlando Women Center, EPOC, Ft. Lauderdale Women's Center, and the Ocala Women's Center, which had actually closed prior to the facility license revocation.
Out of those clinics, only the EPOC abortion business, located at 609 Virginia Drive, actually closed. This address is central to Pendergraft's scheme to conceal his control property and assets.
Three other Pendergraft-affiliated abortion facilities, including one not listed in the revocation orders, underwent name changes and their ownerships were transferred to Denise Williams, Pendergraft's ex-wife and the mother of his two children.
Fraud Allegations
On September 6, 2018, C.H.'s attorneys filed a motion for summary judgement alleging that in 2013, Pendergraft sold his "multi-million-dollar stock portfolio" and transferred $533,573.16 to his personal checking account. He then transferred $600,000 to Wilson Medical Management, one of his many companies. About a week later, he wrote a check for $132,000 to Metzger and Associates, a law firm that has for many years represented him in "licensing disputes."
However, the suit alleges that Pendergraft owed no money to Metzger and Associates at that time and accuses Pendergraft and his attorneys of participating in a fraudulent money-laundering scheme to keep that money from being seized to satisfy the judgement against him in the C.H. case.
During Pendergraft's 2018 medical license revocation proceedings, he did not use legal representation. In fact, he never responded to the Board action against him and did not fight the revocation. This was most likely done to save money on legal fees when his license revocation was inevitable. This makes the transfer of funds to Metzger and Associates even more suspect.
609 Virginia Drive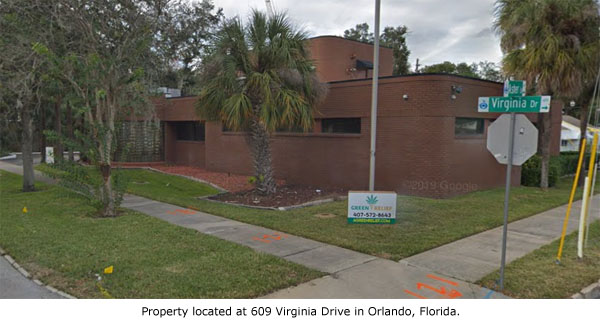 The following month, on October 18, 2018, Pendergraft filed for Chapter 7 bankruptcy protection claiming he had 18 creditors – including C.H. as Settlor of the JF Special Needs Trust. Pendergraft claimed total assets of under $50,000 and liabilities totaling $10-$50 million.
In that bankruptcy filing, Pendergraft listed his home address as 609 Virginia Drive in Orlando, Florida, — the same address as Pendergraft's defunct EPOC clinic and business address for each of the currently operating abortion facilities owned by Denise Williams.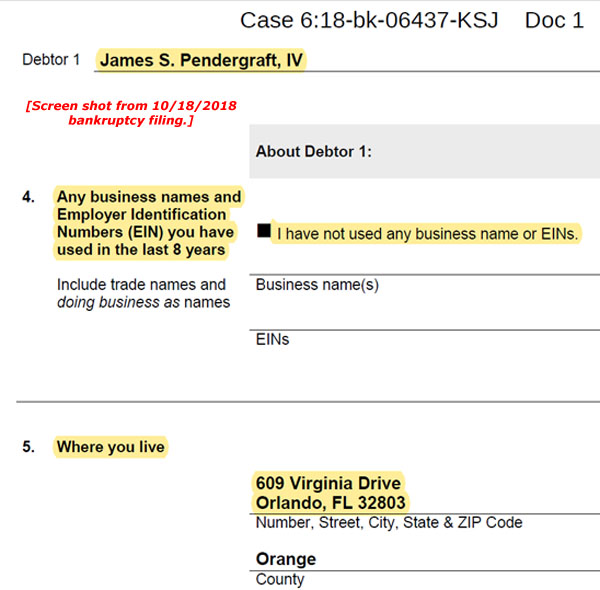 Pendergraft also indicated on his bankruptcy filing that he has not used any businesses or EINS. However, Operation Rescue found evidence that he is using many different businesses. Some of the active businesses involving Pendergraft and his "home" address at 609 Virginia Drive in Orlando are shown in the chart below.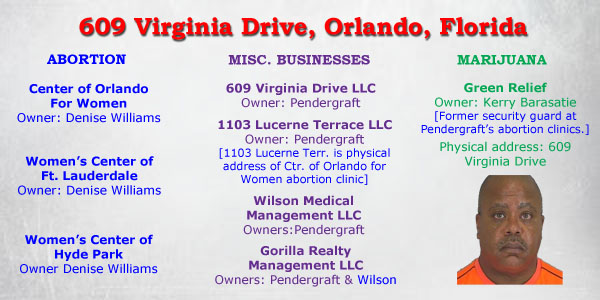 In addition to listing the 609 Virginia Drive as her business address, Williams also shares the same attorney William P. Weatherford, Jr., who her ex-husband has used to set up each of his many businesses.
The real estate property located at 609 Virginia Drive is owned by the 609 Virginia Drive LLC, for which James Pendergraft is a managing member, according to tax records and business listings with the Florida Secretary of State.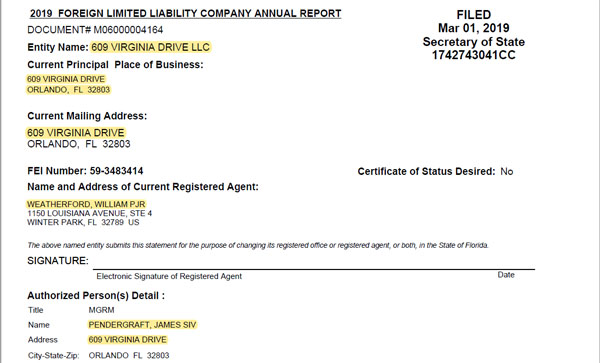 There are 29 different business entities registered with the Secretary of State's office that claim that address. Among those is Wilson Medical Management, the company involved in the allegations of fraudulent transfer of funds. Pendergraft is still listed as a managing member of Wilson Medical Management with the Secretary of State's office business listings.
Green Relief
Soon after Pendergraft closed the EPOC abortion facility, a medicinal marijuana business, Green Relief, opened at the ubiquitous 609 Virginia Drive. Pendergraft is not listed on Green Relief's filings with the Florida Secretary of State. Instead, the owner is Kerry Barasatie, a minor criminal who was arrested on November 25, 2011, and charged with Burglary with Assault or Battery.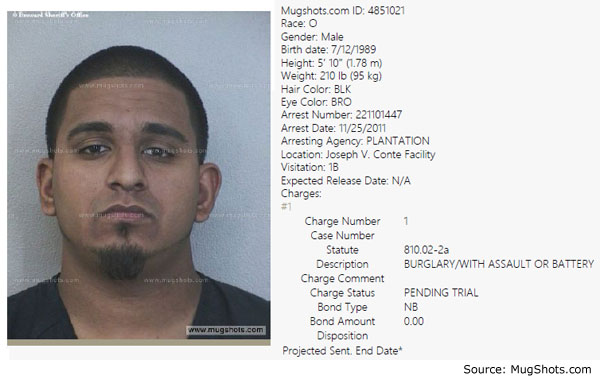 Barasatie now hypes the wonders of medicinal marijuana on Green Relief's YouTube.com channel that is recorded at 609 Virginia Drive in Orlando.
Barasatie is a former employee of Pendergraft's. He used to work as a security guard at EPOC, where his Green Relief business in now located, and at the Orlando Women Center. Pro-life activist Michele Herzog had many encounters with Barasatie, and told Operation Rescue that he had threatened and followed her in the past.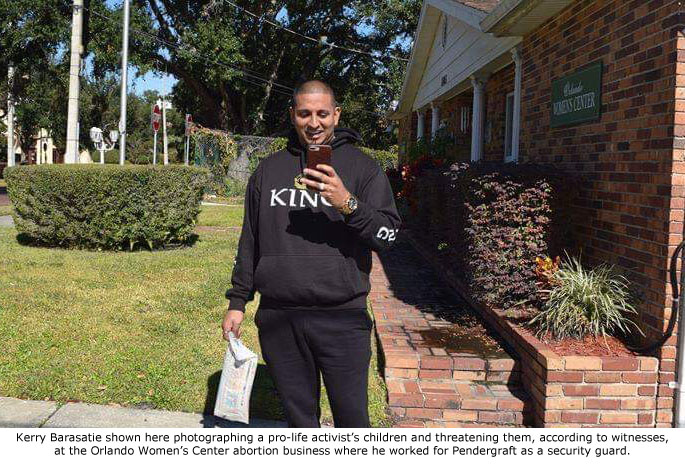 Its first "doctor" hired to dispense medicinal marijuana cards to customers was Frank Rodriguez, who not-coincidentally served as medical director under Pendergraft for his chain of abortion facilities, including the Orlando Women's Center (now Center of Orlando for Women).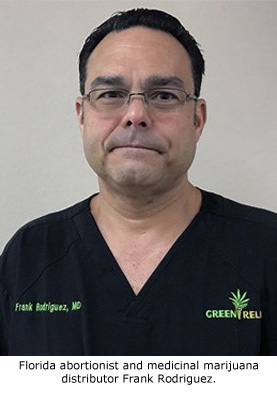 Rodriguez had his own set of troubles. In 2012, while conducting abortions at Presidential Women's Center, Rodriguez began a late-term abortion by using a cervical dilator, of which he lost control after he pushed into a woman's uterus. He failed to remove it during the abortion and left the foreign object inside the woman's body. For that, Rodriguez was placed on license restrictions in Florida in 2016 and surrendered his license to practice in California in 2017.
Sometime in the past few months, Rodriguez left the employment of both the Center of Orlando for Women abortion business and the Green Relief medicinal marijuana clinic. He was replaced by a doctor with no known ties to the abortion industry who has also since departed the weed business — an indication that all is not well there.
Medicinal marijuana clinics in Florida are strictly all-cash businesses, which makes them ripe for financial abuse. It is hard to track a clinic's income and exactly where the money is going. Abortion clinics are also primarily cash businesses. Could Pendergraft be profiting secretly from these cash businesses? It is very possible.
This would provide Pendergraft with an "under the table" income that would be shielded from seizure by C.H.'s attorneys.
T-Shirts
On paper, the Green Relief business is a separate business from the Center of Orlando for Women abortion clinic. However, in March, the entire staff of the abortion business began reporting to work wearing Green Relief T-shirts.
Why would this abortion clinic staff advertise for this supposedly unaffiliated medicinal marijuana business?
If Pendergraft had clandestine control over both businesses in practice, if not on paper, it would explain the intermingling of the abortion and marijuana businesses.
Further evidence
Pendergraft continues to be spotted at his abortion facilities. In fact, he was frequently seen coming in and out of the Women's Center of Ft. Lauderdale in the summer of 2018, when his license was under suspension and after he had supposedly divested himself of this abortion business.
Why would he make so many trips to this abortion facility if he did not have business there?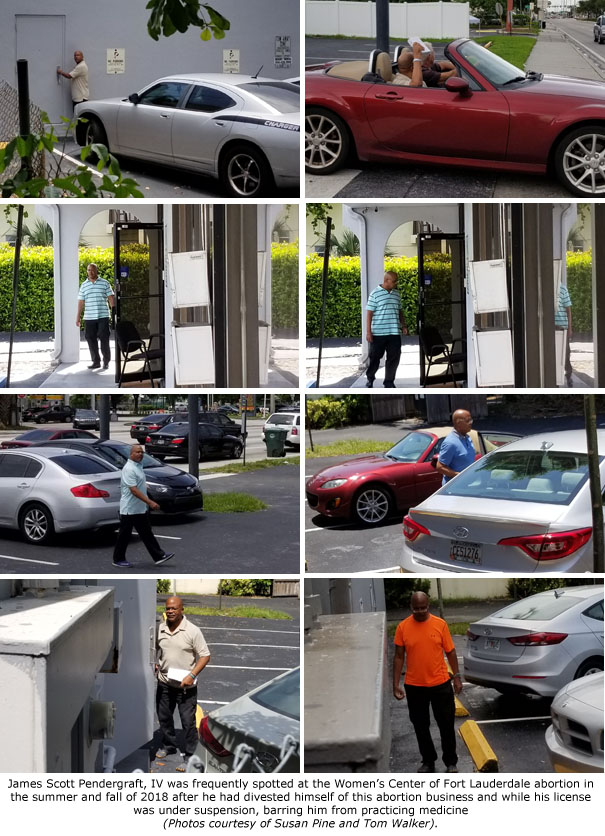 Conclusion
It is clear that Pendergraft has a pattern of stepping outside the law, especially where money is concerned.
Since a malpractice case hit him with a crushing $11,800,000 judgement in 2011, Pendergraft attempted to run illegal abortion schemes in Maryland and South Carolina to create an under-the-table cash flow.
Court documents allege that he fraudulently transferred $132,000 to his attorneys for money-laundering purposes in order to keep the money from seizure to pay the court judgment.
After losing his abortion facility licenses in March 2018 and with his impending medical license revocation in December 2018 due to his felony drug convictions, Pendergraft filed for bankruptcy protection claiming he had no businesses, which documents prove is not true.
Even though he is not allowed to have business dealings with the abortion businesses or any other medical business, he has been frequently seen at one abortion facility in Ft. Lauderdale and now is connected to a Green Relief medicinal marijuana business.
Workers from the Center of Orlando for Women abortion facility are reporting to work in t-shirts advertising the supposedly unaffiliated medicinal marijuana business. The connection between these businesses is Pendergraft.
It appears that Pendergraft is continuing to control and profit secretly from both the marijuana and abortion cash businesses. This is done in such a way as to keep any assets from being seized to pay the massive judgment against him.
"They say a leopard can't change his spots, and Pendergraft's shady dealings certainly show he has been unwilling to amend his ways even while suffering increasingly bad consequences from his poor decisions," said Newman. "I hope that the mom and daughter hurt by a failed abortion can finally collect on their judgment, and that Pendergraft will once again be held accountable in a court of law."