By Cheryl Sullenger
UPDATE:After four and a half hours of deliberations on Day 9, the jury has informed Judge Minehart that it is "drained." Tey have not yet reached a verdict. The judge will release the jury at 1:30 pm Eastern for the weekend. Deliberations will resume Monday morning.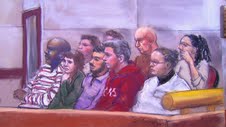 Philadelphia, PA – Day Eight of jury deliberations in the Kermit Gosnell murder case ended yesterday without a verdict after more testimony from another witness was read back.
The jury heard the testimony of Adrienne Moton, the first of Gosnell's former employees to testify. Moton previously pled guilty to one count of third degree murder for snipping the spinal cord of Baby D, two counts of conspiracy and one count related to corrupt organizations. Her guilty plea allows her the possibility of a lighter sentence based on her cooperation with the prosecution. She has not yet been sentenced.
Gosnell faces first degree murder for the death of Baby D, who was delivered into a toilet at his "House of Horrors" abortion clinic and was seen moving in "swimming" motions in an apparent attempt to get out of the toilet bowl. Gosnell would share culpability in the baby's murder because Moton was told by him to do that with babies that delivered as the result of abortions.
The jury has so far requested to re-hear testimony related to Baby C and Baby D, both of which were directly murdered by Gosnell staff, indicating they may be trying to zero in on Gosnell's role in the deaths.
The re-reading of Moton's testimony was interrupted by a fire alarm after a blaze apparently erupted on the Fifth Floor. The emergency was soon under control and the re-reading of the testimony resumed.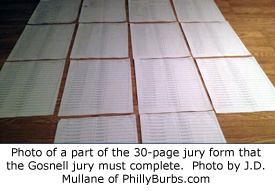 It appears that the jury may be struggling with some of the other charges as well. They asked for files related to two of the 24 felony counts of illegal abortions past the 24 week limit.
In perhaps a glimpse into the emotional state of the jury, they questioned Judge Jeffery P. Minehart about the 227 counts of violating the 24-hour informed consent law. The Defense stipulated that the forms in all 227 files were signed on the same day as the abortion procedure was done. The jury asked if the files were the only evidence of those misdemeanor counts and whether they could issue one verdict for the entire lot of charges. The News Journal reported that some of the jurors appeared somewhat downcast when told they had to reach 227 separate verdicts on those counts.
"Please join us in praying for a verdict soon and for justice. The longer this goes the higher the risk of a hung jury, and that would only prolong the national agony over this horrific ordeal. May justice come swiftly!" said Troy Newman President of Operation Rescue.
The jury is, as of this writing, deliberating into their ninth day.
In other developments, Priests for Life conducted a naming ceremony yesterday for all the babies whose remains were discovered at Gosnell's abortion clinic in an effort to restore dignity and humanity to them.
Next Tuesday, The Center for Urban Renewal and Education (C.U.R.E.) and several ministry partners will host a press conference and Legislative Briefing in Washington, DC titled, "Abortion and the Impact on Black America…Is there a Gosnell in your community?" The press conference will be held on May 14 at 9:30-11:00 am at the National Press Club. (More information)
Gosnell Trial Archives
Documents
Read the full Grand Jury Report
View photos of Gosnell's victims
View the Gosnell gang's mug shots and description of charges