Media interest continues to increase after 3-year drought of coverage
By Cheryl Sullenger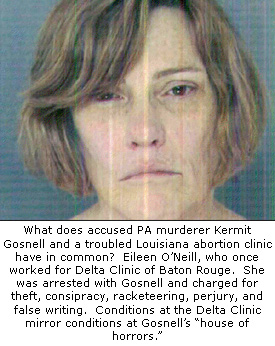 Philadelphia, PA – On the third day of jury deliberations in the Kermit Gosnell abortion-murder trial, the focus of the jury remains on co-defendant Eileen O'Neill, a former employee that masqueraded as a licensed physician at Gosnell's "House of Horrors" abortion clinic.
According to in-court reports from local news reporters who have staked out seats during what may prove to be a long and tedious jury watch, the jury has sent out repeated requests to review testimony and other evidence related to charges against O'Neill submitted during the trial that is now in its seventh week.
O'Neill faces 8 counts of Theft by Deception for billing for services while presenting herself as a licensed physician, when she held no such license and Conspiracy related to Corrupt Organizations.
O'Neill is an unlicensed medical school graduate who has worked in the abortion industry since 1998. She began with a two-year stint at the notoriously troubled Delta Clinic of Baton Rouge, Louisiana. Delta has a long history going back at least to 1998 of violations and filthy conditions of a similar nature found at Gosnell's "house of horrors" in Philadelphia. Two women, Ingar Weber and Shelia Hebert, are known to have died from botched abortions they received at Delta.
O'Neill told the Philadelphia grand jury that her work at the Delta Clinic was a "side job" while she was living in Texas and that she had relinquished a medical license she held in Louisiana due to what she called "post traumatic stress," which speaks volumes about her time at Delta and her mental state as she began work with Gosnell.
Today, the jury asked to review testimony from one of O'Neill's abortion patients, Lisa Dungee, who testified that she received an abortion by pill from O'Neill in 2009 at Gosnell's Women's Medical Society without the state mandated 24-hour informed consent waiting period. Dungee said she never saw Gosnell at the clinic at the time she received her abortion pills, an important point since O'Neill could not legally practice in his absence. She indicated that she never returned to the clinic for a follow-up appointment due to the filthy conditions she observed, choosing instead to follow-up care with her own physician.
The jury has previously asked the court for definitions of some of the charges O'Neill faces and to review other testimony and evidence, including the floor chart depicting the maze of cramped rooms and hallways that comprised Gosnell's squalid building located at 3801 Lancaster Avenue.
So far, all the jury questions have focused on O'Neill, indicating that they have yet to deal with the hundreds of charges against Gosnell. O'Neill's charges were the first ones listed on a 30-page jury form.
As the jury watch continues, more news media continue to be attracted to the case, which was virtually ignored for the first three weeks of testimony until pro-life conservatives shamed them into coverage during a 24-hour "tweetfest" that trended at the top of the Twitter charts for a day and a half. Several news trucks have camped out near the courtroom waiting for the verdict, which now may not come until next week at the earliest, given the current speed of deliberations.
Operation Rescue was the first pro-life group publish accounts directly from the courtroom.
HT: @JDMullane, @SeanGOSullivan, and @phillydotcom.
Gosnell Trial Archives
Documents
Read the full Grand Jury Report
View photos of Gosnell's victims
View the Gosnell gang's mug shots and description of charges