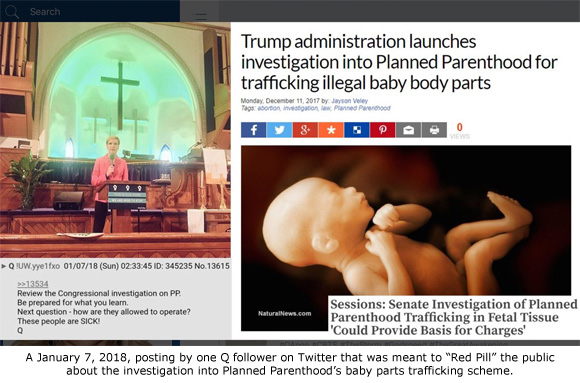 By Cheryl Sullenger
Somewhere in Cyberspace – Conspiracy theorists are having a hay-day, thanks to "Qanon," a shadowy internet persona that claims to be a small band of loyal Trump Administration insiders. He leaves cryptic #Breadcrumbs with heavy references to "The Matrix" on a mysterious message board known as 8Chan, and urges readers to "FollowTheWhiteRabbit" into a huge conspiracy involving an attempted Deep State takeover of the country, and counter-efforts by the "White Hats" to thwart it, drain the swamp, and bring the traitorous criminals to justice.
Q's army on Twitter, Youtube, and elsewhere, are urged to research the breadcrumbs and "Red Pill" everyone they know with the truth.
But today, the rabbit hole took a new turn away from speculation about mysterious flights to Gitmo, the classified contents of Anthony Weiner's laptop, and the "Clowns" that they say operate a world-wide human-trafficking network.
#Qanon is now taking on Planned Parenthood in his uniquely enigmatic way.
Review the Congressional Investigation on PP.
Be prepared for what you learn.
Next question – how are they allowed to operate?
These people are SICK!
Q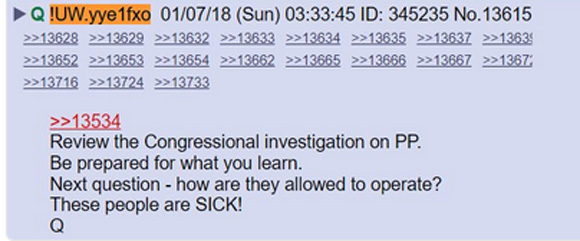 Of course, Q's "PP" is Planned Parenthood. The Congressional Investigation referenced is the results of the House Select Investigative Panel on Infant Lives, which referred Planned Parenthood, organ procurement companies, a university, two independent late-term abortion facilities, and a late-term abortionist in Houston, Texas, to the Department of Justice for criminal investigation and prosecution.
That investigation was initiated after the Center for Medical Progress released a series of undercover videos that showed Planned Parenthood executives discussing for-profit contracts with middleman organ procurement companies in exchange for aborted baby tissue and organs.
The Department of Justice has announced that they are currently investigating the allegations brought by Congress against Planned Parenthood and others – after those allegations were ignored by the Obama Administration.
"Be prepared for what you learn," warns Q. In a follow-up post, Q warns again, "Mark as graphic material."
The videos famously showed one Planned Parenthood abortionist, Mary Gatter, haggled for top dollar while admitting, "I want a Lamborghini."
"Abortionists use ultrasound like a butcher uses scales to sell meat by the pound for profit," said Operation Rescue President Troy Newman, who also served as a founding board member for the Center for Medical Progress. "It is truly horrifying to see the callous way these people view women and their babies in unguarded moments. Their own words portray them as cold-hearted monsters."
Q's next clue is important to understand. "Next question – how are they allowed to operate?" Q asked, obviously knowing the answer. His questions are designed to make people dig for the answers.
"We know how Planned Parenthood is allowed to operate," said Newman. "Our tax coffers fund them to the tune of over a half billion dollars each year. That represents half of their budget. If Congress would deny those funds to Planned Parenthood, we would see it collapse."
Planned Parenthood has, over the years, developed an extensive network of corrupt politicians, media, and celebrities that protect and promote them. This network makes sure a steady stream of funding flows to Planned Parenthood, and in exchange, Planned Parenthood contributes to their political campaigns.
If Planned Parenthood is caught doing anything wrong, they can count on Democratic officials to shield them from consequences.
Planned Parenthood also uses the court system to insulate them from having to comply with abortion safety laws – and to punish all those who try to expose them.
Planned Parenthood and their cronies at the National Abortion Federation are suing Troy Newman and others with the Center for Medical Progress in Federal Court in an attempt to silence him from speaking out about their crimes or sharing evidence with law enforcement.
Apparently, Planned Parenthood is now trying to bully those who speak out against them on Twitter.
FYI: PLANNED PARENTHOOD threatened me the other day after exposing them on Twitter. They want my address LOL. They messed with the wrong lawyer: I eat their kind for breakfast #qanon
— Tam🇺🇸🍕👧👦 (@t193931) January 6, 2018
Plannenthood has connections to the political dirty tricks group Fusion GPS, Hillary Clinton and the corrupt Clinton Foundation, Obama, and to at least one "pay to play" scheme in which Clinton and the Obama Administration allowed Ecuadorian criminals into the U.S. so they could sell aborted baby remains."We are grateful to Q and the Trump Administration for taking the evidence against Planned Parenthood seriously and bringing it to the attention of an audience that may otherwise never have been exposed to the truth. We hope the Qanon exposure helps wake up Americans to the barbarity of abortion," said Newman. "Planned Parenthood is a corrupt enterprise that makes their money off the backs of dead babies and taxpayers. We urge Congress to defund Planned Parenthood immediately, and are praying for their speedy prosecution."