Philadelphia, PA — Monday, testimony resumed in the Kermit Gosnell murder trial with a state inspector testifying about what she found inside Gosnell's "House of Horrors" abortion clinic in West Philadelphia where he conducted his late-term abortion business for decades without inspection or accountability.
Elinor Barsony, a Pennsylvania Department of Health employee, told the court that in 2010, she conducted the first inspection of Gosnell's Women's Medical Society abortion clinic since the early 1990s. What she found there was appalling.
Inside, Barsony witnessed women who had been drugged into stupors and left unmonitored for hours. She indicated that the staff she questioned seemed nervous about their qualifications, and it is easy to see why.
A staff of quacks
The so-called "doctors" who worked for Gosnell doing abortions through every stage of pregnancy had no medical licenses. One of the ladies who worked in the place of an anesthesia dropped out of school in the sixth grade. Another was a 15-year old high school student, the daughter of another of Gosnell's employees, who drugged women with a one-size-fits-all cocktail of cheap drugs without regard to the woman's height, weight, or medical history. There were no nurses on staff, as required by law.
At least two of the patients had no pre-abortion counseling. The state's 24-hour waiting period was ignored. The emergency exit remained locked with a padlock and blocked with broken medical equipment, even though those same conditions contributed to the death of Karnamaya Mongar the year before when paramedics could not find a way to get the tiny, overdosed immigrant out of the clinic.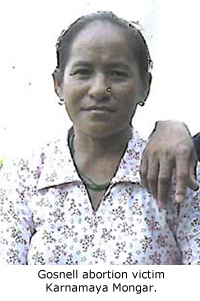 Jurors were shown photographs of the some of the medications that were supposed to be administered to patients after anesthesia, but most of them had expired in 2007.
Filthy conditions
The general condition of the clinic itself was an appalling as the gross lack of staff qualifications and adherence to state-mandated practices. Barsony found "filthy, corroded" tubing attached to what appear to describe as the abortion machines. Records were not properly maintained.
Barsony testified that she spent hours inspecting the abortion clinic, only finishing at 2:00 a.m. A few days later, Barsony returned to the clinic to ask Gosnell to voluntarily close is clinic.
Defense blames patient for her own death
Last week's testimony concluded with prosecutors questioning an expert in anesthesiology, Dr. Andrew Herlich, who said that Karnamaya Mongar was drugged into a coma until her breathing stopped. Mongar was given Demerol, which Dr. Herlich said has fallen "out of favor" due to the number of complications associated with the drug. The dosages given to Mongar and other women were well beyond the standard dosages.
Gosnell's defense attorney, Jack McMahon, attempted to blame Mongar for her death because she left spaces blank on her medical history forms and did not tell Gosnell of heart and lung disorders discovered during her autopsy, even though she was likely unaware of her condition. Mongar was an immigrant from Bhutan who spoke little to n English and had only been in America less than a year.
"It is more than likely that Karnamaya did not understand the forms. In that case, it seems completely negligent for Gosnell to go ahead with her abortion anyway, not knowing her history and lacking the ability to communicate with her," said Troy Newman, President of Operation Rescue and Pro-Life Nation. "It is despicable for anyone to blame her for Gosnell's lack of proper staff, filthy mill, and the dangerous drugs that were given in overdose that caused her death."
It was also revealed that Gosnell offered pain relief based on a woman's ability to pay. Those who could afford it were dangerously drugged into oblivion while those who had less money were forced to endure hat can only be described as torture as they submitted to surgical abortions without adequate pain medication.

More Employees to testify
Gosnell has been charged with eight counts of murder, including that of Mrs. Mongar and seven late-term babies that were killed by snipping the spinal cord with scissors after they were born alive during Gosnell's shoddy abortions. If convicted, he could face the death penalty.
So far, only one of Gosnell's employees, Adrienne Moton, has testified. The other six workers arrested with Gosnell in 2011 are expected begin to testify later this week.
Operation Rescue plans to be present in the courtroom during the week of April 1, and will be reporting first-hand accounts from the trial.
Trial Report Archive
Prosecution Reconstructs Abortion Room in Court for Gosnell Murder Trial
Abortionist Gosnell Rejects Plea Deal, Jury Selection Underway in Capital Murder Case
Jury Selection to Begin in Murder Case of Abortionist that Snipped Newborn's Spinal Cords
Documents
Read the full Grand Jury Report
View photos of Gosnell's victims
View the Gosnell gang's mug shots and description of charges