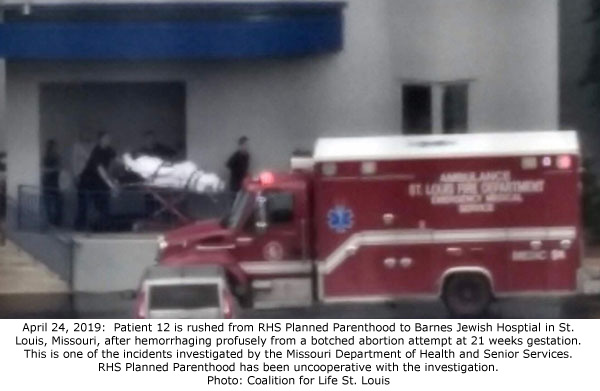 By Cheryl Sullenger
St. Louis, MO — New documents just received by Operation Rescue clarify a motion filed by the Missouri Department of Health and Senior Services (DHSS) on June 13, 2019, and provide additional information related to patients who received botched abortions and RHS Planned Parenthood in St. Louis.
These new documents include:
The DHSS Motion to Reconsider or Amend the Court's Order Granting a Preliminary Injunction and Notice of Compliance. (View)
A 4-page letter from DHSS to RHS Planned Parenthood's interim President and CEO Cathy Williams concerning violations found during a complaint investigation conducted from April 2 to May 28, 2019, that was related to substandard patient care practices and other deficiencies. The letter notes that RHS Planned Parenthood's non-cooperation with the investigation is "unprecedented and untenable." It required that an acceptable and detailed Plan of Correction be submitted to the DHSS by June 18, 2019. (View)
A 62-page deficiency report dated May 28, 2019, based on the complaint investigation that found that includes previously unknown violations in patient care standards for Patients 1, 2, 3, and 12, along with a litany of other violations. (View)
"These documents give us a clearer picture of not only the status of the legal case that was brought by RHS Planned Parenthood, but also the massive scope of violations that included sloppy patient care practices that resulted in life-threatening injuries and conditions within a very short time-span," said Troy Newman, President of Operation Rescue. "In all the hundreds of deficiency reports and disciplinary cases we have seen cross our desks at Operation Rescue, I have never seen such overt rebellion to oversight, lies, and blame-shifting as RHS Planned Parenthood's staff displayed during this investigation. It was appropriately met with a harsh rebuke by the DHSS."
Motion to Reconsider
The DHSS Motion to Reconsider clarified that the DHSS is not seeking an extension of the court-imposed deadline for a formal decision on RHS Planned Parenthood's license renewal application.
Instead, the motion does two things. First, it lays out three reasons why Judge Michael Stelzer should withdraw the preliminary injunction.
Preliminary injunctions are meant to maintain the status quo, but Judge Stelzer's preliminary injunction "exceeds the permissible scope of a preliminary injunction" by ordering the DHSS to rule on RHS Planned Parenthood's license application before it had the opportunity to complete its investigation.
The court wrongly assumed that the DHSS had to rule on the licensing application before it could be appealed by RHS Planned Parenthood to the Administrative Hearing Commission (AHC). However, according to Missouri law, the "failure to renew" RHS Planned Parenthood's facility license was immediately reviewable by the AHC as soon as the license expired on May 31, 2019.
The DHSS argues that the Court lacks jurisdiction because, as noted by Judge Stelzer in his own order, "the AHC, and not the Circuit Court, has exclusive jurisdiction and authority to rule on any decision that denies the renewal of [RHS Planned Parenthood]'s license."
Secondly, the motion states that in the event Judge Stelzer declines to withdraw the preliminary injunction, the DHSS has taken steps to comply with the court-ordered deadline for action on RHS Planned Parenthood's license application by accelerating its investigation. It issued a Statement of Deficiencies to RHS Planned Parenthood and placed a deadline for submission of an acceptable plan of correction by Tuesday, June 18, 2019, so that the DHSS can meet the court's June 21, 2019 deadline for action.
DHSS letter regarding deficiencies
In his four-page letter to Cathy Williams, Interim President and CEO of RHS Planned Parenthood, William Koebel, Administrator for the Section for Health Standards and Licensure with the DHSS, informs her of the accelerated schedule to comply with the court-ordered deadline.
The complaint investigation into apparent "deviations in standard of care, resulting in serious patient harm" was hampered by the non-cooperation of five physicians involved in the abortions, including three licensees that continue to conduct abortions at RHS Planned Parenthood.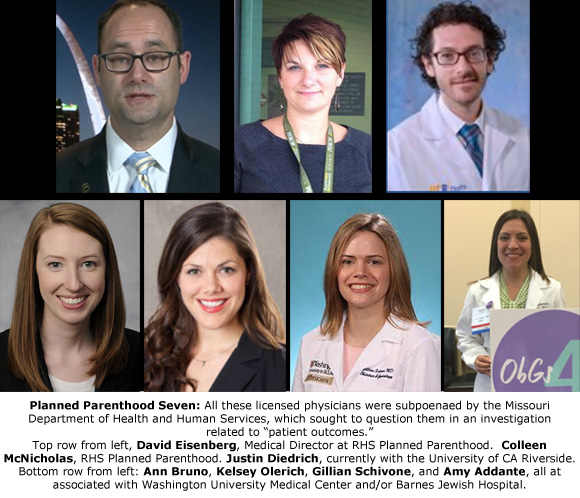 The letter stated in part:
Due to this ongoing non-cooperation, in order to issue a Statement of Deficiencies based on the complaint investigation, we are forced to infer that each physician who declined to participate in an interview has no satisfactory explanation for the conduct under investigation, and we are forced to apply the same presumption to RHS. We are issuing you the attached Statement of Deficiencies in accordance with that inference-i. e., that neither RHS nor its physicians can provide any satisfactory explanation for the deeply troubling instances of patient care that we have reviewed.
The letter then summarized its findings for four patients who suffered from RHS Planned Parenthood's many deficiencies, which are presented in more detail in the 62-page Statement of Deficiencies, which included several violations cited in previous deficiency reports that were never corrected.
Koebel wrote that RHS Planned Parenthood was required to submit a "specific, detailed, and feasible remedial measures to address each of these grave concerns, as well as all other deficiencies identified in the Statement of Deficiencies" by Tuesday, June 18, 2019.
The letter further addressed the obstruction of the abortionists who refused to cooperate with the complaint investigation:
In addition to these deficiencies in patient care, it is imperative that your Plan of Correction must address the failure of RHS and its physicians to cooperate in this investigation, which is unprecedented and unacceptable. Refusal of health care providers to cooperate in the Department's investigations thwarts the Department's ability to conduct meaningful review of troubling instances of patient care, and obstruct the Department's ability to ensure that problems will not be repeated.
62 Pages of Deficiencies
The Statement of Deficiencies was dated May 28, 2019 and was related to a complaint investigation conducted from April 2 to May 28, 2019.
The 62-page report begins with a summary of violations of Missouri regulations and state law, including the following:
Failure to endure the DHSS could complete an investigation by failing to motivate or compel physicians who provide patient care at RHS Planned Parenthood to submit to interviews and provide medical records. (The medical records were eventually provided.)
Failure to ensure the physician performing the informed consent for a patient was the same physician that conducted her abortion.
Failure to file a complication report for a failed abortion.
Failure to ensure a pelvic examination was completed that accurately documented the size and orientation of a patient's uterus.
Failure to ensure the accuracy of the gross examination of fetal tissue to ensure a complete abortion for two patients.
Failure to ensure proper communication with the pathology laboratory after discovery of failed abortions for two patients. (More about this later.)
Failure to ensure prompt follow up for one abortion patient who called to complain of "continued pregnancy symptoms."
Failure to provide informed consent to two patients who underwent second abortions due to failure of the first procedure.
Failure to ensure the 72-hour reflection period was observed for two patients.
Failure to provide appropriate nursing care after one patient was wrongly advised to give herself fundal massages after an abortion at 7 weeks 1 day gestation.
Failure to ensure that an abortion was planned in a safe environment for one patient who nearly died of massive blood loss during an ill-advised second trimester abortion at 21 weeks 5 days. The patient had high risk factors and suffered a predictable life-threatening complication that the abortion facility was not equipped to handle.
Failure to inform patient of risks and benefits in the event of a diagnosis of placenta accreta at 21 weeks and at term. (Placenta accreta is a dangerous condition when the placenta grows too deeply into the uterus.)
Three instances where there was failure to ensure that medical records accurately documented events and personnel involved in abortions.
Failed to provide appropriate care for three women who had failed abortions between May 26 and September 5, 2018. (Failed surgical abortions are supposed to be extremely rare when the abortions are done by competent physicians, according to literature cited in the report.)
Seven physicians and two staff persons who were involved in the violations were earlier subpoenaed by the DHSS, but those subpoenas were quashed by Judge Stelzer.
Patient 1 and her three abortions
Patient 1 reported to RHS Planned Parenthood on August 29, 2018, for an initial consulting appointment where she was given 72-hour consent by Staff F. An ultrasound indicated her pre-born baby was 7 weeks four days gestation. She had a history of abnormal bleeding after a previous abortion in 2016.
Staff F, a physician resident, conducted a failed pelvic exam that did not accurately discover that Patient 1's uterus was both tilting forward at the top of the cervix but also "severely retroflexed" meaning it bent toward the back. This condition is found commonly in women who have undergone previous C-Section deliveries. Staff F also misdiagnosed the uterine size as "less than 6 weeks."
Patient 1 reported back to the abortion facility on September 5, 2018, for a surgical abortion done by Staff A, who was a "Physician fellow," presumably one of the residents from Washington University of St. Louis that were participants in the Fellowship of Family Planning, a two-year abortion training program operated by the radical University of California San Francisco's Bixby Center for Global Reproductive Health. The Fellowship of Family Planning is associated with the Buffett-funded Ryan Residency Abortion Training Program.
State law requires that the same physician who conducts the informed consent also conduct the abortion, which was not done in this case.
When Staff A conducted the surgical abortion, it was noticed that during the abortion attempt "no tissue was returned." That was because the baby was at the top to the uterus, which was bent backwards and less accessible to the abortion instruments without causing Patient 1 great discomfort. The failed surgical abortion attempt was abandoned and a medication abortion was tried.
Two days later, on September 7, 2018, Patient 1 contacted RHS Planned Parenthood with concerns that the abortion drugs were not working. She reported back to the abortion facility the next day and received an ultrasound by Physician Staff M that indicated her living baby was then 9 weeks gestation and had a heartbeat.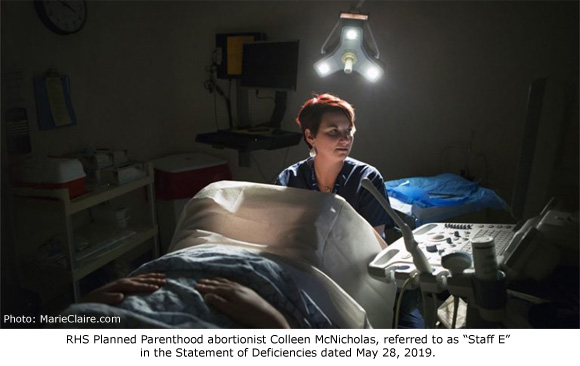 A surgical abortion was done later that day by Physician Staff E, who has been identified as Colleen McNicholas.
When McNicholas was interviewed by the DHSS investigator, she was asked if she was present during Staff F's pelvic exam, to which McNicholas responded, "I don't know."
This indicated the trainees who conducted medical services at RHS Planned Parenthood were insufficiently supervised.
McNicholas was also asked about the differing results in the pelvic exam done by Staff F and the one done her on the day of the third abortion attempt, McNicholas gave a convoluted answer about how female anatomy changes "from day to day," a response that the DHSS found unconvincing and "insufficient to satisfy compliance."
Staff A refused to be interviewed by the DHSS.
Patient 2 and her two failed abortions
Patient 2 went to Planned Parenthood on May 21, 2018, and received informed consent for a surgical abortion signed by Staff B. An ultrasound indicated she was 9 weeks and 4 days pregnant. She returned to the abortion facility on May 26, 2018, and received a surgical abortion from Staff B without ultrasound assistance.
The medical record for Patient 2 indicated that the abortion was completed without difficulty and that the ultrasound indicated the patient's baby was 10 weeks and 2 days gestation. It further noted that "some" fetal parts were seen by Staff B.
The pathology report also said placenta and fetal parts were identified consistent with a gestational age of 10 week and 2 days.
Both Staff B and the pathology report, (which appears to be identically worded from one case to another with the exception of the fetal age), were wrong.
Patient 2 contacted RHS Planned Parenthood three weeks later to report that she believed she was still pregnant. A second abortion attempt was scheduled two weeks later – a five-week delay from the first failed abortion. By then, Patient 2 had entered her second trimester.
No additional consent for the second abortion was obtained even though the surgical procedure would be significantly different from the one Patient 2 consented to over a month before. An ultrasound exam done before the second abortion attempt indicated the growing baby was now 15 weeks and 2 days with a heartbeat detected.
Staff B conducted the second surgical abortion and certified that "all" fetal parts were observed, indicating the second abortion was complete. The failed first abortion was passed off as a twin pregnancy that missed the second baby. However, no twin was ever detected during the initial ultrasound exam. The DHSS cited data that indicated it was likely that no twin ever existed.
Two days after her second abortion attempt, Patient 2 was admitted to the hospital after seeking help at the emergency room. She has become septic due to complications to the second abortion. Sepsis is a serious infection that spreads to the whole body through the bloodstream and can have an adverse effect on vital tissues and organs.
Staff B refused to be interviewed by the DHSS and no satisfactory explanation for this double botched abortion was ever provided.
Patient 3 and her two abortions
Patient 3 reported to RHS Planned Parenthood for her initial informed consent appointment on July 19, 2018. Staff E signed her consent form and performed a pelvic exam that indicated her baby was 6 to 8 weeks gestation. An ultrasound found her to be 6 weeks pregnant.
On July 25, 2018, Staff A – the same resident trainee responsible two of Patient 1's failed abortions – conducted a surgical abortion under moderate sedation on Patient 3 without the use of ultrasound guidance. Staff A noted that the abortion was completed without difficulty and without complication, and also noted that the baby was 7 weeks gestation based on LMP (date of last menstrual period).
Staff E, Colleen McNicholas, certified that she was present during Patent 3's abortion.
Both the abortionist and the pathology lab indicated fetal parts were present during gross examination consistent with a baby that was 6 weeks and 6 days gestation.
On August 24, a full month after her first abortion attempt, Patient 3 contacted RHS Planned Parenthood an told them she just returned from her doctor's office and was told by her doctor that she was 12 weeks pregnant.
McNicholas conducted a second abortion on August 28, 2018, after a physical exam indicated the patient's baby was 12-13 weeks gestation. No informed consent was obtained for the second abortion.
When interviewed by investigators, McNicholas could not remember if she was present during Patient 3's failed first abortion, and admitted she is not always present when the aborted baby remains are examined.
The Director of Surgical Services, Kawanna Shannon, was interviewed and admitted that, to her knowledge, they had never been contacted by the pathology lab regarding a failed or incomplete abortion.
Staff A refused to cooperate with the DHSS investigation.
Patient 4
Patient 4 was given informed consent by Staff H on July 26, 2018. An ultrasound exam showed her baby to be 6 weeks and 5 days gestation.
Her surgical abortion was done on August 1, 2018, by Staff A, who indicated the baby was 7 weeks and 1 day gestation.
On August 2, 2018, Patent 4 called RHS Planned Parenthood complaining of bloating in her stomach, and worried that she may need another abortion procedure because she needed a second procedure during her previous abortion.
Staff J, a registered nurse, returned her call, instructed her how to cope with the bloating, and instructed her to conduct frequent fundal massages on herself. She was unaware that fundal massages are considered ineffective for abortions at 8 weeks or under. The instructions for the patient to give herself the massages was inappropriate.
Patient 12 and her life-threatening ordeal
Patient 12 probably suffered more from RHS Planned Parenthood's deviation from the standard of care than the other women. In fact, she is lucky to be alive.
Patient 12, who was 37 years old, was examined by an RHS Planned Parenthood abortionist while at Washington University Hospital on April 16, 2019, where she had been admitted for vaginal bleeding at 21 weeks of pregnancy. She was diagnosed with placenta previa and recommended for a late-term abortion. Patient 12 also had a history of a recent C-Section delivery, increasing her risk factors.
Placenta previa is a condition in which the placenta is located low in the uterus, but will usually resolve itself as the baby grows and the uterus expands, according to information noted in the Statement of Deficiencies.
An ultrasound exam conducted on Patient 12 at Washington University Hospital could not confirm or deny the diagnosis of placenta previa.
According to ACOG standards, a woman with Patient 12's risk factors should have had the abortion in a setting that had blood products readily available and had the capacity to conduct interventional radiology and/or hysterectomy. Even though RHS Planned Parenthood had none one of those requirements, that is where Patient 12 was referred.
On April 24, 2019, laminaria insertion was attempted by Staff H, who noted the pregnancy was 20 weeks 4 days. There is no record that an ultrasound exam was ever done on Patient 12 at the Planned Parenthood abortion facility. A hospital would later determine that the baby was between 21 weeks five days and 23 weeks gestation.
During the process of inserting the dilators into the cervix at the start of what was expected to be a 2 day procedure, the patient began to bleed profusely and uncontrollably. The abortion attempt failed and 911 was called for an emergency transport to her to Barnes Jewish Hospital. She lost between 2 liters and 2.5 liters of blood – a life-threatening amount. (The average pregnant female's body may contain as much as 3.85 liters of blood.)
Hospital records indicated that Patient 12 underwent a uterine artery embolization, which is a surgical procedure wherein a blockage is injected into the uterine artery to control hemorrhaging. A Dilation and Evacuation abortion was conducted in the hospital's OR. She was listed as "critically ill" and admitted to the Intensive Care Unit.
When RHS Planned Parenthood's Medical Director, David Eisenberg, was interviewed by the DHSS, he insisted that a woman with Patient 12's risk factor could safely receive an abortion at 21 weeks at his facility, even though he admitted it did not have the capabilities of treating the life-threatening complications that can and did occur.
Staff H has refused to cooperate with the DHSS investigation.
"The documents have clarified several questions we had about the botched abortions that occurred at RHS Planned Parenthood, and it appears that things there are even worse than we thought," said Troy Newman. "When abortionists hold themselves above the law and above any oversight, it creates an extremely dangerous climate where they believe they can get away with anything at the expense of others. Planned Parenthood's abortionists are more concerned about covering up their own wrongdoing than making sure other women do not continue to suffer from shoddy practices. The abortionists own arrogant attitudes, words, and actions prove that this clinic should be shut down immediately. We applaud the DHSS for their efforts to hold Planned Parenthood accountable."
Operation Rescue will continue to monitor this rapidly developing situation closely and will report updates as they become available.