By Cheryl Sullenger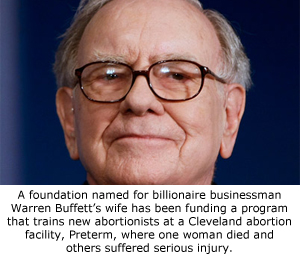 Cleveland, OH – Operation Rescue has uncovered links between the Cleveland abortion clinic, Preterm, where a 22-year old African-American woman suffered a fatal abortion last month, and a foundation managed by the Warren Buffett family. This connection raises concerns that third-world-style abortion practices are being taught to hospital residents that will further endanger the lives of poor urban women of color.
On March 21, 2014, Lakisha Wilson was "not breathing at all" when she was transported by ambulance to the University Hospital Chase Medical Center where she was pronounced dead after suffering late-term abortion complications at Preterm.
Preterm, a non-profit, tax-exempt corporation, became the official training site for the University Hospital Chase Medical Center Ryan Residency Program in Abortion and Family Planning in 2011, according to Preterm's 2011 Annual Report. University Hospital is affiliated with Case Western Reserve University, which is listed on the Ryan Residency Program's website as a program location.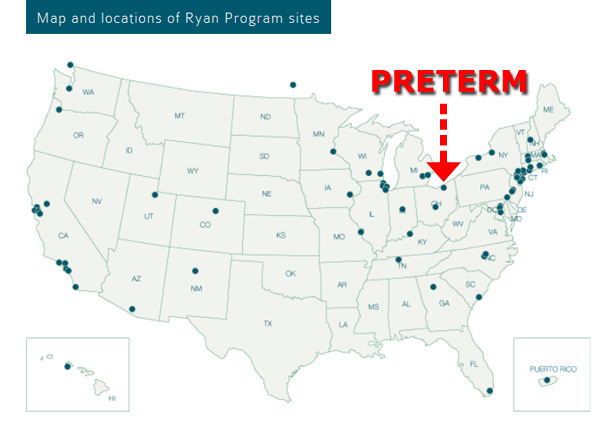 An article published in the New York Times in 2010 revealed that the Ryan Residency Program is funded by "one foundation and one family," the Susan Thompson Buffett Foundation, named for the former wife of Omaha billionaire Warren Buffett.
"In a very real way, the Susan Thompson Buffett Foundation is making sure that substandard abortion practices, such as those that took the life of Lakisha Wilson, are all that are being taught in the U.S. This has the effect of making sure that abortion clinics, especially those like Preterm that target minority communities, offer no better than the dreadful standards akin to those found in third world nations," said Troy Newman, President of Operation Rescue.
"We have to wonder if there isn't a racial component to the Buffett family's funding of abortion training that is costing the lives of African-American babies and mothers at a rate many times higher than any other racial group."
The Ryan Residency Program springs from the extremist Bixby Center for Global Reproductive Health at the University of California San Francisco, the same group that created a "study group" of non-physicians then trained them to do abortions to see if the complication rate went up when abortion were done by the less qualified group. In fact, the non-physician complication rate was found to be twice as high as that of licensed physicians, nevertheless, this study paved the way for the enactment of a radical California state law last year that lowered abortion standards so that non-physicians can now conduct abortions in that state.

In 2010, Preterm, which is located in a predominately Black community in urban Cleveland, added Lisa Perreira to its staff as part of a collaboration with University Hospitals. The addition of Perriera enabled Preterm to expand into the more risky later abortions through 23 weeks of pregnancy even though at that time she had little experience, having been licensed to practice medicine for just one year. Preterm proudly noted that it was now among "less than a quarter of providers [that] offer abortion services beyond 20 weeks."
Not surprisingly, that year, the number of abortion-related medical emergencies appeared to increase. Local pro-life activists began to document these incidents, including that of a 26-year old Preterm patient that suffered "serious" uncontrolled hemorrhaging. At the time the call was placed to 911, the woman was still under anesthesia and had not regained consciousness.
Just months after Preterm's official affiliation with the Ryan Residency abortion training program in 2011, another ambulance was called to the abortion facility in early 2012 to care for an overweight high-risk abortion patient suffering from hemorrhaging after an abortion who had to be carried down from the clinic's third floor due to a broken elevator. The decision to conduct an abortion on a woman with such high risk factors, knowing that emergency responders could not easily reach her in the event of an emergency, reflected poor judgment at best and was more likely an example of gross negligence and reckless endangerment of this woman's life.
Then last month, Lakisha Wilson died from a late-term abortion at Preterm.
The abortionist who witnesses say followed Wilson's ambulance to the hospital was 79-year old Mohammad Rezaee, who had been medically trained in 1950's Iran where standards lagged behind American medical practices.
Operation Rescue has confirmed that two of Rezaee's children, Roya and Rod Rezaee on staff at University Hospital Chase Medical Center.
"Who was responsible for Wilson's fatal abortion? Was it Rezaee, as we initially thought, or was it Lisa Perriera, Preterm's youngest and least experienced late-term 'specialist' who was also on duty at Preterm that day? If Perriera conducted the abortion, why did Rezaee go to the hospital? Was it to use his relationships with his son and daughter to keep Wilson's death quiet? Was one of the Buffett-funded Ryan Program trainees involved? These are all questions that deserve answers," said Newman.
The fact that Ryan Program abortion students are being trained at a facility with a history of abortion-related life-threatening injuries and death is troubling, especially since the medical complications that have been documented by pro-life activists are likely a small fraction of what actually occur.
"If Preterm's abortion trainers are engaged in substandard practices that are endangering women, those who are being trained will only perpetuate those dangerous habits," said Newman. "That does not bode well for vulnerable women who are preyed upon by abortion businesses that are in stiff competition with each other for every abortion dollar and aren't afraid to cut corners to maintain their profit margins."
Operation Rescue continues to join with pro-life leaders from around the nation in calling for the closure of Preterm in light of Wilson's death.
"A young woman and her pre-born baby has died and we do not want anyone else to follow them to an early grave," said Newman. "The fact that a billionaire's foundation, a multi-million dollar hospital, and a radical out-of-state abortion program are involved doesn't diminish the fact that the 'coat hanger' abortion groups say they deplore is actually at work in the abortion clinic today. The only way to protect women and their babies is to close the Preterm abortion business for good."