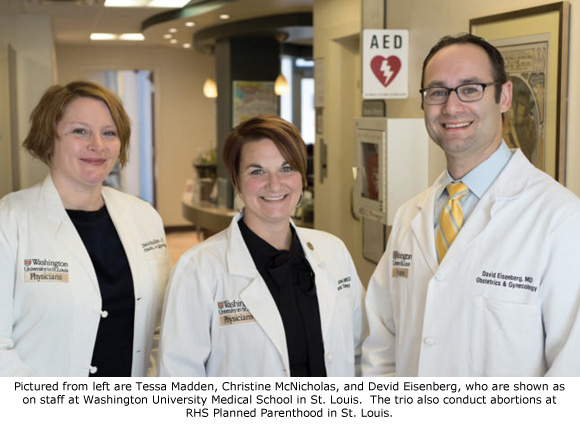 By Cheryl Sullenger
St. Louis, MO – Judge Michael Stelzer issued two rulings this afternoon on motions filed by Reproductive Health Services Planned Parenthood in St. Louis, Missouri, in response to subpoenas issued by the Department of Health and Senior Services that sought testimony from several Planned Parenthood abortionists in a an abortion facility licensing dispute.
Judge Stelzer reset the preliminary injunction hearing for June 5, 2019 at 9:00 a.m. then quashed subpoenas for four Planned Parenthood's abortionists, identified only as "Staff A," "Staff H," "Staff F," and "Staff G."
Stelzer ruled that the parties "have shown that compliance with the subpoenas would present an undue burden and hardship" on the abortionist.
RHS Planned Parenthood was found to be in substantial non-compliance with Missouri laws and regulations after failing an annual inspection in March then not correcting all of the deficiencies cited. The DHSS also sought to interview seven abortionists that conducted abortions at Planned Parenthood and had outcomes that required further investigation. All but two failed to cooperate with the investigation.
The DHSS, in keeping with Missouri laws and regulations, had no plans to renew RHS Planned Parenthood's license when it expired on May 31, 2019.  However, Planned Parenthood sought court intervention.  Judge Stelzer issued a temporary restraining order keeping Planned Parenthood operating for now.
"We are disappointed that this judge has ruled that the state cannot put on its full case with testimony from the abortionists and now await the outcome of tomorrow's preliminary injunction hearing," said Troy Newman, President of Operation Rescue.  "We hope this judge will allow the state to enforce its own laws for the protection of the public.  We understand that RHS Planned Parenthood's abortion complication is four times higher than the national average and that is more than enough to shut them down."
Operation Rescue has documented 74 medical emergencies that required emergency transport and hospitalization of RHS Planned Parenthood patients, three of which took place during a 22-day period in April and May of this year.

Read order granting continuance to June 5, 2019.