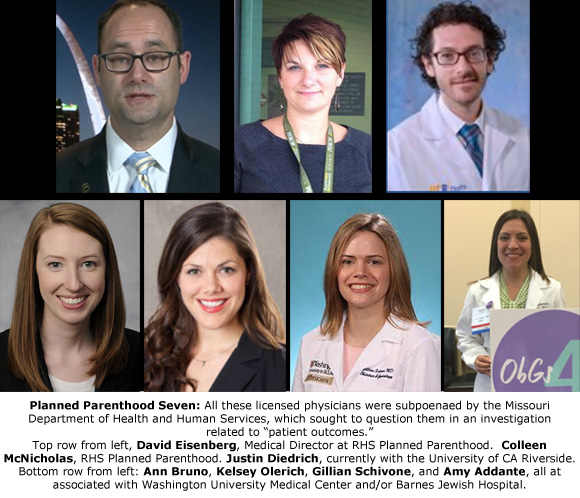 By Cheryl Sullenger
St. Louis, MO – A hearing for a preliminary injunction that would bar the Missouri Department of Health and Senior Services enforcing licensing laws and regulations regarding Reproductive Health Services Planned Parenthood in St. Louis has been completed and taken under advisement by Judge Michael Stelzer.
RHS Planned Parenthood is the last remaining abortion facility in Missouri. If no preliminary injunction is issued, it is believed that its facility license will expire and Missouri will become the first abortion-free state since the 1973 Roe v. Wade decision.
If Stelzer issues a preliminary, RHS Planned Parenthood would be allowed to continue conducting surgical abortions even though it does not currently meet licensing laws and regulations.
"The Planned Parenthood abortion facility in St. Louis is among the worst in the nation with at least 74 medical emergencies documented there that have required ambulance transport to the hospital," said Troy Newman, President of Operation Rescue. "If it is allowed to continue abortions without meeting the requirements set by law, there are grave concerns that more women will be seriously injured or even killed due to the substandard practices at this abortion facility."
According to statements by Gov. Mike Parson, RHS Planned Parenthood failed an annual inspection in March and failed to make all corrections of numerous deficiencies prior to its facility license expiration date of May 31, 2019. RHS Planned Parenthood sought and received a temporary restraining order that prevented the DHSS from declining to renew the license, which allows the clinic to conduct surgical abortions.
Yesterday, Judge Stelzer quashed nine subpoenas issued on behalf of the DHSS for seven of Planned Parenthood's abortionists and two unlicensed staff. This prevented them from testifying at today's hearing.
More is now known about the seven abortionists and two staff members that were subpoenaed by the Missouri Department of Health and Senior Services in a licensing dispute with Reproductive Health Services Planned Parenthood, an abortion facility located in St. Louis.
Operation Rescue obtained the names of each while they were public record. The subpoenas and returns of service had been since sealed by the court. All information published by Operation Rescue is in the public domain.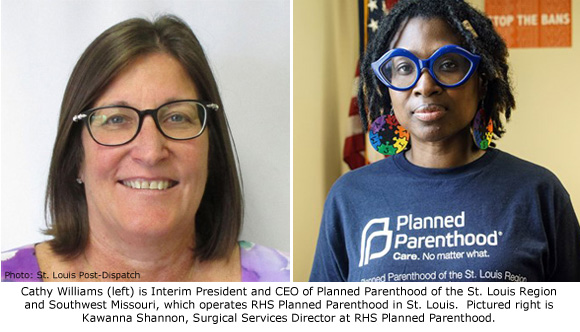 The two staff people subpoenaed were Cathy Williams, Interim President and CEO of Planned Parenthood of the St. Louis Region and Southwest Missouri, which operates RHS Planned Parenthood, and Kawanna Shannon, Surgical Services Director of RHS Planned Parenthood.
Shannon in not a licensed physician. Medical Director David Eisenberg joked during a press conference on May 31, 2019, "I frequently say that I'm responsible for everything, but she's in charge."
Just how a non-physician is qualified to be "in charge" of surgical services is a question that went unanswered during that press conference.
The seven licensed physicians that were subpoenaed but never testified were the following:
David Eisenberg, Medical Director, RHS Planned Parenthood, and Associate Professor of the Department of Family Planning at Washington University School of Medicine in St. Louis.
Colleen McNicholas, abortion provider at RHS Planned Parenthood, and Associate Professor of the Office of Inclusion and Diversity at Washington University School of Medicine in St. Louis.
Justin Diedrich, who is now with the University of California Riverside and lists his current address at a UPS store in Pasadena, California.  He has been known to conduct abortions at FPA Women's Health in Bakersfield, another abortion facility with a high number of abortion-related medical emergencies.
Amy N. Addante, an Obstetrician/Gynecologist in St. Louis.  She lists no practice address on her Missouri medical license profile.
Ann Bruno, a Washington University Medical School resident with an association with Barnes Jewish Hospital.  Her temporary medical license in Missouri expires on June 30, 2019.
Kelsey Lynnea Olerich, is a resident at Washington University Medical School with an association with Barnes Jewish Hospital.
Gillian Brit Schivone, an Obstetrician/Gynecologist listed as an Associate Professor at the Washington University Medical School.  She has affiliations with Barnes Jewish Hospital and Missouri Baptist Medical Center.
This is a developing story. Operation Rescue will post updates as they become available.