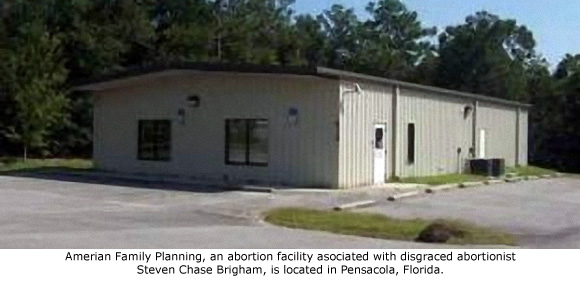 A Special Report from Operation Rescue
By Cheryl Sullenger
Pensacola, FL — To the average person, the name "American Family Planning" may sound relatively innocuous and even slightly patriotic. But there is an adage that warns against judging a book by its cover that everyone would do well to heed, especially in this case.
American Family Planning is a somewhat notorious abortion facility located in Pensacola, Florida, which failed its last three inspections. As far as recent paperwork has revealed, it has not complied with licensing and safety regulations since it reopened in January 2020, creating a health danger to the public.
Nefarious owner
The abortion business is owned in practice – if not on paper – by the extremely notorious New Jersey abortionist Steven Chase Brigham.
Reams could be written about Brigham's deceptive business practices and shoddy abortion procedures that have left him without a valid medical license anyplace in the U.S., even though he was once licensed to practice in six states. An exhaustive account would be too voluminous to provide here. Briefly, Brigham's final license in his home state of New Jersey was revoked in 2014, due to his having operated an illegal bi-state late-term abortion business in New Jersey and Maryland — a state where he had never been licensed.
Because of the 2014 license revocation, Brigham became ineligible to own or operate abortion facilities in New Jersey, his home base for a chain of clinics in several states that he ran under the "American Women's Services" banner.  A couple of sham business transfers in 2015 and 2019, removed his name from the paperwork of American Women's Services but did not end his participation in the abortion chain he founded and continues to control in New Jersey, Virginia, the District of Columbia, and Florida.  Brigham has unsuccessfully attempted to keep his involvement in the latter two facility locations secret.
Troubled Pensacola abortion facility
In Pensacola, Brigham's American Family Planning was forced to close in 2018 after it was discovered that it was illegally operating on an expired facility license.
Reapplication was made the following year and a new license was issued in November 2019, which allowed the abortion facility to reopen two months later.
Since then, American Family Planning has undergone three facility inspections – and failed them all.
First failed inspection: 42 pages of violations
On July 6, 2020, the Agency for Health Care Administration conducted an unannounced inspection and cited 45 pages of deficiencies in a report that read like a horror novel.  Citations included the following violations and more.
Failure to maintain required supplies.
Most of the drugs on the clinic's emergency cart were expired. (The last known emergency there was May 22, 2020, but no ambulance was called, probably for reasons related to their fake transfer agreement, which will be discussed later.)
Supplies such as equipment used to open airways, kits for endometrial evacuation, hypodermic needles, and suturing supplies were expired.
An autoclave, where equipment was supposed to be sterilized, was resting on a porous surface, and was jam-packed with so many instrument packets that it was difficult to remove them.  No one seemed familiar with how to operate, test, or maintain the autoclave.
Surgical instruments last used for abortions that took place three days prior were found soaking in a yellowish solution. Scissors were in the closed position.  None has been properly sterilized.
Requests to interview staff responsible for sterilization were denied because all the staff had been sent home.
No preventative maintenance was done on equipment. There were outdated inspection labels on just about everything that required inspection, including the centrifuge, view box, refrigerator, suction abortion pumps, exam tables, autoclave, exam lights, and more.
One suction abortion machine had failed an inspection yet was found in a patient exam room.
Staff inadequately trained for their job positions.
No evidence that any staff was adequately trained to participate in second trimester abortions as specifically required.  (The facility conducts abortions through 24 weeks gestation.)
The Director of Operations contacted the "higher ups" in New Jersey for information about employee training but was not given the requested information.
Physician listed as the Medical Director (identified as "Physician H") on the clinic's facility license application had quit., but this had not been reported as required.  In fact, there was a lot of confusion about who the Medical Director was, and the Director of Operations was not helpful.  Possibilities included Physicians L, G, and J.  A phone call to Physician L confirmed she was the current medical director and only person conducting abortions at that time.
The laboratory area was dirty.  Needles had a reddish-brown dried substance on them. Unlabeled solutions could not be identified by the Director of Operations.
Exam rooms and the recovery room were in similar condition with expired medications, supposedly sterilized equipment bursting through the plastic packets, and numerous other infection control lapses.
Failed to provide supervision for women in the recovery room.
Changes in the Medical Director and hospital transfer agreement were not reported to the Agency for Health Care Administration (AHCA) as required. 
For a full listing of violations, read the Deficiency Report.
Second failed inspection: lies and confusion
An unannounced revisit was conducted at American Family Planning on October 27, 2020, when it was found that many deficiencies cited during the July 6, 2020, inspection had not been corrected.  This kind of behavior is typical of Brigham-run abortion businesses.
On this first revisit, 13 pages of deficiencies were cited.
There were still expired drugs and supplies throughout the facility. Required policies and procedures were still lacking. Medications were unidentified and unlabeled. Preventative maintenance was not done, and logs were not kept. Emergency kits still contained expired medications. Defibrillator pads were expired, and no replacement pads could be found. Required abortion reporting was neglected.
The facility had provided false information about its hours of operation in its license application, indicating it was open only on Thursday afternoons when in fact it was open six days per week.
It was discovered that changes in the Medical Director still had not been reported to the AHCA, and there was still confusion about who was acting as the facility's medical director. Although it was finally worked out that Physician L was the current Medical Director, there was a gap between the departure of Physician H, who was listed on the clinic's license application in 2019, and the beginning of Physician L's tenure in that position. The Director of Operations appeared clueless.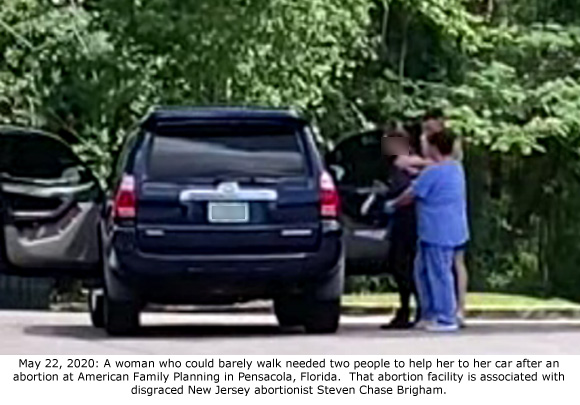 But one of the more troubling citations involved the fact that the AHCA had confirmed with the hospital noted on the abortion facility's license application, Baptist Hospital, that it had no transfer agreement with American Family Planning or its Medical Director.  Three months after the clinic was informed that the hospital denied the agreement, the clinic was still trying to pass it off as valid.
Third failed inspection: dishonesty and corruption
Finally, a second unannounced revisit was conducted on January 26, 2021. American Family Planning again failed to meet basic licensing requirements, according to the third deficiency report in just six months.
The facility still had not properly informed the AHCA of a change in Medical Director. During previous visits, it was determined that sometime after Physician H resigned as Medical Director, Physician L took over. However, it was never determined who filled in as Medical Director during the gap between abortionists H and L. Physicians G and J were previously mentioned as possibilities, but this time, a "Physician I" was tossed into the mix. The inspectors were never given a straight answer.
"Why was there so much confusion about who was conducting abortions at American Family Planning? Why did the Director of Operations deny knowing who was involved in personnel changes six months after the question had first been asked?" asked Troy Newman, President of Operation Rescue. "This lack of transparency is very typical of Brigham operations. Our research has shown that deception is a tool he uses to placate authorities or sow confusion to buy time to keep his shoddy clinics open and making money for a little while longer."
The hospital transfer agreement was also still an issue during the January 2021 inspection. The Director of Operations again tried to act as if the hospital transfer agreement with Baptist Hospital was still valid, even though she had been previously informed that the hospital denied having any transfer agreement with them as early as 2019.
"The Director of Operations stated that she would let the Administrator know of the concerns," an AHCA inspector noted in the last line of the deficiency report.
Failure to maintain a valid hospital agreement is a violation of minimum licensing requirements, and should disqualify American Family Planning from operating. Meanwhile, the facility continues to conduct shoddy abortions up to 24 weeks, putting the lives of women and their babies in peril.
"Whether they realized it or not, by accepting this charade, the inspectors have only enabled Brigham's American Family Planning to continue operating in non-compliance with even the minimum licensing requirements," said Newman. "Brigham and his employees have a long, documented history of ignoring medical standards, placing women at risk, and responding to authorities with chronic evasiveness and deception. The Florida Agency for Health Care Administration needs to stop playing Brigham's games. American Women's Services has been out of compliance since it reopened in January 2000, and three failed inspections have verified that. It's time to pull their license and shut this dangerous and predatory abortion facility down permanently."
_____
Learn more but prepare to be shocked!