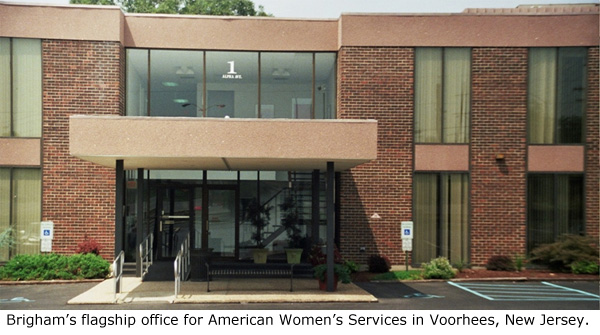 UPDATE July 6, 2015: Operation Rescue just obtained the Administrative Complaint against Kaji from the New Jersey Board of Physicians seeking to ban him from operating as medical director or owner at Brigham's chain of New Jersey abortion clinics and seeking license revocation. Read the Administrative Complaint against Kaji.
__________
By Cheryl Sullenger
Trenton, NJ – A complaint filed by the New Jersey Attorney General's office alleges that the notorious abortionist Steven Chase Brigham continues to illegally operate seven abortion facilities in New Jersey, having never actually transferred ownership to his long-time associate, abortionist Vikram H. Kaji.
A complaint was filed by the Attorney General's office on June 16, 2015. It charged Kaji with fraud for claiming he had taken over ownership of Brigham's New Jersey abortion businesses after Brigham's medical license was revoked last year for operating an illegal bi-state late-term abortion scheme that resulted in a horrifically botched abortion on an 18-year old girl.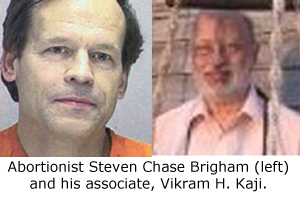 Without a medical license, Brigham is prohibited from maintaining ownership in any medical facility in New Jersey. However, when an investigator from the Division of Consumer Affairs showed up at the abortion clinic in Hamilton unannounced, on April 22, Kaji denied he owned the abortion clinic chain. Kaji was later questioned.
A report on NJ.com explains what happened:
During a closed-door hearing of a committee of the board on May 5, Kaji "repeatedly testified under oath that he was not the owner," according to the complaint filed June 16 by Deputy Attorney General Bindi Merchant.
"He expressly testified that 'there is no other person around, (Brigham's) the only one who runs the show," according to the complaint obtained by NJ Advance Media.
Kaji's "ownership of American Healthcare Services is a sham transfer and thus constitutes the use or employment of dishonesty, deception, misrepresentation, false promise or false pretense," according to the complaint, which asked the board to suspend or revoke his medical license.
Operation Rescue had submitted a letter of complaint to Deputy Attorney General Warhaftig on April 17 detailing and documenting concerns that Brigham never actually transferred ownership to Kaji. The letter pointed out that Brigham had a pattern of concealing ownership in his clinics.
"Because Brigham continues to illegally operate his chain of abortion clinics in New Jersey, they should all be immediately shut down and Brigham should be criminally charged," said Operation Rescue President Troy Newman. "Brigham has made a career of deceiving the public and authorities in several states about his shoddy abortion businesses. It's time for New Jersey authorities to see through this flim-flam man and end his notorious criminal enterprise with a long period of incarceration."
The NJ.com report further noted that Consumer Affairs spokesman Neal Buccino would not confirm or deny whether a new case against Brigham had been opened.
Operation Rescue also complained publicly that any transfer to Kaji should be nullified since he was an admitted sex abuser and had a long history of Board discipline.
Kaji was convicted by the New Jersey Board of Medical Examiners in 1993 for having improper sexual contact with three patients. Kaji reportedly had sex with one young girl at his office during business hours and later plied her with drugs. He knew his victim was vulnerable to his advances because she had been a depressed victim of child sex abuse with a history of psychiatric hospitalization. Kaji admitted that he had made an error in moral judgment.
Kaji was also accused of giving improper breast and rectal exams to two other women.
The NJBME placed Kaji on a 1-year suspension and fined him $5,000 and ordered him to undergo psychological counseling.
Kaji also recently suffered a stroke that impaired his memory and vision, raising questions about his ability to continue practicing.
"We appreciate the work of the Attorney General's office in seeing this case through. Brigham and Kaji are among the worst abortionists in America and their pattern of deception shows they cannot be trusted to follow the law, much less with the lives of women," said Newman.
Brigham's abortion empire consists of at least 17 abortion facilities located in New Jersey, Virginia, Delaware — and perhaps secretly elsewhere — but only Brigham's New Jersey abortion businesses are affected. Those New Jersey abortion facilities that operate under Brigham's American Women's Services banner are located in Elizabeth, Mt. Laurel, Phillipsburg, Toms River, Hamilton, Woodbridge and Voorhees.
Read Operation Rescue's Complaint Regarding Ownership Transfer (includes links to Exhibits)
Read OR's Report: Brigham Transfers New Jersey Abortion Clinics to Confirmed Sex Abuser