By Cheryl Sullenger
Pensacola, FL – There is hardly a dull moment for pro-life activists who hold vigil outside American Family Planning in Pensacola, Florida. With GoPros running almost constantly, they have captured all kinds of happenings, including footage of women in obvious distress after abortions, defiant abortion customers, and abortionists who have tried – and failed – to conceal their identities.
Most recently, on May 22, 2020, one woman, who appeared quite pale and could barely walk, had to be helped to her car by a clinic worker and the man who accompanied her. She appeared to need additional medical help, but no ambulance was called. Pro-life supporters on the scene urged the man to take the suffering woman to the emergency room.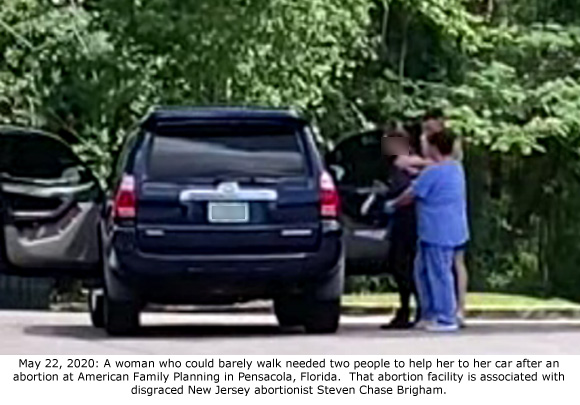 In contrast, a few days later, one snarky woman who left the clinic after destroying the life of her innocent baby, took time to troll pro-life activists'
"It feels so great to know I won't have to raise kids. It feels so f****** great!" she said.
In March, another woman, who surely was not feeling snarky at all, was loaded with assistance into a private vehicle while still nauseous and vomiting in the parking lot after an abortion. Instead of calling an ambulance, a clinic worker brought out a plastic bag for her to vomit into during the drive home.
The busy abortion facility is owned by the disgraced New Jersey abortionist Steven Chase Brigham, who was seen at the Pensacola clinic on several days last month.
Dr. Tom Messe, who is a regular part of the pro-life presence there, identified Brigham at the abortion clinic last month and called him out as he left the scene. When Brigham returned the next day, he was closely escorted by a clinic security person and heavily disguised in a mask, large sun glasses, a baseball cap and a hooded jacket.
Brigham was once licensed to practice in Florida, but that privilege was revoked in 1996.
"It's disturbing that Brigham is spending time at that Pensacola abortion mill since he is not allowed to conduct abortions or practice medicine in any way," said Operation Rescue President Troy Newman. "Given his well-documented behavior of shoddy abortion practices, deception, and law-breaking, his activity at that abortion clinic should be investigated by the Agency of Health Care Administration."
Other efforts to conceal the identities of abortionists have included the use of umbrellas and even a UPS bag to cover the license plate of a vehicle known to belong to AFP medical director Christopher DeNapoles.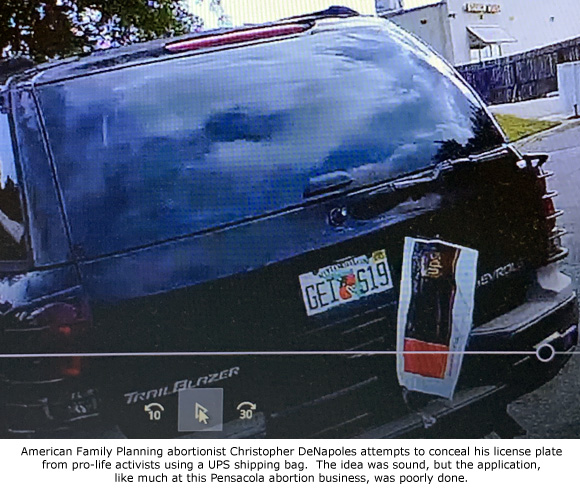 It's easy to see why most abortionists don't want anyone to know they work for the likes of Brigham, who has 30 years of deceptive and illegal practices under his belt that have cost him six medical licenses in six states. He was once arrested for the murder of over 30 late-term babies discovered stacked in a bloody freezer during a police raid at his secret late-term abortion facility in Elkton, Maryland, where he also had no medical license. Unfortunately, those charges were later dropped.
Brigham-run abortion facilities are so dangerous that the State of Pennsylvania once ordered him never to operate an abortion business in that state again – an order he has never fully obeyed. Earlier this year, his three Maryland abortion facilities closed under mysterious circumstances.
Brigham's American Family Planning in Pensacola is no exception. That facility lost its abortion facility license in February 2018, and was fined $2,000 for operating under a lapsed license. It was able to regain its facility license in January 2020.
American Family Planning is part of the American Women's Services chain of abortion facilities, based in New Jersey. When Brigham's New Jersey medical license was revoked in 2014, he became ineligible to own or operate of any medical facility in that state.
Brigham then transferred American Women's Services to a cognitively-impaired elderly abortionist, Vikram Kaji, who was not even aware he was the new owner. After that sham transfer was discovered and Kaji's New Jersey medical license was revoked, the business was then sold for one dollar to another longtime Brigham abortionist, Richard H. Blum, 75, who has his own history of participation in Brigham's illicit abortion practices.
Operation Rescue has confirmed that all calls for appointments at the Pensacola American Family Planning Clinic are still routed through the American Women's Services central appointment line in New Jersey, which exclusively schedules appointments for all of the AWS abortion facilities in New Jersey, Virginia, Washington, D.C., and Florida. There is virtually no practical distinction between the New Jersey AWS operations and those in Florida, which continue to operate as one unified entity.
"One would think from the paper trail that Brigham had completely divested himself of the American Women's Services franchise since the transfer to Blum, but now we see he is still actively involved," said Newman. "As one abortionist once put it, 'Brigham is the only one who runs the show,' and we believe that is as true now as when those words were spoken."