As each year draws to a close, it is our custom to reflect on the past months and remind ourselves of the great things God has done though this ministry, with the partnership of our faithful supporters. The year 2008 was an exciting, yet demanding year that produced much fruit. We are thankful for what has been accomplished. For your encouragement, we present Operation Rescue's Top Ten Stories of 2008. If you appreciate our work, please consider making a special year-end gift to Operation Rescue by CLICKING HERE.
-Merry Christmas and Happy New Year from the Operation Rescue Staff!
1. Collapse of An Abortion Empire – Clinica Medica Para La Mujer De Hoy CLOSED!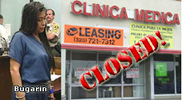 The subject of one of Operation Rescue's long-term campaigns, the six remaining abortion mills in the Clinica Medica Para La Mujer abortion chain permanently closed this year after owner Bertha Bugarin was arrested and charged with numerous felonies for committing abortions without a medical license. Also arrested was convicted sex offender and abortionist Laurence Reich, who continued to do abortions for Bugarin without a license that had been stripped from him last year. At least 10 other abortionists associated with Bugarin lost medical licenses, were subject to Medical Board disciplinary action, or some had some other run in with the law since OR began its project in 1999.
Bugarin pled no contest to 7 felonies in Los Angles on December 1, then, three days later, walked into a San Diego court room and pled guilty to 9 felonies, putting an end to her horrific illegal abortion reign of terror.
2. Massachusetts Abortionist Involved in Smith Death Surrenders License, Closes Clinics, And Is Criminally Indicted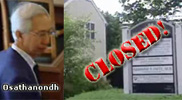 Abortionist Rapin Osathanondh permanently surrendered his medical license and closed his two abortion mills in February rather than submit to discipline for killing Laura Hope Smith during an abortion last year. Operation Rescue had worked with Laura's mother, Eileen, and helped direct her to file a complaint with the Medical Board and work with the District Attorney to procure criminal charges. Osathanondh was finally indicted by a grand jury in July and forced to surrender his passport at his arraignment in order to keep him from fleeing the country. A sign from one of Osathanondh's closed clinics now hangs as a trophy in Operation Rescue's new headquarters.
3. Election 2008 – Truth Trucks Dog Obama Campaign Trail!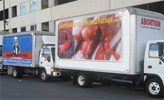 Beginning in February, Operation Rescue's Truth Trucks began to dog Sen. Barack Obama's campaign trail. OR unveiled a new set of Truth Truck signs and launched a powerful web site, AbortionIsAnObamaNation.com, in time for the Democratic National Convention in Denver, Colorado , in August, where Michelle Obama got an eyeful of the truth during an encounter with one of OR's Truth Trucks. Faithful drivers in various states across the nation, including Virginia, Wisconsin, Nebraska, Kansas, Washington, California, North Carolina, and more, confronted Obama backers with their candidate's support for child-killing, and directed them to the new web site that exposed Obama's abortion extremism.
4. OR Releases Photos Showing KS Gov. Sebelius Partying With Abortionist Tiller At Governor's Mansion


Operation Rescue obtained and released exclusive photographs taken at a lavish secret party hosted by Kansas Governor Kathleen Sebelius for abortionist George Tiller and his entire abortion clinic staff. The photos of the party, held at the governor's official mansion, had clear political overtones that caused even the liberal editorial writers from the Wichita Eagle and the Kansas City Star to question Sebelius' judgment in hosting the affair. Her controversial connection to Tiller, who is facing criminal abortion charges, is most likely responsible for dashing Sebelius' hopes for a Vice Presidential nod and an appointment to Obama's Cabinet.
5. OR Moves Into National Headquarters In Redeemed Abortion Mill

Operation Rescue finally completed a total renovation of the former Central Women's Services abortion clinic, which we bought and closed in June of 2006, and began full time operations there. We immediately began seeing babies saved as women continued to visit our office, thinking it was still an abortion clinic. OR dedicated a memorial wall to remember the babies who died in that building. A local artist has loaned OR beautiful original portraits of babies that now hang on the memorial wall. The building that was once a killing center is now a place where Operation Rescue works daily to save lives and stop abortion, to the glory of God, who made the miraculous transformation possible.
6. OR Exposes Botched Abortions And Other Problems At Abortion Mills Around the Nation
In addition to campaigns exposing the abortion atrocities of Bertha Bugarin in California and Rapin Osathanondh in Massachusetts, Operation Rescue also helped expose a series of botched abortions and other problems at abortion mills across the nation. Here are some of the stories: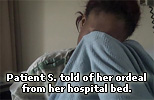 • WICHITA, KS — OR documented botched abortion horror story of Patient S. , who suffered life-threatening injuries during an abortion at Tiller's abortion mill. OR called for the immediate suspension of Tiller's medical license. Two other botched abortion incidents there were also reported by OR.

• LINCOLN, NE — OR published photos of the emergency transport of a botched abortion patient from a Planned Parenthood and exposed abortionist C. J. LaBenz as the likely culprit in the injury.

• DETROIT, MI — OR helped publicize the illegal dumping of aborted babies and patient medical records by abortionist Alberto Hodari, which was discovered by Citizens for a Pro-Life Society. OR helped heighten public pressure and Hodari was eventually charged with 12 counts of illegal dumping of medical records.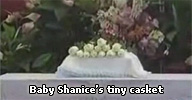 • HIALEAH, FL — Operation Rescue continued to keep alive the story of Baby Shanice Denise Osbourne, who was born alive during a failed abortion, placed an a bag, and tossed on the clinic roof to die. OR helped promote her funeral held in October, and applied public pressure that renewed investigative efforts by the county prosecutor.

• LEXINGTON, KY — OR helped expose the horrific case of what one reporter decribed as Hamid Sheikh's "hellish abortion operation." His license has been suspended and his clinics closed. He also faces criminal charges of fraud. OR discovered that he referred women to George Tiller's late-term abortion mill in Kansas, and are thankful that referral source is now terminated.
7. Operation Rescue's Investigations Expose Tiller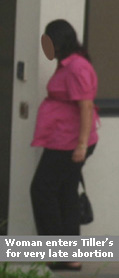 Operation Rescue engaged in a number of investigations and campaigns that continued to expose wrongdoing at George Tiller's infamous late-term abortion mill in Wichita, Kansas. The successful impact of OR's campaigns was noted in a front page article published in June in the Chicago Tribune. The results of some of OR's investigations included:

• The release evidence obtained by an OR investigation that showed illegal late-term abortions continued at Tiller's abortion mill.

• The release of women's first-hand testimonies of illegal and/or coerced abortions that they received at WHCS.

• OR revealed the name of the second Kansas physician who as secretly signing off on Tiller's post-viability abortions. Just hours later, due to public pressure, he and another physician both vowed to stop providing second signatures for Tiller's post-viability abortion patients.

• OR uncovered and released an eyewitness confession of a former Tiller worker who says she saw abortionist Shelley Sella stab to death a baby born alive during a late-abortion at WHCS. OR reported the incident to the authorities.

• Operation Rescue was notified by the Kansas State Board of Healing Arts that complaints filed against Tiller for violations discovered by OR investigations were moving forward. This is after the Executive Director and Chief Counsel resigned in disgrace over their handling of disciplinary cases. OR had frequently called for their resignations.


8. Late Abortions in KS Decrease by 54% Since Operation Rescue's Arrival
Statistics for 2007, released by the Kansas Department of Health and Environment this year, show that since Operation Rescue relocated to Kansas in 2002, late-term post-viability abortions have dropped an amazing 54%. That includes a 28% decrease in 2007, a year in which OR hosted three major prayer events, and continued to expose Tiller wrong-doing.
9. Tiller Prosecution Moves Forward


Following months of delay, Tiller's criminal prosecution began to move forward, albeit at a snail's pace, after numerous motions filed by Tiller had been denied. Tiller prosecutors continue to refer disparagingly to Operation Rescue in court documents and proceedings. In November, four days of testimony was heard in Tiller's motion to suppress evidence against him found in abortion records. The hearings, which have been continued to January 6, 2009, are a desperate (and likely futile) attempt by Tiller's defense to shift the focus off Tiller's criminal acts and onto alleged improprieties in the Attorney General's office. Operation Rescue carefully monitored the hearings and reported on the developments. Hearing reports: Day 1, Day 2, Day 3, Day 4
10. Operation Rescue's Involvement In Abortion Grand Juries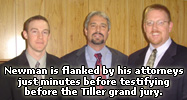 Operation Rescue was involved in two citizen-called grand juries in efforts to bring Tiller and Planned Parenthood to justice. Newman testified before Tiller Grand Jury and supplied them with over 200 documents that showed Tiller's involvement in criminal abortions. During that grand jury, Tiller's attorneys filed a motion lashing out at Operation Rescue's media campaign that had been launched in an effort to prevent corruption. Judge Buchanan dismissed the Tiller motion after five minutes.
Operation Rescue was also part of a coalition that convened a grand jury in Johnson County, Kansas, to investigate Planned Parenthood. Unfortunately, neither grand jury chose to indict, but nevertheless, the effort was worth the try and helped educate the citizens of Kansas about the misconduct that exists in the state's abortion industry.