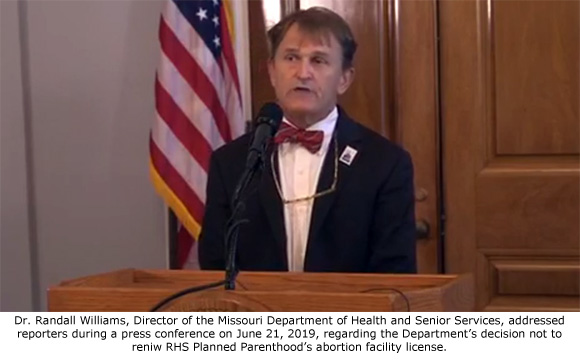 By Cheryl Sullenger
Jefferson City, MO – The director of the Missouri Department of Health and Senior Services announced yesterday that the issued an emergency order modifying the regulation that required a pelvic exam 72 hours prior to surgical abortions, but emphasized that the Department never required women to undergo two pelvic exams prior to abortion, as the Planned Parenthood abortion facility in St. Louis has falsely claimed.
Dr. Randall Williams explained at a press conference yesterday that the rule change would allow the pelvic exam to be done either 72-hours before the abortion or just prior to the abortion.
Williams also emphasized that the rule change only applies to surgical abortion procedures. Medication abortions still required a pelvic exam 72-hours prior to dispensing abortion-inducing drugs. Currently, RHS Planned Parenthood has refused to comply with that requirement and is prohibited from conducting medication abortions.
Listen to the press conference where he explains that below:
Botched Abortions Remain Unexplained by Planned Parenthood
However, even with the rule change to placate Reproductive Health Services Planned Parenthood abortionists, who used their intentional misinterpretation of the law to distract from the fact they inflicted life-threatening injuries and other serious complications on at least four women, the abortion facility was still in non-compliance with regulations it must meet to qualify for relicensure.
Williams explains during the June 21, 2019, press conference the importance of speaking with the physicians who were responsible for the abortions that resulted in major complications for the abortion patients.
He explained that they have never had any issues speaking with staff members prior to the current investigation into patient safety at RHS Planned Parenthood, and have so far found the excuses provided by RHS Planned Parenthood insufficient.
For example, one woman was forced to undergo three abortions in three days, primarily because RHS Planned Parenthood was disregarding the regulation that requires the abortionist that conducts the pre-operative exam also conduct the abortion.
The woman suffered a failed surgical abortion, followed by a failed medication abortion. A third abortion done by yet another abortionist was finally completed.
Full descriptions of the deficiencies related to patient safety can be seen in a previous Operation Rescue report that also contains links to source documents, including the now-sealed May 28, 2019 Statement of Deficiencies.
Denial of License Renewal Documents
Also released yesterday was a written press statement announcing the decision not to renew RHS Planned Parenthood's abortion facility license.  It stated in part:
DHSS has continually sought Planned Parenthood's cooperation to interview their physicians since early April to avoid issuing a Statement of Deficiencies without the benefit of physicians' explanations. The vast majority of deficiencies cited by DHSS, which were surrounding adverse patient outcomes, were not responded to with corrective action plans.
The DHSS letter to RHS Planned Parenthood informing them that their license cannot be renewed at this time was also released. That letter can be read below.
2019 06 21 RHS License Denial Letter by Cheryl Sullenger on Scribd
Sealing Motions
RHS Planned Parenthood has repeatedly asked that information filed by the DHSS be sealed by the court, alleging supposed staff and patient privacy concerns.
Earlier, RHS Planned Parenthood asked that the incriminating May 28, 2019 Statement of Deficiencies be sealed and on June 17, 2019, Judge Michael Stelzer approved the sealing. However, Operation Rescue had previously received the document and published it on June 15, 2019, while it was still public record – something RHS Planned Parenthood has been unhappy about ever since. As evidenced by their court filings (see below).
The DHSS immediately filed a motion to unseal the Statement of Deficiencies on June 17, 2019. That document remains underseal but is still available to the public at OperationRescue.org.
On June 19, 2019, RHS Planned Parenthood filed a motion to file documents under seal, including their Plan of Correction submitted to the DHSS – the plan that failed to address the botched abortion incidents and refusal of involved physicians to cooperate with the DHSS investigation.
It also filed "Suggestions" in opposition to the DHSS motion to unseal the Statement of Deficiencies. Those "suggestions" repeat the false claim that the deficiency report private patient identifiable information that led to the identification of one patient.
"Planned Parenthood makes false accusations and uses language that is designed to mislead the judge into thinking that one of Planned Parenthood's patients has been identified by name and her private information has been plastered all over the Internet. Nothing could be further from the truth. We don't identify living abortion patients and always take steps to cover or blur any visible faces when photos documenting botched abortion emergencies are published," said Troy Newman, President of Operation Rescue. "RHS Planned Parenthood is again using falsehoods — as they did in their fake outrage over non-existent pelvic exam requirements — to cloud the real issue, which is that Planned Parenthood nearly killed some of their patients through neglect and incompetence and remain in dangerous non-compliance with licensing regulations."
RHS Planned Parenthood alleges, ". . . these anti-abortion extremists matched that information [in the Statement of Deficiencies] up with photos they had taken at the time in order to identify the patient.
In fact, no patient from RHS Planned Parenthood has ever been identified by Operation Rescue or any other pro-life group. No names or other personal identifiers have ever been released.
RHS Planned Parenthood further alleges,". . . the information was already used by anti-abortion extremists to identify a patient's photo, and that photo is posted on the internet. The web pages in question contain photos of the patient being transported to a waiting ambulance, state the patient's race, and provide the patient number used in the Statement of Deficiencies to refer to the patient."
The single photo in question was indeed posted by Operation Rescue in a report that included information about over 70 ambulances that have arrived at RHS Planned Parenthood to transport patients to hospital emergency rooms.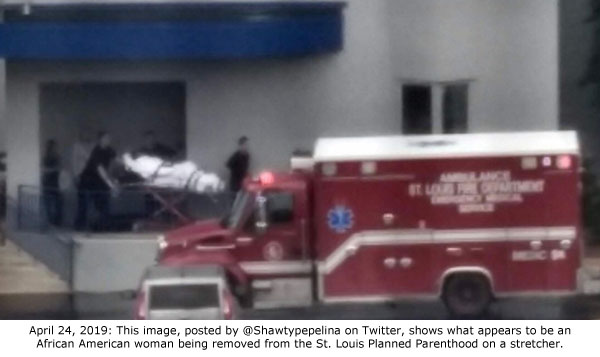 However, the photo that showed someone on a gurney outside RHS Planned Parenthood on April 24, 2019, was taken from a public location, and shows nothing that could be used to identify the patient. No patient face can be seen in the photo and that patient was never identified by name. That woman's privacy remains completely intact to this day.
Ironically, it was RHS Planned Parenthood's own filing confirmed the race of the woman, which was only suspected by Operation Rescue based on witness accounts.
What's next
Judge Stelzer plans to release a new order at some unspecified future date. Meanwhile the preliminary injunction that blocks RHS Planned Parenthood's abortion facility license from expiring remains in effect until further notice from the court. This allows Planned Parenthood to continue conducting surgical abortions despite their failure to meet licensing requirements or correct deficiencies related to patient safety.
"This isn't over, and we will continue to monitor this case carefully while we continue to pray that one day soon Missouri will become the first abortion-free state in 46 years," said Newman.
View our full archive of reports on the St. Louis Planned Parenthood licensing case that includes links to source documents within each report.